February 2007 Newsletter
Dear Friend,

The New Year started with a bit of a surprise for us. Without going into technical details, I will summarize by saying that the corporate owner of our book distributor declared bankruptcy, thereby, drawing nearly 130 small publishers like Parallax into a serious financial quandry. The distributor's role is to bring our books directly or via wholesaler into all bookstores.

While we are well under way of implementing a solution this nonetheless has dealt us a significant financial setback against the already tight finances of nonprofit publishing.

Now, more than ever, you can support our publishing program by ordering directly from our website. Parallax Press is glad to offer special discounts that compare to the enticing discounts of bigger bookselling chains.

From Feb. 9/07 - Mar 9/07, Parallax online customers will receive a 25% discount on any Parallax Press title. * Please note that this offer does not apply to books from other publishers. The discount is applied to the order invoice, it is not reflected on our book pages.

Again, thank you to all who have supported us so loyally. We deeply appreciate your dedication.
---
Thich Nhat Hanh on Love and Relationship
On February 14th we celebrate the love for our friends, family members, and partners. Thich Nhat Hanh has written quite eloquently on the power of loving relationships and we recommend the following titles as resources.

Teachings on Love, ISBN: 978188837500, paperback
Cultivating the Mind of Love, ISBN: 0938077708, paperback
Love in Action, ISBN: 0938077635, paperback
Joyfully Together, ISBN: 1888375329, paperback

All Parallax Press titles 25% Discount
Offer valid 02/09/07-03/09/07

Recommended Reading
---
Final Calendar Sale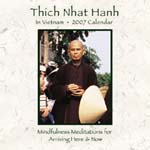 We have a limited supply of the 2007 Amber Lotus calendar left, which chronicles Thich Nhat Hanh's visit to Vietnam after nearly 40 years in exile. We are offering a 50% discount on the remaining stock.

Amber Lotus Calendar
50% Discount
---
New Praise for Coconut Monk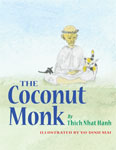 The Winter issue of the Multicultural Review had this to say about our May 2006 release of The Coconut Monk.

"This short story conveys to children the timeless value of compassion, courage, and peacemaking in a simple yet powerful manner."

ISBN: 1888375531
Hardcover

All Parallax Press titles 25% Discount
Offer valid 02/09/07-03/09/07
---
Parallax Open House - Follow Up
Our first Open House on January 24, was a wonderful success with Parallax supporters. Thank you to those who dropped in to share a cup of tea and a cookie and browse our bookshelves. It is encouraging to have our readers and authors gathered together and we look forward to planning another event later this year.
---
Thich Nhat Hanh Tour News
Thich Nhat Hanh is preparing for his second full-fledged teaching tour in his homeland, Vietnam, from Feb. 21 - May 9. Meanwhile, Parallax Press is already getting ready for his summer visit to the USA, Aug. 12 - Sept. 29.

Parallax is looking for volunteers to help us with book tables during the summer retreats. Should you be interested and available, please email Travis Masch: travism [at] parallax [dot] org.

For more information about events please visit: www.deerparkmonastery.org.


---
In peace,
Travis, Leigh, Sophie, Terry, Heidi, Rachel