March 2007 Newsletter
Dear Friends,
First of all, we would like to send a big THANK YOU!!! to all our readers who ordered directly from us last month. Parallax Press has weathered the storm created in the wake of our book distributors bankruptcy and is pleased to announce that our future distribution services will be handled by Perseus Book Group.

We also want to thank the staff and sale reps of PGW who have greatly succeeded in bringing our books to independent and national bookstores this past year. We look forward to our continued association with this company under the new auspices of Perseus.

All orders for books featured in this newsletter will receive a 25% discount. Our regular discount of 10% applies to all Parallax Press titles ordered directly by phone or online. Again, your direct orders are truly appreciated!
For A Future To Be Possible, Rev. Ed.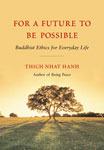 "Nhat Hanh's meditations illuminate the connection between spirituality and social action and point us to the value of mindfulness in everyday life."— Publishers Weekly

"A beautiful, wise, sensitive book. Highly recommended." — Library Journal

"Thich Nhat Hanh's deep understanding of the precepts [trainings] and his actual contact with today's suffering make these rewordings profound." — Turning Wheel


Many of our readers who have decided to live their lives in accordance with Buddhist ethical guidelines, whether through the formal process of "receiving the Five Mindfulness Trainings" or through a more casual commitment, have asked us for a handbook that would outline these guidelines.

We are happy to announce the publication of a pocket size version of For a Future to be Possible, a completely re-edited version of the previous edition in a format that's easily accessible and can be used in a variety of situations of daily life.

The Five Mindfulness Trainings —not to kill, steal, commit adultery, lie, or take intoxicants—are the basic statement of ethics and morality in Buddhism. Thich Nhat Hanh calls the trainings a "diet for a mindful society." In this fully revised edition, he argues eloquently for their universal applicability in the situations that we face, both in our daily lives and on a global scale. He discusses the value and meaning of each precept, offering insights into the role that they could play in our changing society.

The Five Mindfulness Trainings offer a path to the restoration of meaning and value in a world marked by moral and spiritual division. Whether called virtues, ethics, moral conduct, or precepts they are guidelines for living without bringing harm to others; they bring sanity and light into the world.

ISBN: 978-1888-375-66-3
Paperback, 150 pages

SPECIAL 25% Discount
Offer valid until: 04/15/07
Thay's Dharma Talks in Vietnam
Thich Nhat Hanh has returned to Vietnam, leading a contingent of monastic and lay practitioners on a three month retreat. This is his second visit to Vietnam after 40 years of exile. The wonders of audio streaming has brought us the ability to listen to the Dharma talks from afar. To hear these current events, please visit: www.dpcast.org

Time Asia Magazine just published a recent story highlighting the ongoing political negotiations that are a prominent aspect of Thay's visit to the country.
Little Pilgrim: A Novel, by Ko Un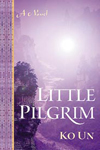 Recommended Reading

"Everything in this world is sacred....All things are truth and the teachers of truth" —from Little Pilgrim

"[Little Pilgrim] lends further weight to Ko Un's growing reputation as one of the most important and prolific writers in the world of comtemporary Buddhist literature." — Buddhadharma

Ko Un's adaptation of the Flower Ornament Sutra traces the journey of Sudhana through ancient India. Taking place during the Buddha's lifetime, it describes a young child's encounters with fifty three teachers. The marvelous odyssey introduces wise characters, vivid places, dreams, and deep spiritual awakening that will stay with readers long after they have finished the book.

Little Pilgrim is the first English publication of Ko Un's lifelong work, complete with introductory material, essays, glossary, and paper cut illustrations. Ko Un is widely renowned as Korea's foremost poet and has been shortlisted for the Nobel Prize in Literature.

ISBN: 1-888-37543-4
Paperback, 380 pages, Fiction

SPECIAL 25% Discount
Offer valid until: 04/15/07
Parallax Sample Chapters
Google Books has created a virtual library of Parallax Press titles. This new Google feature allows for you to look inside the book! With a book summary, cover image, and table of contents, all Parallax Press backlist titles can now be previewed. On each book page, links are provided to purchase the books from us directly or find a copy in a local library.

Happy searching!
In peace,
Travis, Leigh, Terry, Heidi, Rachel, Sophie