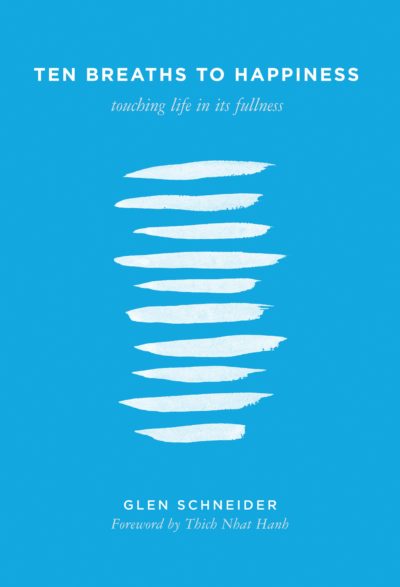 Ten Breaths to Happiness
Touching Life in its Fullness
Zen teacher Glen Schneider has developed a series of simple practices to help us cultivate happiness and fulfillment in the course of our daily lives. Happiness is far more than... Read More
Free U.S. shipping on orders above $30.
Zen teacher Glen Schneider has developed a series of simple practices to help us cultivate happiness and fulfillment in the course of our daily lives. Happiness is far more than a positive feeling that comes and goes, happiness is wired into the physiology of our brains. It is a skill we can all develop through cultivating mindfulness and concentration. In Ten Breaths to Happiness Schneider presents a series of simple practices and guided meditations that allow you to literally rewire your neural pathways to experience deeper and more lasting fulfillment and peace.
Studies in neuroscience show that it takes about thirty seconds to build a new neural-pathway. Schneider takes these findings and combines them with mindfulness practices based on the teachings of Zen teacher Thich Nhat Hanh. For example, he encourages us to take ten conscious breaths whenever we encounter something beautiful or have a meaningful experience. Consistently exercising this simple practice creates an opportunity for the brain to move from its default reaction of protection to one of appreciation and spaciousness.
In ten short chapters, Schneider discusses the nature of happiness and its role in our evolution. He shows how our brains can make us happy or create suffering, and he introduces simple, proven techniques that will shape our brains over time to experience more joy and be more fulfilled in everyday life.
Written for adults new to meditation as well as those with previous meditation experience, Ten Breaths to Happiness is a practical, highly accessible book that not only brings us up-to-date with the latest developments in neuroscience but offers simple exercises that can be done anywhere, any time, to help 'rewire our brains' and maximize our potential.
Additional information
Additional information
| | |
| --- | --- |
| Weight | 0.25 lbs |
| Dimensions | 6.500 × 4.500 × 0.250 in |
| Format | Paperback, eBook |
| Pages | 96 |
| Trim Size | 6.440" x 4.440" |
| ISBN | 9781937006396 |
| ISBN | 9781937006419 |