Thich Nhat Hanh to Visit India and Israel
Thich Nhat Hanh will be traveling through India in February and March. For information about joining all or part of this journey, please contact Shantum Seth, tel/fax: (91) 11-852-1520, email: shantum@artisan.unv.ernet.in.
In May, Thay will lead two weekend retreats at Kibbutz Harel and give public talks in Tel Aviv, Jerusalem, Nablus, and Bethlehem. The donation requested for Dharma talks is $15, for each retreat weekend $160. To register, Europeans and others should contact Partage in Paris, tel: (33)1 -44-07-06-07. North Americans may register with the Community of Mindful Living, P.O. Box 7355, Berkeley, CA 94707. If you are unable to attend, please consider donating to provide the opportunity for Israelis and Palestinians to share Thay's teachings. Donations may be sent to CML and marked for the "Israeli/Palestinian Scholarship Fund." Please see p. 37 for schedules for both of these trips.
Transcribing Talks
Local Sanghas are encouraged to help transcribe Vietnamese and English tapes of Thich Nhat Hanh's Dharma talks. For Vietnamese talks, contact Hoang Khoi, 14 Maitland Avenue, Kingsford 2032, Australia, tel: (61 )2-9313-8489, fax: (61)2-9697-9007, email: K.Hoang@unsw.edu.au. For English talks, contact Michelle Bernard at Parallax Press, tel: (510)525-0101.
AIDS Anthology
The Buddhist AIDS Project is compiling an anthology on Buddhist practice and AIDS tentatively entitled, Heart Lessons from an Epidemic: Buddhist Practice and Living with HIV. The working deadline for submissions has been extended to January 30. The anthology editor, Steve Peskind, specifically requests submissions on practicing and living with the promises and challenges of protease inhibitors and other medical advances. Please call Steve at (415) 522-7473 in San Francisco for more information.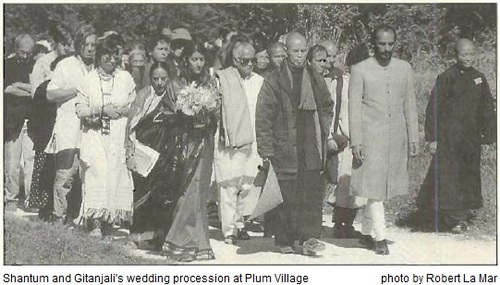 Passages
Born: Jonah Lieberman Flint was born to New York City Sangha members David and Ann Flint on May 23, 1996.
Married: Shantum Seth, True Right Path, and Gitanjali Varma celebrated their wedding vows with Thich Nhat Hanh at Plum Village on September 14, 1996.
Died: Greg Keryk, 44, died of cancer on August 16, 1996 in Santa Cruz, California. Greg was a member of the Order of Interbeing, the beloved husband of Irene Keryk, and the father of Diane Keryk. Please see tributes on pages 16-17.
Died: On August 8, 1996, Jusan William "Frankie" Parker, 42, died by lethal injection at Cummins Prison in Arkansas, after 10 years in prison for the murder of two people. His conversion to Buddhism in 1988 and wholehearted practice inspired people inside and outside of the prison. Frankie's spiritual advisor, Kobutsu Kevin Malone, ordained him before his death. Despite letters from H.H. The Dalai Lama and Thich Nhat Hanh and petitions signed by hundreds of Buddhist practitioners, the governor of Arkansas refused to commute Frankie's sentence to life in prison.
Frankie spent his last day answering letters and calling teachers and friends. On the night of his death, family and friends gathered to support Frankie and oppose the death penalty. Rev. Kobutsu accompanied him to the execution chamber where they chanted the Three Refuges. At the moment of his death, Frankie was shown a picture of the Buddha by the executioner.