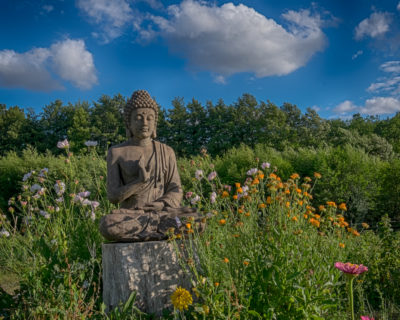 The heart of The Mindfulness Bell is the creative expression of mindfulness practice offered by practitioners throughout the world. The beauty of each issue comes from the creative fruits offered by our readers. Many of our articles are commissioned, or transcribed and edited from Dharma teachers' talks. We welcome your submissions and publish a limited number of unsolicited articles.
Submissions for upcoming issues of The Mindfulness Bell should include specific examples of how mindfulness practice in your daily life is helping you to transform suffering, create peace, and improve relationships and well-being.
Please share submissions from your personal practice in the Plum Village tradition, writing from your heart on:
Upcoming theme: On January 29, 2024 at the Commemoration Ceremony, Thich Nhat Hanh formally becomes an ancestral teacher of Tư Hieu, the root temple of the Plum Village tradition. Thay said "The ancestors have already prepared everything." We invite submissions reflecting on continuation, touching the ancestral stream, and feeling connected with the deep, rich Plum Village lineage, including Thay's lineages with revolutionary teachings, science in Buddhism, social justice, peace activism in the west, early environmental activism, and poetry and literature. What does it mean that Thay is our ancestral teacher? What does it mean to have trust and confidence in the ancestral lineage? What does it mean to get in touch with the good will of our ancestors?
Climate justice and engaging with the climate crisis
Social justice (BIPOC, LGBTQIA+, gender, healthcare, income inequality, etc.)
Buddhist psychology and its relationship with science, public health, neuroscience, and trauma
Sangha building and outreach
We especially request stories, poems, and artwork from children and teens.
We prefer articles between 300–1,200 words and poetry up to 25 lines. Please send your submission in Word format, a high-resolution photo with a file size of at least 1 MB to illustrate your submission (optional), a high-res photo of yourself, and a 2–3 sentence bio with your Dharma name (if any).
We appreciate photos, artwork, illustrations, and cartoons. Please send high-resolution images as TIF, PNG, or JPG files, 1 MB or larger.
Deadlines
We accept submissions on a continuous, rolling basis for consideration to be published on our website.
For consideration for our print issues, deadlines are October 1 for the March equinox issue and April 13 for the September equinox issue.
We are a small team and it may take several months for us to respond to submissions. We appreciate your patience.
Click here for copyright information.