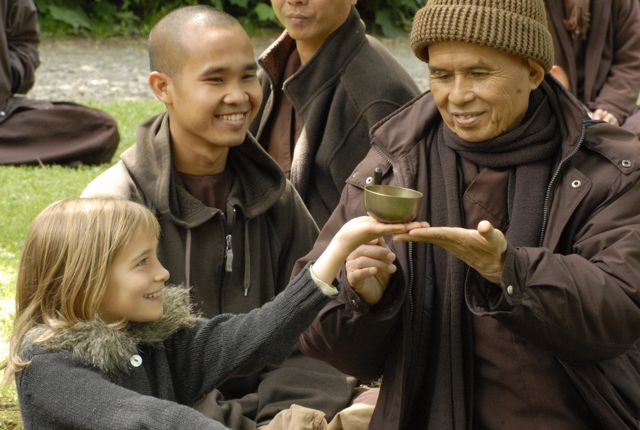 The Mindfulness Bell is a journal of the art of mindful living. To be mindful means to dwell deeply in the present moment, to be aware of what is going on within and around us. Practicing mindfulness cultivates understanding, love, compassion, and joy. This practice helps us to take care of and transform suffering in our lives and in our society.
The Mindfulness Bell is an inspiration and teaching resource for those practicing mindfulness in daily life. Each issue features a teaching by our teacher, Vietnamese Zen Master Thich Nhat Hanh.
Also included are stories and teachings by teachers and students in this lineage, based on the author's direct experience of transformation through the practice of mindfulness. Instead of giving academic or intellectual views, the teachings emphasize simple and successful ways to transform the difficulties and limitations in our lives so that each day becomes an experience of peace, happiness, and freedom.
Readers are given insight into the benefits of a committed practice of mindfulness through such avenues as:
Personal stories of how a monk or nun chooses to live the life of a monastic, and the challenges to overcome through this commitment;
How lay Dharma teachers and long-term practitioners deepen their skills of mindful living through relationships at work and at home;
Practical advice from Thich Nhat Hanh on how to foster harmony and peace in ourselves, our families, and in the world;
Tips on practicing with children, and young people's expressions of joy and insight through practice;
How to foster mindfulness in your daily life and how to build a local Sangha.
In addition, issues include:
Information on the tour schedules of Plum Village monastics;
News of Sangha events throughout the world;
Opportunities to learn about people in need in Vietnam.
Published by the Community of Mindful Living, an imprint of Parallax Press, the publishing division of the Plum Village Community of Engaged Buddhism, the Mindfulness Bell offers a connection to a community of people who aspire to live life deeply and in harmony with all beings. Subscriptions to the Mindfulness Bell support the work of Thich Nhat Hanh and the worldwide Sangha, as we offer methods for healing and transformation.