Essays, Articles, and Interviews on the Buddhist Life
By Andrea Miller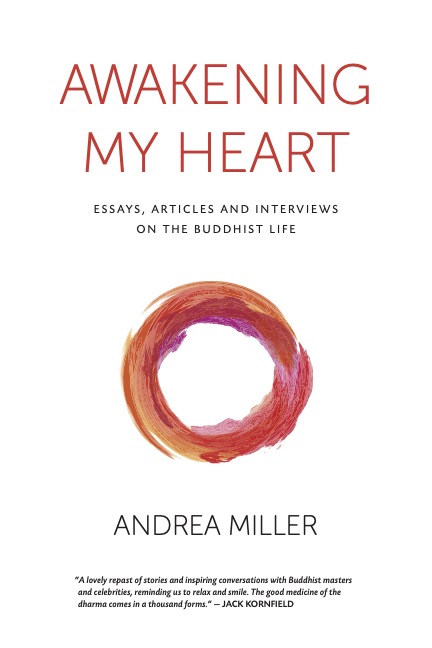 Pottersfield Press, 2020
Paperpack, 224 pages
Reviewed by Peggy Rowe-Ward
Edited by Barbara Casey 
I look forward to my new issues of Lion's Roar magazine and often begin with articles by Andrea Miller. I find her writing fresh and accessible. Awakening My Heart is a collection of articles, essays, and interviews on what Miller refers to as "the Buddhist life." I appreciated the opportunity to reflect on what this might mean—this Buddhist life—and Miller offers a way into this koan.
Reading this book, frequently I became a fangirl. She brings us along to meet Jane Goodall, Tina Turner, Tom Robbins, Pema Chödrön, Ram Dass, and many other poets, authors, and teachers. She is an excellent reporter, a keen observer, a deep listener, and a wonderful writer. Miller is also a wise practitioner and a Dharma teacher.
Miller offers rich descriptions of her pilgrimage in India with Dharma teacher Shantum Seth; the reader experiences the sights and sounds of the journey, the life of the Buddha, and Shantum's teaching. She offers her insights from her meditation as she hears the Buddha offer "I was real. I was here." We sit with her under the Bodhi tree and taste this teaching.
Since I am also a fangirl of Thich Nhat Hanh, my favorite section of the book was Miller's descriptions of three retreats with Thay. The first was in Vancouver, the second in Plum Village, and the third at Blue Cliff Monastery.
The book title grew from the Vancouver retreat, where she experienced an awakening of her heart with the teachings and practices of being with her father within herself. Miller offers intimate sharing of her journey of transformation and healing.
As we follow her to Plum Village and then to Blue Cliff Monastery, we can experience for ourselves the precious moments of retreat life. For example, she remarks that "it is a special feeling to walk without words with hundreds of people." Miller offers wise descriptions of the Five Mindfulness Trainings and her experience committing to them. She describes the essence of Thay's teachings, such as how to skillfully be with painful emotions and how to bring joy and happiness into our daily life.
Summing up her experience, she shares that Thay refers to Plum Village as "The Country of the Present Moment," and that this country is available whenever you are truly present. An insightful book from a true practitioner, Awakening My Heart is a journey you won't want to miss.