In the early 1990s, the impoverished people of Chiapas State revolted against the Mexican government. Initially, the battles were widely reported. The war has now faded from the public eye, but the fighting and suffering are escalating with paramilitary takeovers of communities, massacres, looting, rape, and this spring, widespread fires. Despair penetrates the people as deeply as the smoke which blankets the state. In the last year, 13,000 people fled their Chiapas homes in terror. They live under tarps in the cold hills, unable to go home and plant the crops that keep them from starving. Orphaned children wander the camps, crying for their parents. Some bear terrible wounds from the fighting. Parents, suffering their own traumas, are unable to address the emotional needs of their children.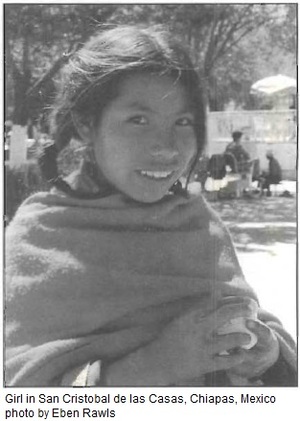 I am living in San Cristobal de las Casas, center of the controversy. Here, we have been training local social workers to help children deal with the continuing trauma.Throughout our work, unexpected hurdles have popped up repeatedly, frustrating our efforts and creating divisive conflicts within the team of workers. The conflicts slowed our work and undermined the crucial sense of community. Discouraged by repeated setbacks, I was inspired by the chapter on Beginning Anew in Teachings on Love and wondered if we might use Beginning Anew to rebuild our sense of community. In Mexican culture, the process itself would be unusual. Saying something bothers you is generally not done directly, but the group agreed to try.
Each week we used one piece of the ceremony, which I modified to be more cross-cultural and accessible to the group. The first week, we gave positive feedback. This alone greatly relieved tensions and created seeds of hope. The second week we did self-criticism, but with a twist each person looked deeply at the source of their actions and did not speak without coming to self-compassion. Finding self-compassion seemed difficult, but the sharing was very moving. I could see layers of accumulated shame and judgment evaporating. The third week we offered criticisms of each other, but with an adaptation from another of Thay's teachings, the Peace Treaty. Before speaking, we looked deeply into ourselves and into the other person.
Though difficult, our Beginning Anew almost worked magic. Our team has been energized. Meetings are more open, direct, and congenial. Individual talents have been recognized, and some who held back are finding their voices. We have all realized that we cannot help the displaced recover from the wounds of division and war without addressing those same issues among ourselves. In this place where hope is difficult to maintain, we are beginning to build places of refuge and healing.