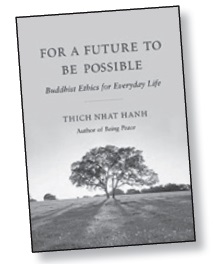 For a Future to Be Possible Buddhist Ethics for Everyday Life
By Thich Nhat Hanh
Parallax Press, 2007 Softcover, 148 Pages
Reviewed by Hope Lindsay
All Buddhists express the precepts in some form. They are the core of our beliefs. In the tradition of our teacher Thich Nhat Hanh, the precepts for lay practice are the Five Mindfulness Trainings, the focus of this new edition of For a Future to Be Possible. Almost analagous to commandments of many faiths, here the precepts are infused with compassion and loving kindness for all beings — people, animals, plants, and minerals. Each training begins with the introit, "Aware of the suffering caused by...." Each is followed by an all-encompassing phrase exhorting us not to kill, steal, lie, use intoxicants or sexual energy in an exploitive way.
We help others on this path, also. These five trainings are the very center of interrelatedness. Thus they're indispensable if our troubled planet is to continue.
In her introduction, Joan Halifax asks, "What must be done to retrieve our natural virtue?" I think we all long for a state of natural goodness, the lack of which is at the root of so much fundamentalist turmoil today. When I balked at going to Sunday School a beloved aunt told me that religion is necessary for people to become moral and honest. What else would make human beings behave? We had to have the fear of God instilled in us, or else. But the gentle practice of mindfulness brings its own reward — happiness.
If, as Thay asks, we "live in a way that protects us and those around us," what he calls the fruit of our own observation will inspire us to choose the Five Mindfulness Trainings as a way of life. Thay also writes that we will be able to express our generosity when we are assured by the trainings that we can "help people feel safe" — ourselves and others — "less afraid of life, people, and death." The trainings give us the gift of non-fear. They are not presented as The Truth. Instead they are a joyful gateway to the Dharma.
Caitriona Reed writes in a sidebar, "There is a wonderful aspect to the mindfulness trainings: they are impossible to keep. We express our willingness to begin again time after time." Sister Chan Khong also reminds us that we cannot attain the sun, we can only go toward the light. We are not asked to be obsessive, rather to know that practicing the trainings becomes habit, replacing less healthy habit energy. One of the primary purposes for meeting in sangha is to reinforce and support each other in this aspiration.
Jack Kornfield's afterword lists exercises we can use to begin or renew the practices. Until we reach enlightenment, we mortals are, by nature, forgetful. We need reminders to be mindful! I must confess the trainings opened the door to Thay's tradition for me. in the original 1993 edition of For a Future to be Possible, there were commentaries by several authors that helped me understand Buddhism without dogma or doctrine. This edition is trimmed, almost like a missal -- to carry with us everywhere. In gratitude to Thay for giving this gift once again, I feel like I am traveling with an old friend.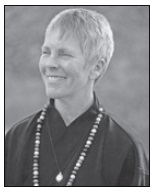 Sweet Zen Dharma Talks from Cheri Huber
Edited by Sara Jenkins
Present Perfect Books, 2000 Softcover, 200 pages
Reviewed by Karen Hilsberg
Smiling, I stood in Borders Bookstore perusing the long row of Thay's offerings on the book shelf. Then a book of Dharma talks edited by Sara Jenkins caught my eye. As I skimmed the one-to-two-page Dharma talks offered by Cheri Huber, I asked myself whether I need another book on the practice of mindfulness. And I heard a resounding "Yes!"
The talks in Sweet Zen were presented as answers to her students' questions by Dharma teacher Cheri Huber, who practices in the Soto Zen tradition in a monastery in Northern California. Sara Jenkins and Cheri Huber met at a month-long retreat in the mid-1980's. There, Huber gave Jenkins, an editor by trade, the transcripts of all her Dharma talks, instructing her to "do whatever you want with these." The result is five books of talks lovingly crafted by Jenkins. Sweet Zen is the fifth of these books.
One of Huber's great contributions has been helping her students see how conditioned mind gets in the way of our happiness, freedom, and joy. On "saying no to suffering," Huber says, "If we watch closely, we see that suffering begins when we leave this moment and allow our minds to project into the past or the future. We can watch ourselves start the slide into suffering as we begin to imagine dire happenings and sink into doubt and fear and hopelessness. Then we can bring ourselves back and just say no. Each time we are tricked again by egocentricity, we can see the result is suffering.
"In the refusal to indulge in what leads to suffering, there is nothing hard or harsh. On the contrary, it is the kindest, most compassionate approach to life."
Each chapter can be read as an inspirational daily meditation or as a brief reading to be shared in sitting groups during deep listening sessions. These stories have relevance to new practitioners and to those, like me, who have been practicing for many years.
As a Westerner and a woman, Huber speaks about the many ways we get stuck in habitual thinking. How do we work our way out? She uses the language of popular culture to direct us toward the freedom that comes with breaking out of chronic running commentaries in our minds. I especially like her retelling of the Buddha's story of the knotted scarf. On the path of practice, we untie many of our knots and continue to encounter more. The more experience we gain, the harder the knots tighten, but the better we are at untying them. "The experience you gain each time you untie a knot gives you the encouragement you need to take on the next one. After a while, you approach the whole process with confidence and lightness and, increasingly, gratitude."
The title Sweet Zen refers to the inherent beauty and joy of our practice, and how, in our daily lives, our practice can help us show extreme kindness to ourselves and others.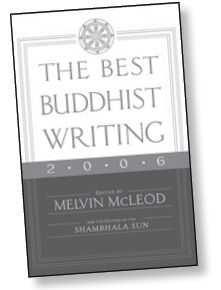 The Best Buddhist Writing 2006
Edited by Melvin McLeod and the Editors of the Shambhala Sun
Shambhala, 2006 Softcover, 317 pages
Reviewed by Janelle Combelic
"I have heard some people predict," writes Thich Nhat Hanh, "that the twenty-first century will be a century of spirituality. Personally, I think it must be a century of spirituality if we are to survive at all." Thus begins the closing essay in Best Buddhist Writing 2006. Excerpted from Calming the Fearful Mind: A Zen Response to Terrorism, this essay reads like a fresh-picked strawberry served at the end of an exquisite meal — each bite more satisfying than the last.
There are many gems in this compilation, not the least of which is a piece reprinted from the Mindfulness Bell by our own Judith Toy, now associate editor. In "Murder as a Call to Love," Judith recounts the tragic loss of her sister-in-law and two teenage nephews, and her long path to healing. "I did not plan to forgive the boy who murdered my family. But after five years of stopping, enjoying my breathing, and relaxing every day, I was able to look deeply and understand Eric."
The thirty-three pieces range from the deeply personal, like Judith's, to the scholarly, like "Studying Mind from the Inside" by the Dalai Lama: "The view that all mental processes are necessarily physical processes is a metaphysical assumption, not a scientific fact."
The joy of reading a book like this is that you can pick and choose. But what treasures to choose from! Here's from "Hair-Braiding Meditation," a humorous prose poem by Polly Trout: "May my daughter, who wants a billion tiny braids this morning, be filled with loving kindness. May she be well. May she be peaceful and at ease going to school with a billion tiny little braids."
In "Searching for the Heart of Compassion," Marc Ian Barasch writes: "I've become suspicious of the unblemished life. Maybe the heart must be broken, like a child's prize honeycomb, for the real sweetness to come out. Although something inside us yearns to walk on air, never touching the ground, compassion brings us down to earth.It has been likened to the lotus, whose exquisite, fragrant blossom grows out of the muck and mire."
Other authors represented in the anthology include Sharon Salzberg, Christina Feldman, Norman Fischer, Frank Olendziki, the Dzogchen Ponlop Rinpoche, and Pema Chödrön.
In one of my favorite essays, "Coming to Our Senses," Jon Kabat-Zinn echoes Thay's concerns: "When cultivated and refined, mindfulness can function effectively on every level, from the individual to the corporate, the societal, the political, and the global. But it does require that we be motivated to realize who we actually are and to live our lives as if they really mattered, not just for ourselves, but for the world."
I was inspired to go out and buy Kabat-Zinn's book as well as Thay's. And that's the point of a compilation like Best Buddhist Writing. You get a taste of something extraordinary, and it makes you want to indulge more deeply in the fine cuisine of Buddhist thought.