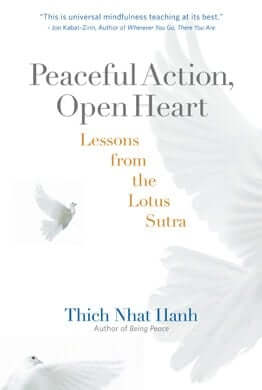 Peaceful Action, Open Heart
Lessons from the Lotus Sutra
By Thich Nhat Hanh
Parallax Press, 2008
Softcover, 287 pages
Reviewed by Judith Toy
Thich Nhat Hanh reminds us that the strength of the Lotus Sutra is its ability to present deep teachings in a clear, easy-to-understand way that applies to all walks of life. Composed during the second century CE, this "King of Sutras" is known for its open arms. It moderates between what was the old Buddhist guard, the shravakas, and the newer schools of the Mahayana canon, and reconciles the two. It was the Mahayana School that claimed we are all Buddhas, and offered the bodhisattva path. The characters, or bodhisattvas, of this Dharma revolution each represented a paradigm. They are known by such colorful names as Never Disparaging, Medicine King, Earth Store, and King Fine Adornment.
To read this rare, reissued translation of the Lotus Sutra is to read ancient history and the daily news simultaneously. One bodhisattva who bridges past and present is Kshitigarbha, or Earth Store Bodhisattva, whose delight is to enter hell realms to rescue those in need. Although only briefly mentioned in the Lotus Sutra, this protector is considered by the author a role model for today's world. It is Kshitigarbha's energy of salvation and protection of the Earth that we need to save our wounded planet and offer balm in places like Rwanda, Iraq, Iran, Madagascar, Afghanistan, and the long-wounded Vietnam, not to mention the whole Western world. Earth Store Bodhisattva keeps a deep relationship with beings of the earth—humans—and with those below it—hungry ghosts and hell beings. He asks, "If I do not go to hell to help them, who else will go?" We well remember how Thay's students in his School of Youth for Social Service walked the killing fields of Vietnam to help. Likewise, Kshitigarbha represents a realm of action very much needed here and now.
Similar to the language of the Pure Land Sutras, the Lotus Sutra's metaphorical images, like poems and paintings, speak to the heart. Think of the thousand arms of the Bodhisattva of Compassion, Avalokitesvara. Imagine cosmic beings with eyes like "broad, great leaves of the green lotus" and bodies "the color of pure gold." Hear bodhisattvas gifted with the ability to speak with "unobstructed eloquence." And you have the saddharmapundarika, The Lotus Blossom of the Wonderful Dharma.
Presented as twenty-eight chapters in two parts, this sutra first focuses on the historical dimension, or what happened during the life of Shakyamuni Buddha. In the second division, the sutra deals with the ultimate dimension, "beyond our ordinary perception of space and time."
In this selective re-telling of the Lotus Sutra, Thich Nhat Hanh offers us a handbook for life. To help us on the bodhisattva path, he includes his explications of the Six Paramitas, that we may, together with all beings, pass over the sea of suffering to the shore of freedom. And he even gives us this encouragement, that it is possible for us to take only a few seconds to make the crossing!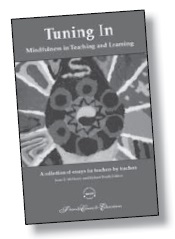 Tuning In
Mindfulness in Teaching and Learning,
A collection of essays for teachers by teachers
Irene McHenry and Richard Brady, Editors
Friends Council on Education (available from Parallax Press)
Softcover, 144 pages
Reviewed by Judith Toy
When I was seven years old, my parents bought our first television. I jumped up to hug my father and accidentally jabbed his chin with my fingernail, and he bled. This feels to me like a metaphor for what has happened since then with our cell phones, iPods, digital TVs, Internet, DVDs, video games and all the wonderful/terrible what-nots of our age. The world is bleeding. Yes, we can get Dharma talks online. Yes, we can call 9-1-1 immediately in an emergency.
Thich Nhat Hanh tells us that, despite all the electronics meant to promote togetherness, communication within families remains difficult. More sinister is the cyber-bullying and cell-phone pornography prevalent now among teens. More than ever now, we need to rediscover for ourselves and pass on to our children ways to calm them and ourselves. We need to listen to one another. This book of essays, gathered by OI senior Dharma teacher Richard Brady, a lifelong educator and co-founder of MIEN, the Mindfulness in Education Network, with Irene McHenry, Executive Director of the Friends Council on Education, offers methods from eighteen authors for K-12 teachers to bring mindfulness into the classroom.
In a text filled with both quirky and inventive exercises using raisins, beanie babies, spinning tops, micro-fiction, gardening, chanting, yoga, singing bowls, and talking pencils, this book is worth its weight in mindfulness to teachers. Alone worth the price of the book is Richard Brady's tale of how he introduces mindfulness to youth with a five-minute exercise in silence. He follows with a group of questions about body, mind, and environmental awareness, the last of which is: "How many of your negative thoughts and feelings had to do with the present?"
"Ultimately I point out that what our minds do during this particular five-minute interval of our waking life is repeated about 70,000 times each year. If we multiply the number of negative thoughts and feelings we observed by 70,000, we might understand why the mind plays such a significant role in creating stress. However, if we are able to become more aware of the negative thoughts and feelings that enter our minds and develop ways to replace them with positive ones, we will be able to live happier, less stressful lives—in school and beyond. Meditation, I explain, is one way to help our minds respond to negative thinking in a healthy way."
The book is divided into two parts: Teaching Mindfulness, and Quaker Practices that Center in Mindfulness. In Part II, Hope Blosser brings us the message of St. Francis, "that which is within you will save you," and Denise Aldridge writes lyrically about "Nurturing the Inner Garden." Jon Kabat-Zinn calls this a lovely compilation of stories, ideas and suggestions that reflect delight in both learning and teaching.
Indeed, this book offers medicine for a wounded world.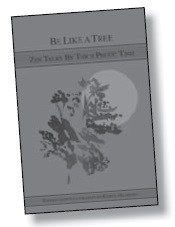 Be Like A Tree
Zen Talks by Thich Phuoc Tinh
Edited and Illustrated by Karen Hilsberg
Jasmine Roots Press, 2008
Paperback, 218 pages
Reviewed by Judith Toy
Karen Hilsberg has collected eleven talks by Thich Phuoc Tinh, spiritual elder of Deer Park Monastery, known to his students as the Venerable. With these teachings, she has interspersed her gentle brush paintings in the Asian style. Hilsberg's relationship with Phuoc Tinh runs deep. It was he who helped carry her—even joyfully—through the death of her husband. In the preface, after describing how the Venerable helped her clearly see death just as it was in the moment, she explains the book's title: "What it means to me ... to be like a tree is to be myself, to be grounded, to bend with the weather but not to break, and to be a home and safe haven for others."
In Chapter Seven, "Gratitude," the teacher's talk begins: "I offer you a handful of diamonds. Your house, your children, the water, your shoes, your breath, each is a diamond. I have given you a handful of diamonds. May you reflect on how they sparkle day and night."
This message is the heart of the book and the heart of Thich Phuoc Tinh. Its arteries are the Dharma, its muscle is love, its blood is the body of the Buddha. In Phuoc Tinh's voice, one hears the voice of Thich Nhat Hanh reflecting the voice of the Buddha. He recounts a touching memory of his mother during the chaos of 1975 when the North had taken over the South in Vietnam. The Venerable is traveling on foot toward his mother's village among lost and displaced people, bombed-out villages and dead bodies. She sees him coming and runs toward him, falling and running and falling again, so happy to see her son alive. When he arrives, she dares not hug him because he is a monk. They stand close. "I did not know about hugging meditation then," he says.
Thich Phuoc Tinh's message to America is: "... if you don't suffer from a lack of material comforts, then you suffer from a lack of spirituality. In other words, if you don't suffer from lack of food then you suffer from the fact that your mind is always looking for something else outside of itself and in the future. When you can come back to yourself and recognize the energies within you and be mindful, then you can release yourself from suffering."
Be Like A Tree offers generous appendices following the teacher's talks, transcribed and edited by Hilsberg: a biography of Thay Giac Thanh, the beloved former abbot of Deer Park Monastery; a letter from the Venerable to the Hilsbergs when Karen's husband was dying; a questionand-answer session with the Venerable; and Tea with the Venerable, Parts I and II.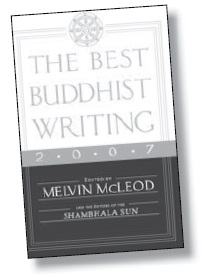 The Best Buddhist Writing 2007
Edited by Melvin McLeod and the Editors of the Shambhala Sun
Shambhala Publications, 2007
Softcover, 334 pages
Reviewed by Janelle Combelic
Reading a Dharma book is not my favorite way to spend an evening, I confess. I will read one selected by my OI study group and enjoy it fully, but left to my own desires, I will pick up a novel or biography any day. I love stories! I also enjoy reading magazines because the pieces are shorter and I can jump around. The Best Buddhist Writing anthologies satisfy all my wishes, while providing profound insight and food for thought.
As always, Thich Nhat Hanh features prominently in this edition, with both an interview by Melvin McLeod and the essay, "Love Without Limit." "I think the twentieth century was characterized by individualism, and more than 100 million people perished because of wars," Thay told McLeod. "If we want the twenty-first century to be different, if we want healing and transformation, the realization is crucial that we are all one organism, that the well-being of others, the safety of others, is our own safety, our own security."
The interview is one of thirty-three essays in this anthology. Other authors include well-known Buddhists like the Dalai Lama, Matthieu Ricard, Ajahn Amaro, and Pema Chödrön, as well as some surprising voices like author Alice Walker and feminist critic bell hooks. In "Creating a Culture of Love," hooks writes: "Dominator thinking and practice relies for its maintenance on the constant production of a feeling of lack, the need to grasp. Giving love offers us a way to end this suffering—loving ourselves, extending that love to everything beyond the self, we experience wholeness. We are healed." She quotes Thich Nhat Hanh from his recent book True Love: A Practice for Awakening the Heart: "to love, in the context of Buddhism, is above all to be there."
In "Through the Lens of Attention," physician Michael Krasner expands on this theme. "Thich Nhat Hanh has stated that one of the reasons to practice mindfulness is that we are actually practicing its opposite most of the time, and therefore becoming quite adept at it. The cultivation of a nonjudgmental awareness of the unfolding of experience from moment to moment balances out these human tendencies to be unaware and inattentive." I find it heartening to read about his work teaching future doctors to practice mindfulness in their dealings with patients.
Psychologist Daniel Goleman, in "Hardwired for Altruism," describes fascinating research into the physiology of the brain. "Scientific observations point to a response system that is hardwired in the human brain—no doubt involving mirror neurons—that acts when we see someone else suffering, making us instantly feel with them. The more we feel with them, the more we want to help them.... Our brain has been preset for kindness."
Jarvis Jay Masters practices love and kindness in the hell realm of San Quentin Penitentiary — and not always in the obvious way. With gripping immediacy he writes about an encounter with a crazed homicidal inmate nicknamed "Pitbull." Here, skillful means involved the use of brute force but Jarvis managed to save Pitbull from the other inmates—and from himself.
As a student of Thay's I find it gratifying and insightful that Thich Nhat Hanh is referenced so often in these essays. It is clear that Thay has touched many people, including Buddhists from many lineages. But you don't even have to call yourself a Buddhist (I don't)—this anthology contains wisdom, insight, and joy for everyone. And lots of great stories!