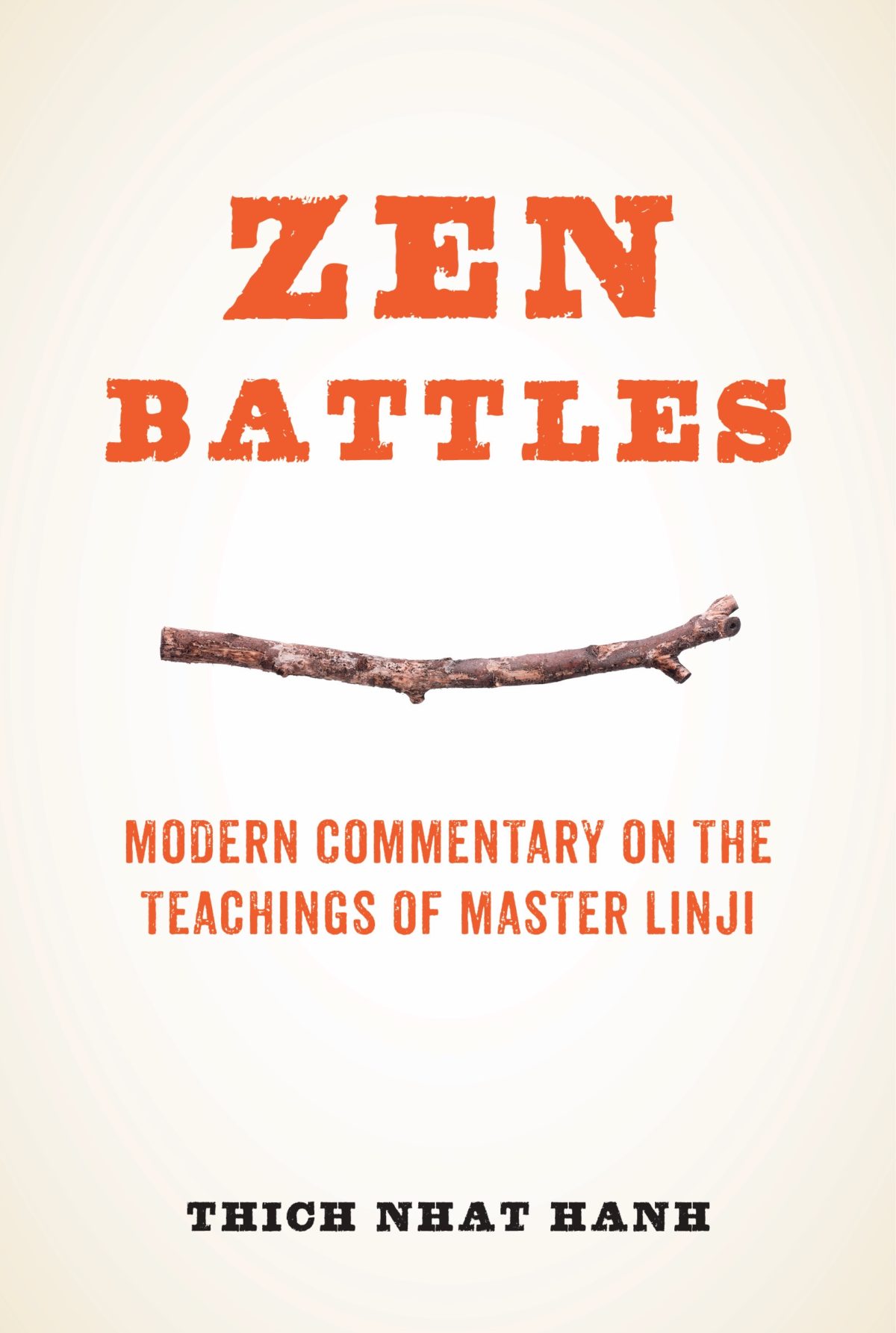 Zen Battles
Modern Commentary on the Teachings of Master Linji
By Thich Nhat Hanh
Parallax Press, 2013
Softcover, 266 pages
Reviewed by Judith Toy, True Door of Peace
This re-issue of Nothing to Do, Nowhere to Go: Waking Up to Who You Are, originally published in 2007 by the Unified Buddhist Church, is lightly edited, re-titled, re-designed, and refreshed. It is curious that the publishers chose the title Zen Battles, as Thay and all of his students in the Order of Interbeing are well known for gentleness, peace, and reconciliation. So the word "Battle" in the title is not meant in the usual sense. While in Master Linji's teachings, the master often strikes his students and sometimes shouts at them, we can absorb these teachings as a metaphor, much like the sword-wielding bodhisattva Manjushri who has the capacity to cut through our bonds of delusion. Thay tells us that the spirit of our Zen ancestor, Master Linji, is in everything we are taught and everything we do.
Born during the Tang dynasty in ninth-century China during a time of political unrest and repression of Buddhism, Linji studied with a recluse master and gradually developed his signature direct and dramatic teaching style: "If something has arisen, do not try to make it continue. If something has not arisen, do not try to make it arise. This action is more valuable than ten years' pilgrimage."
Reading these cases is like cracking a code. Yet it cannot be done with the mind. Each case presented by the author is a koan. First, we encounter Thay's translation of twenty-three of Linji's teachings, known as the Record of Linji, followed by the bulk of the book, Thay's commentary on each of the cases. The author suggests we first read through Linji's teachings completely, then repair to the commentaries.
Master Linji emphasizes that his insight was not with him from the time he took birth, "...but came about through polishing, refining, training, experience and investigation, and then one day I broke through to the truth." Eventually, Master Linji let go of his studies in order to follow true Zen practice. The wonderful irony is that we read the book so we can throw the book away.
There is one paragraph in this book that is the only Dharma talk you'll ever need. I leave it to the reader to find that paragraph for herself.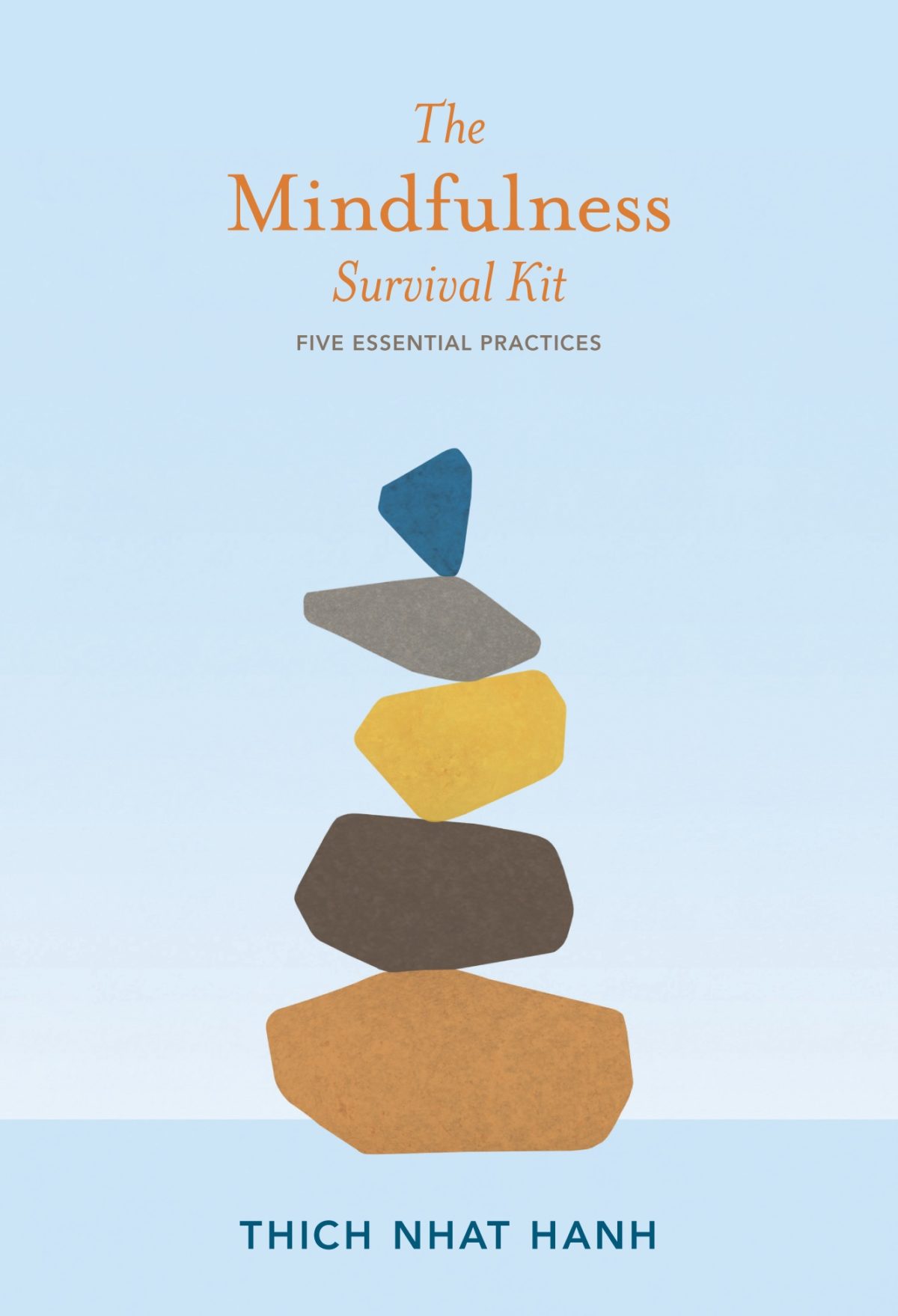 The Mindfulness Survival Kit
Five Essential Practices
By Thich Nhat Hanh
Parallax Press, 2014
Softcover, 160 pages
Reviewed by Leslie Rawls, True Realm of Awakening
Kits contain tools useful to a particular purpose. So too, The Mindfulness Survival Kit is filled with tools to help us practice with the Five Mindfulness Trainings and explore how they can be meaningful and useful in our lives.
The book first examines the historical background of the Five Mindfulness Trainings—the Plum Village version of the five precepts given by the Buddha. Having rooted readers historically, Thich Nhat Hanh then invites us to let go of any attachment to these practices as Buddhist concepts or dogma. Instead, he encourages readers to five ways to practice with the trainings that transcend divisive labels. "One of the deepest causes of our suffering," he writes, "is our insistence on seeing reality in a dualistic way and our attachment to our beliefs." Throughout the book, he invites the reader to use these trainings diligently, mindfully, and openly, "with an awareness of your capacity and of what is possible."
The book examines each training individually, including commentary from Thay's experience, as well as specific practices for the reader. Each commentary examines the training's purpose, reminding us that practice is more than memorization and that we engage these practices for our own healing and for healing the world. Thay show us ways that he envisions such healing, and invites us to be open to new ways of practicing with each training and to explore these ways individually and within community. His commentaries show the interweaving of the trainings and the interbeing nature of all life.
The second part of the book is a study of comparative ethics and the mindfulness trainings. Here, Thay offers details about different ethics structures as a way of exploring how the Five Mindfulness Trainings fit with other structures and how we might practice with them. Again, he invites us to connect with others, not to set ourselves apart by labels and dogma.
Thay's earlier commentary on the trainings, For a Future to Be Possible, included commentaries from many practitioners. I had found a great deal of meaning and support in this material and thought I'd miss it here. When I finished this rich book, however, I rejoiced that Thay repeatedly encouraged us to explore these practices, individually and as communities. And I recognized that the earlier commentaries were just one method of such collective sharing.
It is easy to lose oneself in a book, to think all the "answers" lie between its covers, that all we need do is read and understand the wisdom there. In The Mindfulness Survival Kit, Thay doesn't let us off so easily. Instead, this toolkit offers guidance as a map might, and holds a light up for us to find our own ways to make these trainings come to life.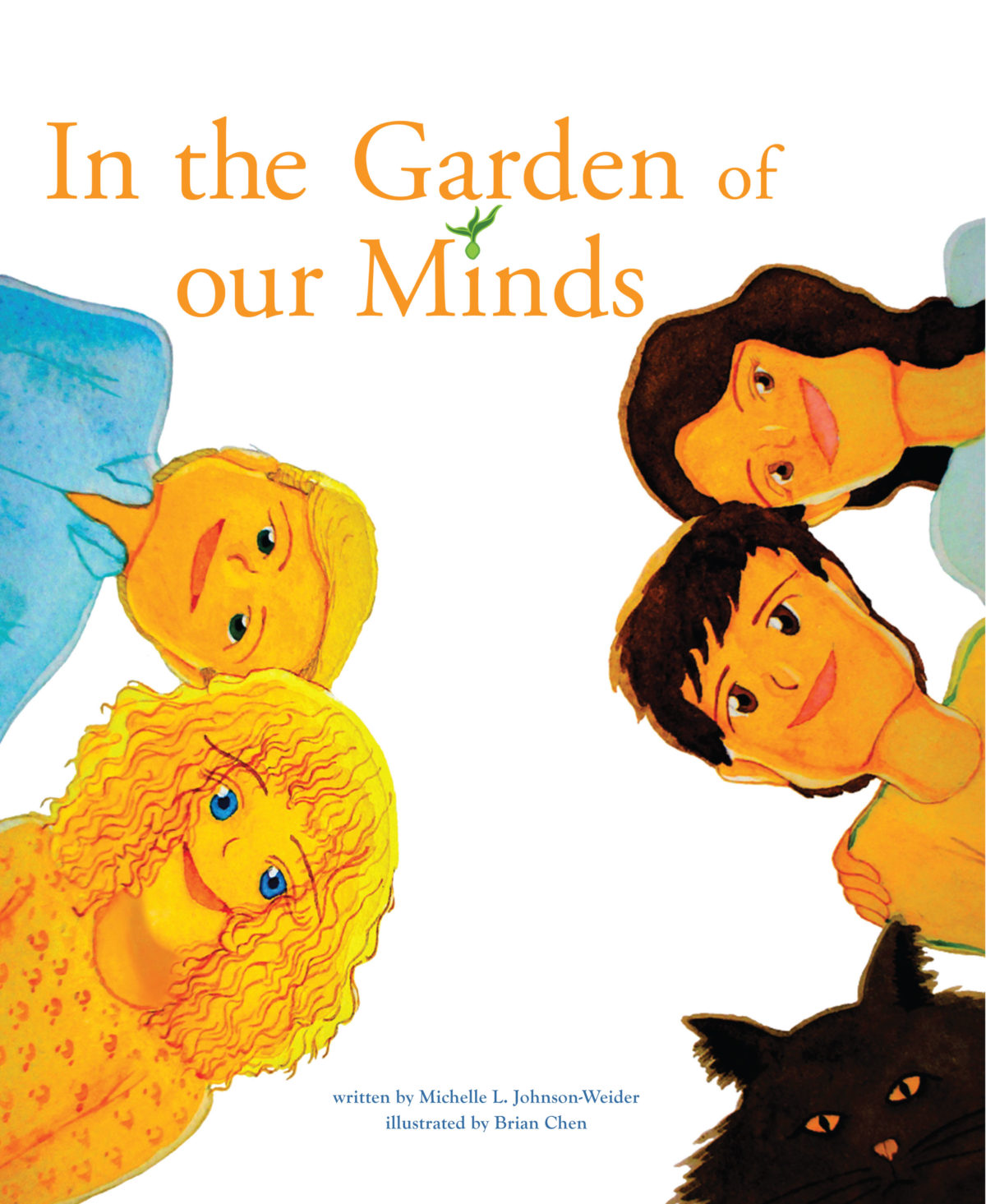 In the Garden of Our Minds
and Other Buddhist Stories
By Michelle L. Johnson-Weider (White Lotus of the Source)
Softcover, 108 pages
Blue Moon Aurora, LLC, 2013
Reviewed by Sandra Diaz
In the Garden of Our Minds and Other Buddhist Stories is a collection of children's stories that bring traditional Buddhist teachings into the context of modern life through the lens of a western Buddhist family of four.
Five of the seven stories introduce classic tales from the Buddha's life and teachings in a way that illuminates modern-day issues. When Mama tells the story "Prince Siddhartha Renounces the Throne," the children, Briana and Alex, have a chance to explore what constitutes true happiness.
In "Fighting the Demon Mara," the story of how the Buddha overcame doubt is transformed into a lesson about dealing with difficult emotions. "Mara is a name we give to the emotions that make it hard for us to do the right thing," Mama explains.
"The Value of Persistence, the Story of Mahaprajapati" demonstrates perseverance and creative problem solving. Mahaprajapati, a follower of the Dharma, successfully convinced the Buddha to ordain women as nuns despite his original resistance to the idea. This story helps Briana to discover that "Persistence, determination, and allies can help you succeed in almost any situation if you have a worthy goal."
"The Doorway of Death" tells the story of Kisagotami, a mother who begged the Buddha to bring her dead son back to life. The story brings valuable perspective to the topic of grieving and fear of death by encouraging us to fully appreciate this life while we have it.
"Lessons in Stopping" is the story of Angulimala, a murderer who renounced violence to become a monk and follow the Buddha's teachings. Mama tells this story to demonstrate to Briana, who gets in trouble for talking in class, that "we can stop doing any bad action, even really really bad actions, once we make the decision to start acting correctly."
The title piece, "In the Garden of Our Minds," takes us through a Thich Nhat Hanh-inspired guided meditation in which children think of good qualities they have cultivated and imagine them as fl wers in a garden.
In the final story, "A Visit with Rinpoche," the family goes to hear a Dharma talk by a teacher of Tibetan Buddhism. The children's questions provide an opportunity to explore the complexities of being Buddhist in a mostly non-Buddhist society. Briana and Alex are inspired by the teacher's description of a bodhisattva as "a great hero who lives with a heart of love for all sentient beings."
In the Garden of Our Minds includes a glossary of Buddhist terms, as well as a section called "Conversations with Children," which offers questions designed to spur discussion. This book is a simple but entertaining way to teach children about the Dharma in a home or classroom setting. Colorful illustrations by Brian Chen show an interesting mix of scenes of modern family life as well as from the time of the Buddha. Even though the book is designed for children, adults will find it an enjoyable way to learn about the Buddha's teachings.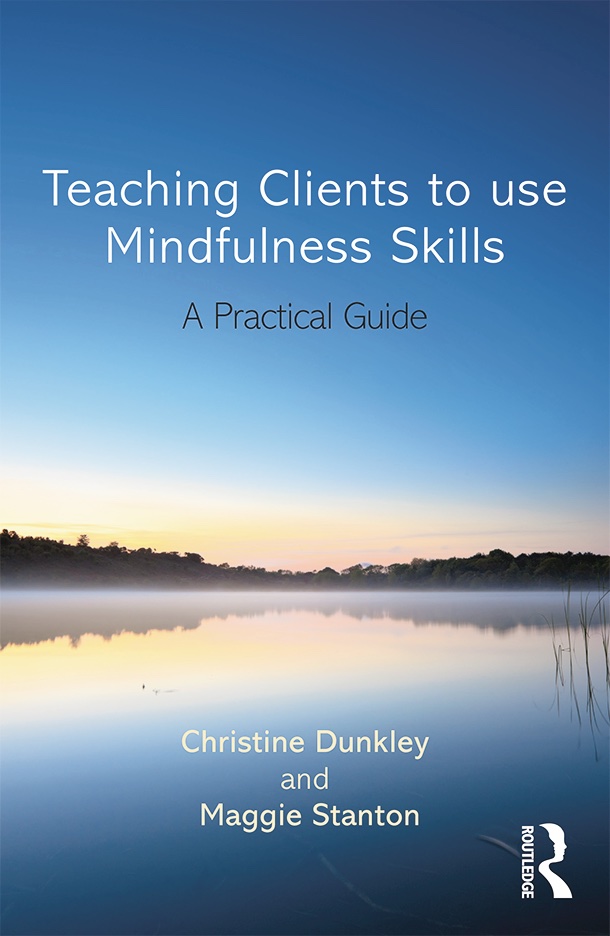 Teaching Clients to Use Mindfulness Skills
A Practical Guide
By Christine Dunkley and Maggie Stanton
Routledge, 2014
Softcover, 104 pages
Reviewed by Miriam Goldberg
Don't let the title fool you. This book is a gem of mindfulness practice for everyone. Consistent with engaged Buddhism, it demonstrates deep listening, mindful speech, and right diligence, foundations of healthy Sangha practice.
For readers interested in teaching mindfulness, the book offers an organized sequence with "key tasks" and "stylistic factors" noted at the end of each chapter. For experienced practitioners, the five exercises on sensation and perception may be a review, but their variety and explanations support fresh eyes and the more complex practices that follow. Therapists and anyone interested in the intrapsychic value and effects of mindfulness will find concise descriptions and applications to some challenging habits of mind. Everyone can benefit from the authors' focus on mindfulness in daily life to experience present moment, wonderful moment.
The book begins with definitions of mindfulness, a psychological context, and resources—from books and TV shows to recent research. All the practices suggested in the book address mindfulness as an experience of purposeful, present-moment, nonjudgmental awareness that helps us choose where we focus our attention and how we relate to experience while cultivating acceptance, compassion, and open inquiry in our thoughts, speech, and actions. With many examples of therapist-client interactions and commentaries that show kind and respectful inquiry, presence, and reflection, the authors demonstrate deep listening and mindful speech.
Buddhist instruction includes mindfulness of thoughts, emotions, perceptions, and breath. The authors here succinctly address the seldom-mentioned problems of teaching mindfulness of the breath to people who have a history of trauma or anxiety. Step by step, they show us how to bring clarity and compassion— rather than blame, shame, defensiveness, and/or denial—to our mental logjams and emotional upheavals. Their approach to habit-driven thoughts and emotions focuses on the thoughts that fuel the emotions. This is one effective way to cool down heated responses. Its success, however, is rooted in the underlying equanimity, compassion, and understanding consistent with Thay's teachings to hold in mindfulness those parts of ourselves that get activated and need our steadiness.
In later chapters, the authors help us move from habit to choice and pick the best modality for a given moment. We can water mindfulness with emotion mind or reason mind, doing mode or being mode, internal or external focus, thoughts or feelings or sensations, and by recognizing effectiveness and using wise mind.
This book is not a quick read. Whether it is taken a chapter at a time, example by example, or straight through, one can absorb an approach to mindful awareness that can open transformation at the base, bring compassionate eyes to oneself and others, cultivate inclusiveness—rather than divisiveness, comparison, or isolation—and nourish communities with understanding and love.