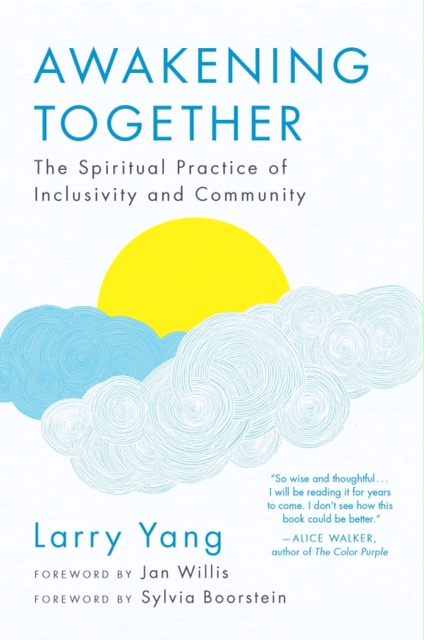 Awakening Together
The Spiritual Practice of Inclusivity and Community
by Larry Yang
Wisdom Publications, 2017
Paperback, 280 pages
Reviewed by Juliet Hwang
This book is a loving invitation for everyone in the Western Dharma community to look deeply into issues of diversity and inclusivity, and envision a beloved Sangha where everyone feels safe and included. A fierce advocate for equity and social justice within the Insight Meditation Community, Larry Yang has worked tirelessly to create more inclusive spaces for people of color, those who identify as LGBTIQ1 and those with special needs. His and others' efforts have manifested in the establishment of Oakland, California's East Bay Meditation Center (EBMC), the exponential increase of people of color who practice, and the increase of people of color Dharma teachers.
This book is a blueprint to create a more loving and inclusive Sangha, which can ultimately transform our society. It is written for all those who have felt marginalized in the predominantly white, Western Dharma community, as well as those in the dominant culture. Part memoir, Yang speaks of his own experiences of alienation, racism, and homophobia as the son of Chinese immigrants and as a gay man. He describes learning to embrace his suffering with kindness and attention. Yang writes with profound honesty as he recounts his first meditation retreat as the only person of color. The isolation and disconnection he felt from the community and teachers were not conducive to healing and spiritual exploration. However, at his first LGBTIQ retreat several years later, he felt deep love and acceptance, having understood the importance of finding safety and home in one's spiritual journey.
Yang also challenges those in the dominant culture to see how they have contributed to the current situation where diversity is not reflected in community leaders or spiritual teachers. Each chapter ends with insightful questions to spark introspection and challenge our own unconscious biases. The book ends with four appendices that outline EBMC's main learning points and how to create safe spaces. These documents are jewels for those interested in transforming unconsciousness.
This book has had a profound impact on me. Yang offers new vocabulary to articulate things I have felt for years in practice centers; terms such as "breaking together" instead of "breaking apart." He has instilled hope and inspiration in me, knowing there are others working to create more love and understanding in these realms dear to my community. I recommend this book for everyone who believes in transformation and freedom for all.
1Lesbian, gay, bisexual, transgender, intersex, queer