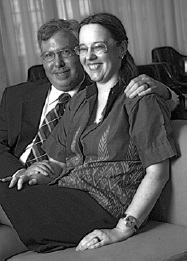 By Sid Kemp
In early September my wife, Kris, spent six days in the Superdome in New Orleans as Hurricane Katrina passed overhead. From early Monday through early Saturday, I had no news from her.
I have been a Buddhist practitioner for twenty-five years, and a member of the Order of Interbeing since 1989. I would like to share how our tradition and my practice flowed through my life in those days. Perhaps in a later article, Kris and I will share her story and how our lives are being changed by our encounter with this deep suffering.
Two thousand six hundred years before Katrina, the Venerable Shariputra died. Shariputra was an enlightened disciple of the Buddha and one of the Sangha's greatest teachers. A monk brought his ashes to Ananda, lifetime friend and longtime attendant to the Buddha. When Ananda heard of Shariputra's death, he felt sad, and he also felt weak and had trouble standing. When he brought the news to the Buddha, Buddha was sad, but he did not grow weak.
Over eighty generations have passed since the lives of Buddha, Ananda, and Shariputra. But people are much the same. Some of us are like Buddha, some like Ananda. In fact, some days each of us is like Buddha; some days each of us is like Ananda. It is in our nature to be Buddha. It is in our practice to be like Ananda; striving to be Buddha, but not all the way there yet. In the week that I could not reach Kris, I was sometimes like Ananda, sometimes like Buddha.
For the first two days, I was like Ananda. My body was weakened by the blow. I had difficulty sleeping, eating, and taking care of myself. I am grateful to my practice that I was able to be like Ananda. Without it I would have been angry instead of grieving. I can understand the craziness that made men in similar situations shoot at helicopters, yelling at the pilots to come rescue their mothers. I understand that kind of anger. It is part of me.
But being Ananda is not enough. It is good to be Buddha, as well. After two days, I realized that I had work to do, service to perform, decisions to make. I could not remain in grief and weakness. So—although I didn't feel like it at all—I took long walks for exercise and renewed my formal meditation practice.
The transformation was swift. For the next three days, I was like Buddha. I was clear and strong. I did work, and even won a professional award for it. I cared for my wife's family, my family, and our friends as we struggled with the fear and pain that arises when a loved one is missing and at risk. All the while we were hearing terrible and confusing stories about New Orleans. Some of us were locked in fear, others fantasized of rescuing her. My mind did all of that, but it was familiar ground. That is what the mind does. This is why it is important to develop inner strength, so when difficulties come we can respond with clarity and stability. We can be Buddha. We can be strong, balanced, and clear, capable of allowing love and wisdom to flow through us, even when faced with uncertainty.
I had a busy week. Fortunately, my professional work, at its core, is about digesting confusing news, figuring out what is really going on, and communicating with people. So I had the skills to handle the situation, and, by the grace of my teachers I also had the presence of mind and the strength to do what needed to be done.
What I have learned is that the fruits of the practice are good no matter what—whether we are, in one moment, clear but weak like Ananda or, in another moment, clear and strong like the Buddha. And if we feel and act out of fear or anger and hatred, that is okay, too. The full range, from suffering human being through practicing human being to awakened human being, is available to us in each moment.
Kris did make it home safely. I first heard from her on Saturday morning, at three-thirty. By the grace of the Dharma, I was able to get a friend to meet her and offer her a shower and a bed, saving her five hours on a bus. And I drove across Texas through the dawn to meet her.
Sid Kemp, True Full Taste of Enlightenment, is an author and project management consultant. His wife, Kris, is a visiting professor of religion at Tulane University.