By Irpinder Bhatia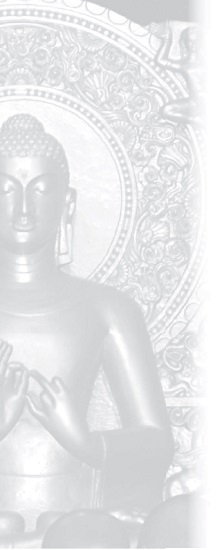 Thay and the monastics spent five days in Nagpur, the nerve center of the Buddhist revival in India. Nagpur could one day be as important as Sarnath. On 14 October 1956, Baba Saheb Ambedkar, the visionary socio-political leader of the Dalits* took a historic step. He converted to Buddhism with 400,000 Dalits and rolled the waves of Buddhism's return to India. This happened at Diksha Bhoomi at Nagpur.
The day of Shakyamuni Buddha's firstever teaching at Sarnath is known as the Dhammachakra Pravartan Din, the day of Setting the Wheel of Dhamma in Motion. On arrival in Nagpur on 7 October, the Sangha found hundreds and hundreds of banners welcoming the Buddhists from all over India to celebrate Baba Saheb's conversion day. The Dalit Buddhists celebrate it as the second Dhammachakra Pravartan Din, the day of Setting the Wheel of Dhamma in Motion. The monastics and the lay Sangha from Plum Village and Ahimsa Trust walked through more than a million Indian Buddhists visiting Diksha Bhoomi on this special occasion and shared with them Dharma, meditation practices and chanted together with them. And, on the evening of 8 October, Thay gave a Dharma talk to thousands of Indian Buddhists assembled at Diksha Bhoomi.
The first evening at Nagpur was spent with the Buddhist intellectuals and monks. In the words of one of the senior bhikkus, both the lay people and the Indian monastics were "startled" by the emphasis Thay placed on the building of Sangha. Thay's teaching that "giving care to oneself" and "building Sangha" are essential for those who want to work for social change was found striking and led to reflection.
The volunteer team when it first went to Nagpur made a surprise discovery. It found that the Indian Buddhists have formed a very special relationship with the Hindi version of Thay's book Old Path White Clouds. The book is being read, not just by individuals, but by entire families, and often more than once. "I have read it twice, and my father is now reading it," is a typical expression. People who have learnt to read for the first time in centuries form the core of the revival of Buddhism in India.
For these newly educated people hungry for Dharma, Old Path White Clouds brings Buddha's essential teachings in simple language through a story that is easy to understand. A special low-cost edition of the book was brought out for this occasion that sold out to the last copy available in Nagpur. It is felt that this book will be needed in several Indian languages over the years. It could play a vital role in quick dissemination of Dharma to the masses.
The two-day retreat at Nagpur was special for the kind of people it attracted. Most of the retreatants were men and women over forty, and quite a few young men. One of the most beautiful and striking visuals I carry from my first exploratory trip to Nagpur is of the women in the local Buddhist temples. More than once, late at night, I saw groups of ten or twenty women reading Buddhist scriptures by candle light. (Nagpur has long power cuts that can last five or six hours.)
These men and women who are the bedrock of the Buddhist revival in India came to the retreat. They gave the same quality of attention to walking, sitting, and eating meditation as they gave to Thay's Dharma discourses. On the second day of the retreat, Thay led the walking meditation to a tree. In silence they sat together, Thay and more than 700 retreatants, none questioning, none restless.
At the end of the retreat, a group of young men between 18 and 22 walked up to me to share what the retreat had meant to them. "Listening to each of Thay's Dharma talks has been like sitting through a meditation session. So simple and so fulfilling." One of the young men said thoughtfully, "Thay asked us to feel the presence of the body of the Lord Buddha and the body of Baba Saheb Ambedkar within our body. Thay asked us to feel their presence within us and draw strength from them. I could have never imagined that I can connect with Lord Buddha and Baba Saheb in this way. It is so simple and so easy to practice." A young woman said, "When I saw Thay walk I felt this is the way Lord Buddha must have walked. When Thay stopped and hundreds of people sat around him in silence, I felt that this is how Lord Buddha must have sat and meditated with his Sangha 2550 years ago. Little talking, and much practice."
This is exactly how I felt too. When I saw Thay walk in Nagpur, on Indian soil, I felt that I was seeing Buddha walk where Buddha was born.
*Victims of the pernicious caste system of India, Dalits were a dispensable lot who lived a sub-human existence for centuries [also called Untouchable].
Irpinder Bhatia is an educator and documentary film maker.