United by Collective Energy and Hope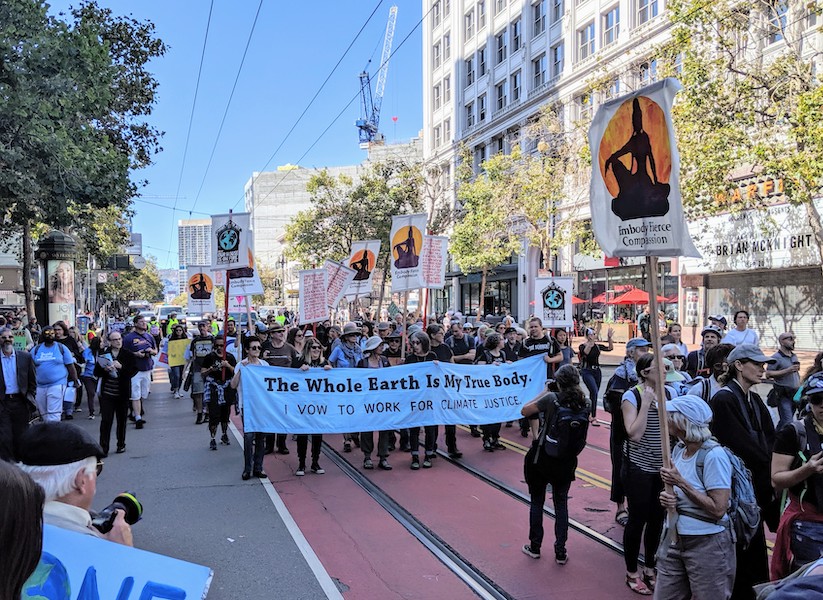 I worry that marches don't accomplish much. They don't decide elections, don't persuade those in power, and don't materially help anyone in any direct ways. If it's making a difference you care about, you can vote, engage in direct nonviolent action, change your lifestyle, and find ways to put political and economic pressure on corporations. But a march is a powerful demonstration of collective energy and hope, and sometimes that's what we need.
On September 21, 2019, I went with my family—my wife, our eighteen-year-old daughter, and our almost-thirteen-year-old son—to San Francisco for a climate march organized by Youth vs. Apocalypse. I'd been communicating with other Plum Village Earth Holder Community members in the weeks before the march via an online platform called Basecamp, as well as via phone and email. I'd also been in touch with a group from the Insight Meditation Society, led by lay teachers Thanissara and Kittisaro, via a WhatsApp group.
We were trying to decide the most appropriate way to contribute. I suggested gathering at the start of the march and doing sitting meditation on the street to contribute a sense of calm centeredness to the proceedings. That plan turned out to be impractical. One week before the march, I spoke with a coordinator for Youth vs. Apocalypse who said our groups would be welcome. But they gave us information about the size of the crowd that made us reconsider the sitting meditation idea. Instead, we met outside a café a few blocks from the start of the march. A few dozen Buddhists from various traditions were present, many of whom carried silk-screened banners. My children decided to join other young folks. At the request of the organizers, we lined up with other adults alongside Seventh Street in downtown San Francisco to let the youth start the march. 
We waited patiently while the crowd rallied at its first stop in front of the Federal Building where Representative Nancy Pelosi's office is located. Then they started marching up Seventh Street, past us, and turned onto Market Street. For twenty or so minutes, a stream of young people—with happy, determined faces, many posters, and many expressions of hope, anger, frustration, and fear—walked by us. The energy was astounding, and it was beautiful to stand there watching it flow past us like a river. Amazingly, at one point, my two children and my daughter's friend walked right in front of me. They looked at me long enough for me to snap a quick photo, but they were too caught up in the excitement of the march to linger or slow down.
After the youth had passed, our little group of Buddhists swung in behind, alongside a group of Grandmothers Against Climate Change. We spent the next few hours walking calmly, gently, and mindfully down Market Street and through downtown San Francisco, near the grandmothers and in front of police at the rear of the march who reopened the street to the public.We sang Plum Village songs and chatted with each other. Sometimes we just walked and smiled and enjoyed the sunlight. I suspect our little group was one of the most chill, calm sections of the march that day!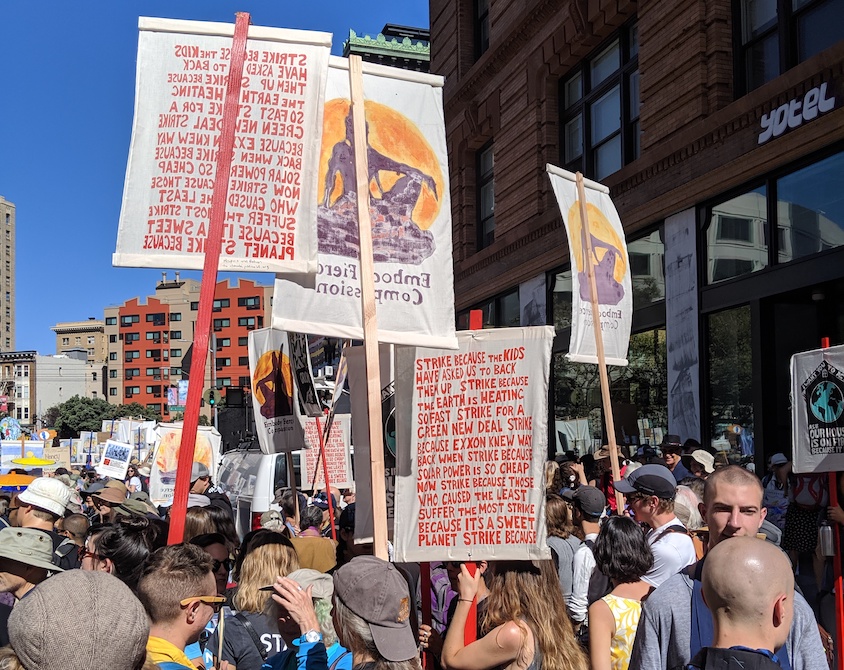 My daughter told me later that she enjoyed the march—especially the group that stopped in front of places like the headquarters of PG&E and Blackrock to chant and make their feelings known. (PG&E is the largest power utility in California, and Blackrock is a big investment firm. Both of them were stops along the march because of their roles in contributing to climate change.) My son enjoyed chalking messages on the sidewalk, and I hoped that they were relevant and appropriate. But my daughter told me she thought there was no way the CEOs of PG&E and Blackrock were going to change their minds just because people were chanting outside.That may be true, I told her, but CEOs were not the only ones who needed to hear these chants. These buildings were full of employees and customers, and the streets were filled with people. Those people—and even we who were chanting—also needed to hear the chants, because that hearing can lead to awakening.
For me, the most lasting benefit of this march—apart from the enormous burst of vitality from the students—was in forging connections with other Plum Village practitioners and other Buddhists who are, like me, concerned about this rapidly changing Earth. We have learned how to organize ourselves a little, even if it's just with Basecamp and a WhatsApp group. We have made new friends, and I think those connections will continue.My children saw that lots of others, like them, are worried about their future and are demanding change. That gives me hope, and I trust it will give them hope as well.
REPRINTED WITH PERMISSION FROM EHC NEWSLETTER AT EARTHHOLDER.TRAINING.