By Therese Fitzgerald
How do I love thee? Let me count the ways. -"Sonnets from the Portuguese" by Elizabeth Barrett Browning
For the past 12 years, it has been the joy and challenge of the Community of Mindful Living to organize Thay's gatherings in the U.S. During these years, much has unfolded marvelously. Those who attended Thay's 1987 retreat in New York City can remember doing walking meditation in the subway station and in Central Park with only 47 participants. Practicing meditation with children was a first ever for many of us. Bringing environmentalists, helping professional s, and veterans together with meditators widened our perspective on engaged Buddhism in vivid, transformative ways. The call by Thay to see the "face of the American Buddha" in 1988 has been answered, in part. How fortunate we have been to learn from direct contact with Thay and Sister Chan Khong, and the "interdenominational floating Sangha."
I would like to acknowledge many of the individuals who have been instrumental in helping cultivate the ground of mindfulness practice in the U.S. Carole Melkonian, Wendy Johnson, Ellen Peskin, Andrew Weiss, Richard Brady, Mjtchell Ratner, Michel Colville, Lyn Fine, Rowan Conrad, Marylee Revels, Leslie Rawls, Jerry Braza, and Monica Hoyt have been present for people, taking care of tea meditations, Dharma discussions, and evening sessions, arranging flowers, and preparing meditation halls-all clear efforts to practice mindfulness as a supportive Sangha of coworkers. These friends and others, such as Anh-Huong Nguyen, Joan Halifax, Caitriona Reed, Michele Benzamin, Eileen Kiera, and Jack Lawlor have been our Sangha builders and caretakers. Retreat regi strars everywhere have shined the Sangha jewel. Sister Annabel in 1991 and Sister Jina in 1993 and 1995 won our affection, and many of us now have special places in our hearts for the monks and nuns who have accompanied Thay and beautifully modeled mindfulness. David Dimmack, Wendy, Betsy Rose, Mobi Phillips, Mark Vette, and Wavy Gravy have shown us how to mindfully, heartily engage with our children. Claude Thomas, Maxine Hong Kingston, Dan Thompson, Ted Sexauer, and Lyn Fine have made the space safe for the veterans to "shine the light at the tip of the candle." And I wish to acknowledge our debt of gratitude for Thay Tinh Tu and Kim Son Monastery and the many other Vietnamese friends who have hosted and nourished Thay so well over these past twelve years-My Hanh Pham, Kim Chi Nguyen, Bich and Chi Nguyen, Anh-Huong and Thu Nguyen, Quan Trung Nguyen, and Mai, Khai, and Lin from La Boi Press.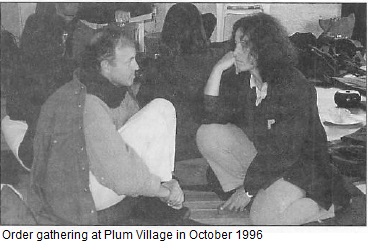 I would also like to extend gratitude and appreciation for my beloved husband and coworker, Arnie Kotler, who has always been completely available and enthusiastic about every aspect of each event every single time--whether making initial and continuing contact with the sponsoring organizations, arranging for venues and publicity, providing the text of fliers, helping organize Dharma discussions or taking care of the meditation hall, being a resource about the books, or being attentive to the thousands of individuals who needed assistance along the way. Arnie's joy and expertise at "being there" are what make communities sing with soulful delight and shared understanding.
Sounds True, Back Country Productions, and Conference Recording Service have lovingly provided tapes for people to "unpack" the retreats over time with others. It has also been a great pleasure to work closely with Omega Institute, Spirit Rock Meditation Center, the Buddhist Peace Fellowship, the New York, D.C., Los Angeles, and Boston Mindfulness Communities, and all of the other hosts and cosponsors. We have come to know and love each other in the process of developing increasingly complex programs for more and more people. At the retreats in Santa Barbara and Omega this past Fall and at the lectures and days of practice in southern California and on the East Coast, I felt immense joy being part of the great teams assembled to do the invisible work of supporting the gatherings with Thay.
The experience of seeing 1,200 people move as a family of practice in the dining areas or in the meditation hall in Santa Barbara, watching the team at Omega accommodate hundreds of people for private practice instruction, seeing the Omega staff provide a service before we even knew we needed it, walking through the book table area at events and feeling the presence of the Parallax Press staff and other Sangha members there answering questions and providing direction for people's continuation of practice, and so on, has solidified my sense of the maturation of the wide Sangha as a vehicle for mindful living in American society.
Now Thay has asked the monks and nuns of Plum Village and Maple Forest Monastery to take more responsibility for the practice and for retreat organization in this country, and we look forward to working closely with them.
Therese Fitzgerald, True Light, is a Dharma teacher in Berkeley, California.