As I write these lines, Tho, who lives in Switzerland and often comes to Plum Village each summer, has had the opportunity to spend the night in Vietnam in a flood rescue van. Cold winds blew as flood waters from Mount Truong Son of the Ha Tinh area rushed past the parked van. The local residents advised the rescue team to spend the night at the foot of the mountain until the flood water subsided. Since the water in this area has the tendency to rise and fall quickly, it was hoped that by morning the water would have gone out to sea and made way for the van to continue its mission.
The rescue team slept and waited in the van throughout the night, but in the morning, the water had risen twice as high. Members of the rescue team decided to leave the van behind since the gift packages from Hue had already been distributed to the flood victims in Thanh Hoa.
The day before, the rescue team-Sister Chan Nhu Minh, Sister Minh Tu, Brother Le Van Dinh, Sister Chan Doan, Sister Chan Tam, and Tho---drove a van loaded with old clothes, 30 boxes of instant noodles, and 300 envelopes of 50 thousand dong each, from Hue to Thanh Hoa, then to two villages deep in the mountains, Tan Thinh and Tan Loc (of the province Thieu Yen). The van encountered dangerous conditions, traveling through winding, narrow mountain paths and crossing turbulent water on a raft, in order to provide flood victims with emergency supplies. Each family received five bags of instant noodles, one bag of old clothes, and 50 thousand dong. As the rescue team's van tried to go forward in the storm, the powerful wind blowing in the opposite direction almost pushed it off the road. But once the team reached its destination, the people were so happy that they were moved to tears. Even the local authorities were touched by the team's effort, since that area has suffered tremendous harvesting losses in three consecutive seasons. They allowed the team members to personally give the gift parcels to each victim.
Besides our aid, there has been no other outside help. Many villagers were forced to leave their homes to look for work in the city, but the majority of them ended up begging for food and sleeping on the street. The government's Emergency Hunger Fund dried up long ago, and there is no means to restore it to provide for the poor.
After leaving their vehicle at Vinh, the team members continued their journey by train, since the train tracks are high up in the mountains and safe from the flood. On the way from Vinh to Quang Binh, they saw tens of thousands of acres of land covered in flood water. The water from the mountain and the rising tides of the sea overflowed the districts of Nghi Xuan, Hong Xuan, and Duc Tho. The roads from Lam River to Gianh also flooded, and hundreds of thousands of houses were filled to the roof with flood water. It was truly a sad sight. In witnessing people curling up under the cold, windy storm, no one was able to contain their tears. Tho wept softly as she whispered into her mother's ear, "Mother, besides the money you gave to the flood victims, please lend me whatever else you have so I can give each family enough to buy blankets and food to lessen their suffering. I'll work to pay you back."
Two weeks before, another flood , in addition to a terrible storm, washed 86 boats to sea at Hau Loc Thanh Hoa province; 567 boat people were reported to be missing. Thousands of people lost their homes. In the same week, the Hong River rose to a very high level and many families were forced to camp out on a nearby shore.
On September 13, 1996, at Quang Tri province, flood water from the mountain took the lives of many people and washed away many properties. The districts of Huong Hoa and Vinh Linh suffered the most damage. Our social workers at Quang Tri received a request for help from the local Buddhist organization and sent that request along to Plum Village. At Thua Thien province, the villages of Thanh Trung and Thuan Loc were also flooded due to their low altitude, but fortunately, no one was killed. This year, the farmers of Thua Thien and Quang Tri had a good harvest; however, after this devastating flood, they will be left with empty hands. Hunger and poverty are the two biggest worries of the residents of this area. At the end of August, Plum Village sent $4,800 to Sister Nhu Minh to be distributed to the rescue workers of Thua Thien. But it was hardly enough to help everyone. The fire of misery is huge, but we can only stop it with a few buckets of water.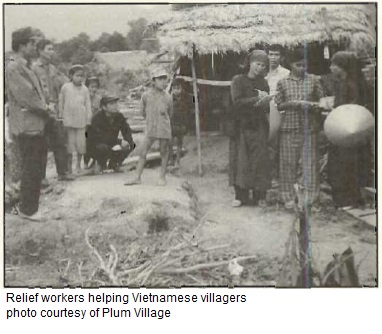 My dear friends, from the kindness of your heart, please contribute as much as you can to help alleviate the suffering of the helpless flood victims. Any amount you give will be much appreciated: $1 can buy 10 bags of instant noodles. $5 can buy 20 pounds of rice. $7 can buy one big blanket for a family of four. In France, please send your donation to Eglise Bouddhique Unifee in care of Sister Gioi Nghiem, Meyrac, Loubes-Bernac 47120 Duras, France. In the United States, please send your donation to the Community of Mindful Living. Please send larger donations directly to the bank through which Plum Village sends money to Vietnam: Union Bank of Switzerland of BASLE, 4002 Aeschenplatz 1, Switzerland, Swift Code UBS WCHZH 40 A in favor of the Unified Buddhist Church account number 0233 557 622 60 M (if in U.S. dollars), 0233 557 622 63 (if in German marks), 0233557 62201 (if in Swiss francs). If in French francs, please send to Credit Agricole Mutuel of Lot-et Garonne France Swift AGRIFRPP 850 Account of Eglise Bouddhique Unifiee 15006/00042/4290119911157.
Knowing how you, my dear friends, wish to receive news about Thay and Plum Village, I would like to tell you that there were 1,197 retreatants from 22 countries at the Summer Retreat. The majority of the practitioners felt quite happy after one week of practice. Thliy is healthy and his lectures were, as always, thoughtful and wonderful. AIthough the 450 retreatants at the Fall Retreat did not have the opportunity to personally meet and converse with Thliy, they were very appreciative of the nuns and monks in their own hamlet. This year, Plum Village has five hamlets: Xom Thuong (Upper Hamlet), Xom Ha (Lower Hamlet), Xom Trung (Middle Hamlet), Xom Doai (West Hamlet), and Xom Moi (New Hamlet). Each hamlet has enough nuns and monks to cook, plan activities, drive cars, plan meals, and give guidance to the Sangha. Five times a week, the hamlets join for Dharma talk and walking meditation with Thliy, and our own Tam from Delices d' Asie Restaurant in Bordeaux revealed her compassionate Buddha nature by helping to cook lunch for everyone. The atmosphere of 450 retreatants eating together in mindfulness was especially powerful.