Growing closer to those we love who have already passed away
By Sister Hanh Nghiem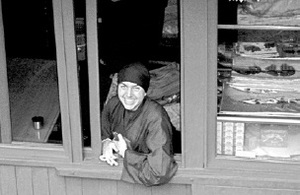 How many of us have suffering from our past, especially when it comes to relationships and how we live our life? Many people ask how we can fix mistakes or heal deep wounds we carry with us in our daily life. The Buddha teaches us that impermanence is life. We like impermanence when it benefits us and gives us what we want, but when it takes us away from our loved ones or causes us to suffer, we don't know how to accept it. We want to be with our loved ones forever. We want to make our life meaningful and precious.
I was raised Jewish and went to synagogue for all the High Holidays; we celebrated Hanukkah and Passover at home with the family. Every once in a while we went to minyan (prayer service) on Friday night, but still I felt a sense of emptiness and a lack of spirituality and guidance. I did enjoy the Jewish traditions and how the Jewish observances were so family oriented. When it was time for the family to gather for holidays, it wasn't about gifts; we came together to remember our ancestors and to let go of regular daily routine, to reflect on our lives.
A Heart-Breaking Loss
Actually it was my dad, Barry Allen Brodey, who had the Jewish roots. My dad passed away ten years ago, when I was sixteen years old. Some teenagers shot him in order to get into a gang. I remember the day my mom had to break the news to us. She wanted to do it as skillfully as possible and took us to a beautiful wooded area near our house, where we sat on a log surrounded by trees in the early summer sunshine. The news was so shocking that I didn't even cry. I didn't know how or what to feel. I thought you only heard this news on the TV. I just turned into a frozen block of ice, filled with disbelief and despair. A part of me wanted to believe that he just went on a vacation. But he wasn't on a vacation, and he would never come home. I never got to say good-bye or I love you one last time. He had to die alone and far away from home.
My father was like the summer sun, making everything around him vibrant and alive. There was no way any person could have a dull moment with him. He was the life of the party. He not only called me his little princess but also treated me like a princess. My dad was always more than happy to take me out with him, but like most kids I took it all for granted. He gave me all I needed to be happy—life and his love. But while he was still alive, I focused so much on wanting to understand his suffering, the part of him that was closed to the world and simply untouchable.

I was stuck on a weed rather than enjoying his garden. I didn't feel it was my place to pry into his life and open up wounds, but it made me feel hopeless because I didn't know how to connect with him. I couldn't help him for fear that the family would deny what I saw, and I felt like a fool for saying anything. If my dad did share his sadness with me, I was afraid of having to truly face it and deal with it.
Looking back now, I know what I was doing at the moment was just perfect. I was there with him and in my heart I was happy to have him as my dad.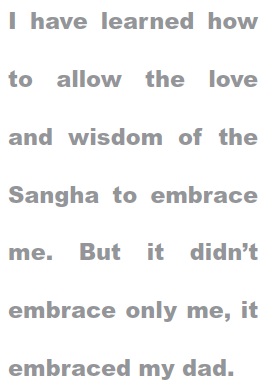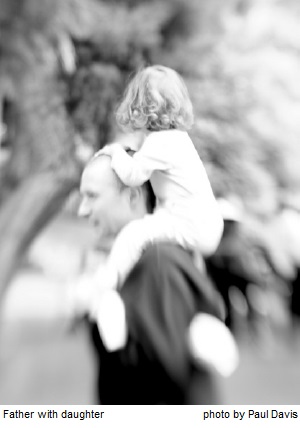 A Gift of Healing
After I was ordained, I started having dreams of my dad. They are such a reflection of how I was and how I have been transformed. The first happened five years after his death. I had been ordained only a few months. In this dream, I was in my bedroom—there were no colors. My dad walked in with a melancholic look, his head bent, his shoulders slumped. He gave no hint that he might be harboring a childlike hope to receive love by coming into his daughter's room. I just sat there on my bed unmoved by his presence, nor did it dawn on me to show my love to him.
The second dream occurred about a year later. My dad came to visit me still very sad and depressed, oblivious to the world around him. This time I acknowledged his presence happily. The atmosphere was still somewhat gloomy, but there was love present. I took him on a tour of the monastery grounds and brought him up to a room to rest. I carried with me a photo album to show my dad the special events that had taken place in the past years. Many sisters came along with us to make both of us feel supported and loved. Then we parted company as he lay down on the bed and peacefully sank into it for a much needed rest.
In the last dream, which took place a year later, I was together with my dad, my sister, and my brother at some kind of celebration. There were lots of colored round balloons, red, yellow and blue ones, and many green trees under a clear sunny blue sky. We sat around a white table with a floral centerpiece, laughing and giggling as Dad told us stories. My dad was so happy. He looked as if many of his burdens had been lifted from him and his heart was much lighter. I could see his joy and freedom as my own, which made my heart rejoice in a peaceful way. Over the course of my stay in Plum Village, I have learned how to take refuge in the Sangha and break down a few of the walls around my heart to allow the love and wisdom of the Sangha to embrace me. But it didn't embrace only me, it embraced my dad.
The Faith and Obedience of Abraham
My dad was not a Buddhist nor would he have wanted me to be a Buddhist nun. But one thing is for sure, he always wanted me to be happy. I took to this path out of faith and in obedience to what I heard in my heart, I think much like our Father Abraham did with God. Thanks to the practice of non-fear and learning to open my eyes to the life around me, my dad and I have the chance to live together for a long time. I have no regrets about our past relationship. Nor do I feel that he is alone, because he still lives with me every day, just as our spiritual ancestors continue in us through our faith and obedience.
Each time I hug a person or share my pain with someone, I know that he too is loved and he too is cared for, and we smile together in peace.
Sister Hanh Nghiem lives at Deer Park Monastery.