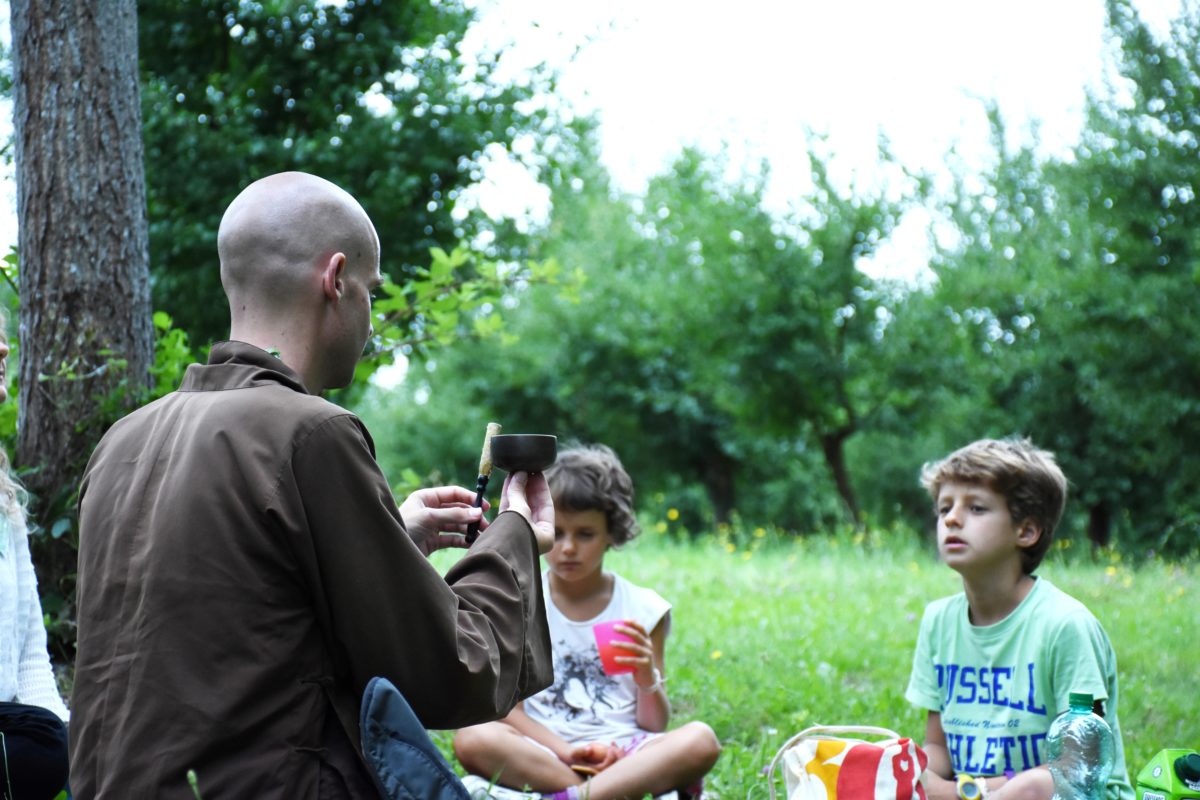 Each year over ten thousand lay practitioners come from around the world to join the monastics of Plum Village for a mindfulness retreat. Practicing alongside the monks and nuns, retreatants enjoy the healing power of living in the present moment. 
Since 1982, Plum Village has blossomed from a small farmhouse into one of the largest Zen Buddhist monasteries in Europe. The demand for mindfulness retreats continues to increase; the summer and several other themed-retreats fill up months in advance. Therefore, the monastics are pleased to announce their response to this growing need. They've created favorable conditions for a new mindfulness practice center in Europe to be established near Paris, called the Healing Spring Monastery. There, they will organize Days of Mindfulness for more than one hundred retreatants, as well as weekend or week-long retreats, in English and French.
The town of Verdelot offers the perfect setting: a nineteenth century convent, awaiting transformation into a retreat center. Most recently rented out as gîtes (rural vacation homes), the buildings on the property are capable of housing at least twenty monks (nuns will reside in Maison de l'Inspir, an hour away) and welcoming twenty overnight guests. The monastics expect to increase the capacity, with further renovation, to fifty guests. The monastery is situated on 1.8 hectares (4 and a half acres) of land, surrounded by rolling hills and trees. It is easily accessible from the capital by public transportation (85 minutes from Paris—Gare de l'Est); thus, it will be a comfortable destination for people travelling from Belgium, the United Kingdom, and abroad.
Brother Phap Dung shares the vision:
"Imagine the miracle of establishing a practice center with monastics and residential practitioners near a busy metropolis like Paris. Healing Spring Monastery can become this miracle, a refuge for retreatants who come to refresh themselves, pause, rest, and gradually discover ways to transform their habits and their suffering. Southern France has Plum Village; now Healing Spring Monastery will be in the North. Help us realize this collective dream."
Plum Village needs our help. They've already saved €100,000 ($137,600), but they need to raise €1,200,000 ($1,651,332) more to be able to buy the property and do the necessary renovations. Legal and administrative costs are included in this budget. We know this is a large sum, but as a worldwide Sangha, we can make this possible. Every donation makes a difference.
Thich Nhat Hanh says, "Everyone knows that peace begins within oneself, but not many people know how to do it." Healing Spring Monastery will provide yet another place to practice, supported by the monastics and other practitioners.
Help us realize this collective dream. Together we can support sharing this practice with even more people.
If you have questions, please email dana@plumvillage.org or call at +33 (0) 6 66 48 42 80. To make a donation and receive updates on the new monastery, visit their website at www.healingspringmonastery.org.
"Thich Nhat Hanh's teachings and practice have helped me accept where I am in life to be with both the difficult and the good times. Slowly, I'm releasing the grasping mind and focusing on cultivating joy each day." Mick – Northern Ireland 
"My family has been coming to Plum Village for five years. I love playing with the monks and running around. What I learn in Plum Village helps me when I feel sad or upset." Lauren (10) - France