Before she became a nun, Sister Dang Nghiem was a physician in the United States. She has been at Prajna Temple (Bat Nha) near Bao Loc since September and she wrote this letter to Thay on December 12, 2005.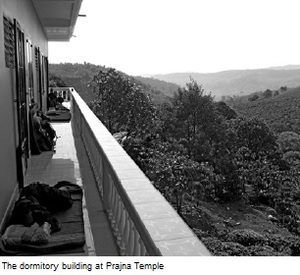 Beloved Thay,
I have wanted to write to you several times. However, the personal time that I have is extremely limited, and when I actually have some, the electricity is out for power conservation.
I am very happy here at Prajna Temple. I keep praising quietly, "The dharma is truly deep and lovely!"
The first night when I arrived in Prajna, at the Sisters' Hamlet, Red Fireplace Hamlet, the monastery was in total silence. I was very surprised, because I had been informed that 170 people were there. Once I came in the room, so many sisters stopped by to greet me and we had a joyful moment.
How Many Share a Room?
After a while, I bowed deeply and smiled to the bright and friendly faces in sign of farewell, but I was surprised to see that there were still many sisters standing around my newly assigned bed. So I said to them, "Dear sisters, please return to your room to rest. I probably need to rest, too." Do you know what their reply was? "Elder sister, we all live in this room!!!" Sixteen people live in a room five meters by five meters, which includes an indoor restroom with one toilet, a sink, and a showerhead. This restroom is divided into three sections by two curtains, so that one person can use the toilet, one to three people can use the sink, and one person can shower or wash clothes, simultaneously.
When I climbed onto my upper bunk bed for the first time, I hung my weight on it as I had often done in my dormitory in college. Unexpectedly, the whole bed tipped towards me, and I jumped down quickly to catch the bed. I have enough experience by now, and I can climb onto it skillfully like a cat.
Taking Refuge in the Three Jewels
Every morning I wake up at three to do my toilet, to avoid waiting in line. Then I come out to the balcony to enjoy sipping half a liter of warm water, before I do yoga. The wind blows wildly, howling in waves. The stream and waterfalls flow continuously and forcefully nearby. I do the exercise Sun Salutation and the headstand pose, as I quietly recite the Three Refuges. However tired I may feel some mornings, I still strive to wake up early to do yoga, and I also run in the evenings. I am aware that for me to continue on this life-long path of practice, I must take good care of this body. My heart is filled with joy and gratitude to the Three Jewels for giving me enough strength, faith, and every opportunity to practice.
A small bell is invited at 4:00 a.m. to wake up the Sangha. The Great Temple Bell is also invited at that time. The sounds of the Great Bell and the chants reverberate throughout the mountains. Local people also take these sounds to wake up and prepare for the new day. At 4:20 a.m., the activity bell is invited to announce exercise time. Everyone quietly does walking meditation to the meditation hall (on the upper level) and the dining hall (on the lower level) in the adjacent building, to do the Ten Mindfulness Movements. Every level is full of people. There are young aspirants who are still sleepy, standing like zombies and raising their arms only occasionally. Even though sitting meditation begins at 5:00 a.m., most are already at their cushions by 4:50 a.m.
Our sisters chant energetically and powerfully! In Plum Village, I often felt self-conscious of my loud chanting voice. I do not have to worry about this here, because my voice blends in with the Sangha's like milk in water.
Stories About Food
We eat breakfast at 6 a.m. Everyone leaves her shoes outside and walks barefoot into the dining hall. The shoes are aligned neatly next to each other, and sometimes when I come out, I see my shoes have been moved closer to the door threshold; I am touched by these quiet kind gestures. There are three serving tables (for
170 people), narrow and only one meter long each, because our food is simple and without much variety. We usually have rice at all three meals, with a stir-fry dish and a vegetable dish. There is soup at lunch, but sometimes we have just one dish. The sisters ask to have rice, instead of noodle soup of some sorts, because they get hungry very quickly, and they cannot work or sleep well at night.
In the dining hall at Deer Park, there is a separate table full of bottles and containers of soy sauce, olive oil, chilies, peanuts, sesame seeds, and so on. Here in Prajna, food is flavored with enough salt, and only occasionally there is a bowl of soy sauce or tomato sauce on the serving table (tomatoes are too expensive for cooking). The shopping sisters also try to roast sesame for the Sangha, but the jar is emptied so quickly that only two or three days later we see another jar. In principle, we can talk after two sounds of the bell, but everyone remains silent throughout three meals; some whisper if it's very necessary to exchange something. I am happy with this, because that little tiny dining hall would be like an open market place if everyone talked.
Before Sister Thoai Nghiem left Deer Park to return to Prajna this last October, she told us that the sisters in Prajna crave sweets. Upon hearing this, some sisters thought that this craving for sweets was due to them being teenagers. I myself thought it could be because they were malnourished. After a few days in Prajna, I found myself craving sweets as well! Sister Nhu Hieu shared that the other day she had a lollipop, and it tasted better than any candy she had ever had in France! We both laughed together, because we are far from being teenagers. Each time when our brothers and sisters from Plum Village are together for a meeting, we bring all our sweets, place them on the table, and eat together. The truth is that none of us has the heart to enjoy these sweets alone, if we don't have enough to share with those in our room.
Last week we had a meeting with the Venerable Abbot of Prajna Temple, and he said he felt much love for us coming from Plum Village, because we all become darker and thinner here. "Even brother Pháp Kham, who was fair and round when he first arrived, now also looks so dark and thin!" ("He's looking more like a mountain person [a montagnard, mountain tribesman] now," a sister whispered, and all of us giggled). "Well, we have given seventy, eighty percent of ourselves, so we can give up to ninety, one hundred percent of ourselves. We just continue to stretch our arms a little longer. So many people desperately need our practice. Centers like ours must be present everywhere in Vietnam in order to rebuild our country...." The Venerable spoke with such enthusiasm, and with such a charismatic smile, we looked at each other and laughed, admiring the Venerable for his talent for giving us effective spiritual boosters.
Letting Go of Attachments
Before I came to Prajna Temple, I heard Sister Thoai Nghiem say that the biggest problem here is attachment. I reacted strongly, believing that people with that tendency should be expelled from the community. However, living together with the sisters and listening to them, I understand better the causes of their tendency for attachment.
I practice Noble Silence each Lazy Monday for at least half a day, because I conduct an anatomy class for our sisters later in the afternoon. Last Sunday evening, it was past 10 p.m. already when one of my mentees came to my room, asking me to help her with her insomnia because, she said, "I know you'll be practicing Noble Silence tomorrow." I told her to return to her bed, lie down, and follow her breathing. If she could not sleep that night, it would be okay; she's had this problem several years, and we were not going to solve it that night. She walked away angry, and her steps were heavy. A few days later, I asked her if she was still mad at me, and she said her anger resolved after she had been following her breathing for a while. I asked if she knew why I sent her back to her room that night. "Because you want me to practice taking refuge in myself," she replied.
Because all of us, monastics as well as aspirants, live in one building, the sisters have the tendency to "stop by" your room anytime they want. Some also tend to "hang out" nearby or at a distance, looking at you with curious and affectionate eyes. Sometimes I return to my room late, feeling exhausted, and I see some young aspirants knocking on my window, waving and smiling!!! I have requested a couple of my mentees to memorize the sutra "Taking Refuge in the Island of Self." They are to recite it to me by memory, to contemplate on this sutra, and to apply this teaching in their daily lives.
Having lived with the sisters and listened to their life stories, I understand more why some of them are prone to attachment. Many of them do not receive love or positive communication in their families and in their previous temples. Therefore, when they happen to meet a person who has some freshness and who spends time to take care of them, they want to attach themselves to that person. They want to attach their hearts, fragile and full of sadness, to a person they think they can trust. I see clearly that as older brothers and sisters, we must practice to nourish stability and space within ourselves, so that we can understand others more deeply with time, and so that our love entails no "hook" that others can "attach" to.
Background of Our Monastics
These past three weeks our dharma teachers have begun to interview the aspirants and visiting nuns who request to stay and practice with us. I also participate in these interviews to help assess their health condition. Each day, we use the working period, an afternoon activity, and the evening sitting session to conduct interviews. I have learned a great deal from these sessions.
There are sisters who are so innocent and pure; they want to become monastics because they have seen how beautiful the monastics can be in their fine manners, behavior, and speech. There are also those who come from unhappy families; their parents abuse and neglect each other, and the young people do not want to repeat this cycle of suffering. There is one girl who spent most of her tender years caring for a mother with mental illness, begging for food, working as a maid, and defending her mother and herself from perverse men. There are those who came to live in a temple when they were only three or four years old. Yet their faces are somber, their hearts closed off, because they have witnessed such division and abuse in their root temples.
Dear Thay, it is very painful to hear all of these stories and more. In his last minutes before the Buddha died, he was so compassionate as to ordain Subhadda as his last disciple and to advise the new monk to practice diligently towards liberation. Suddenly, I touch the immense love in your heart, and I understand why it pains you when we have to turn someone away from our practice center here—though our facilities are stretched beyond limit. Our environment of practice has the capacity to nourish and enliven the faith and aspiration in people. I sincerely hope that my brothers and sisters, monastic as well as lay, will come and help build true practicing communities in Vietnam.
Beloved Teacher, you are here in every second and every minute. You are the tea flowers emitting fragrance throughout the mountains and valleys. You are the stream that flows through all paths. Even though our center is newly established, with your wisdom of Sangha building, the support of the Buddha and the patriarchs, the wholehearted care of lay friends, and the diligent practice of our brothers and sisters, Prajna is growing quickly and tremendously strong.
Every late afternoon during the exercise period, some of us practice martial arts, some weed the tea hillsides, and some jog along the creeks. Our sisters' clear laughter intertwines with the luscious green of the mountains. A chanting voice is heard nearby: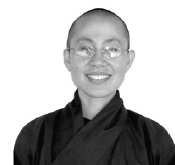 Now that I have entered this holy place I must use the sacred medicine to enlighten my spirit before I go out again.
To you our deepest gratitude. Brothers and sisters at Prajna Temple,
Dang Nghiem