Veterans Lighting the Way
Brother Phap Uyen and Paul Davis in Conversation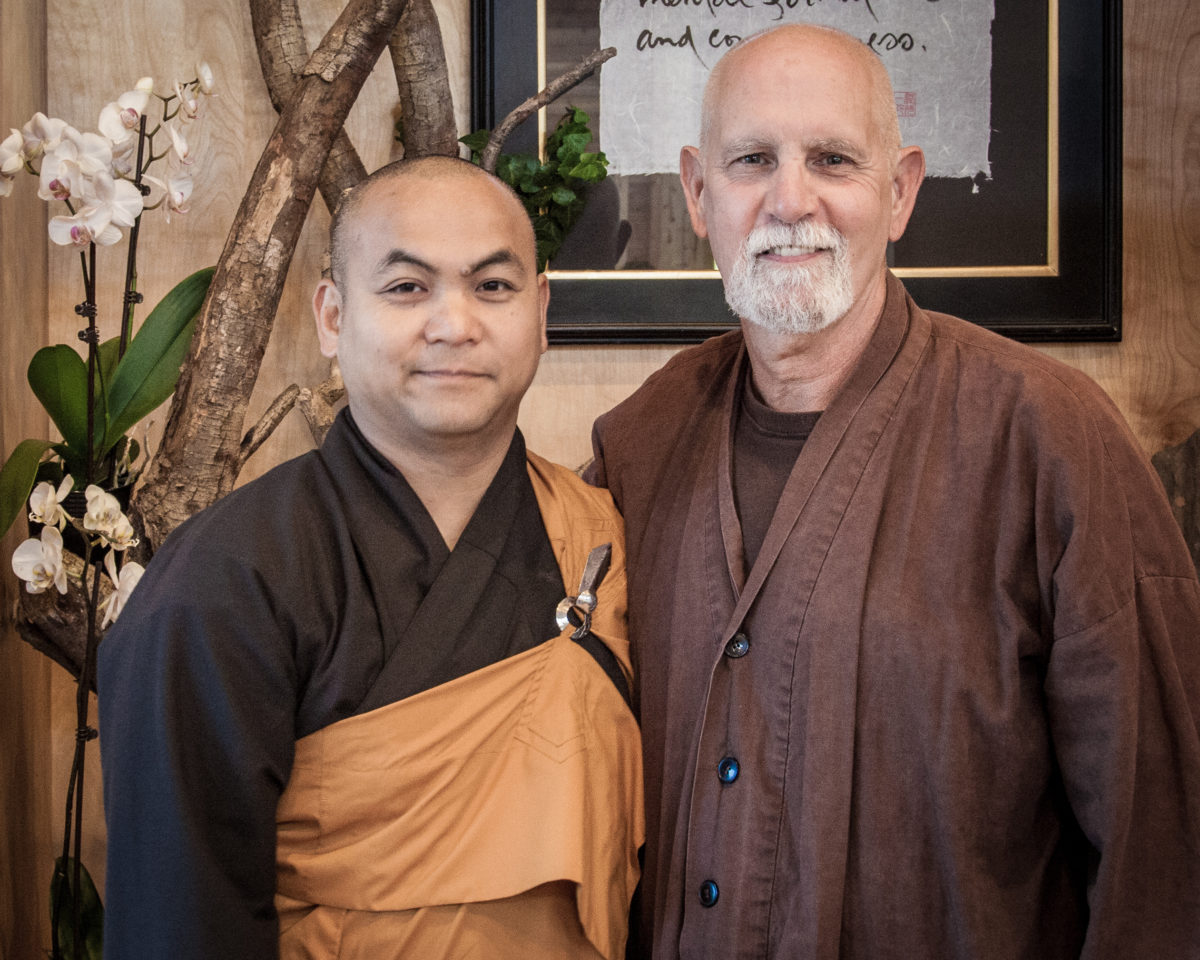 Brother Phap Uyen (Brother Michael) served in the military during Desert Storm, Desert Shield. He was ordained as a monastic by Thich Nhat Hanh on May 26, 2002, with the Nimba Family. Paul Davis served in the US Marines from 1964 to 1968. In 1966, he was in Vietnam when Thich Nhat Hanh started the Order of Interbeing. He took the Five Mindfulness Trainings in the mid-1990s and was ordained into the Order of Interbeing in Hanoi, Vietnam, in 2008. He lives in Cincinnati, Ohio, and facilitates the Being Peace Sangha.
Brother Phap Uyen and Paul Davis are part of a group planning a Veterans Retreat at Blue Cliff Monastery this November. To share with the Sangha their experiences and insights as veterans within the Sangha, they met by phone for a Dharma discussion on February 25, 2014.
Roots of Personal Suffering: Family, Military, and War
Brother Phap Uyen: You and I have had numerous conversations because we were both in the military—you during the Vietnam War and me during Desert Storm, Desert Shield.
Paul Davis: I went into the Marine Corps three weeks after I graduated from high school. I grew up in a rural part of northeastern Ohio. I went into the Marine Corps not out of patriotism, but because I didn't have anything better to do at the time, and two of my friends were going into the Marine Corps. I turned eighteen when I was in boot camp at Paris Island in 1964. About a year later, I got orders to go to Vietnam. By then I was nineteen. I didn't really know much about life, and I knew nothing about Vietnam or the Vietnamese people. I was a field radio operator, which meant I carried a radio and I kept communications with headquarters. When I went to Vietnam I had no opinions, I was just there. It was probably different for people who went later, when they knew more about the war and formed opinions about whether it was good or bad. But I grew up in the fifties and early sixties with John Wayne and America being right, so those were the filters that I took to Vietnam with me.
I had been in Vietnam for about ten months when I was wounded and evacuated. I spent three months in the hospital. And still I had not really thought about my experience in Vietnam. That came about a year later, in 1967. The brother of a friend of mine asked me to participate in a presentation at Ohio State University. It was about the cultural aspects of Vietnam, not about the war. A speech teacher was coordinating the event, and he asked the three of us if we felt that the people of Vietnam wanted us in Vietnam. I volunteered to answer the question, and I gave a long answer. At the end, he looked at me and said, "You didn't answer my question." I just sat there. I was numb, almost. I still get emotional thinking about that moment in my life, because it changed me in so many fundamental ways. I'm grateful for that question because it started my process of rebuilding who I was.
I came across Thay and his teachings much later, sometime around 1991 or '92. I had just experienced a deep loss—it was a period of reflection and questioning. I left Vietnam in 1966 just two or three months after Thay left. I know you left Vietnam when you were two. Is that right?
Brother Phap Uyen: Yes. I was born in June 1973, in Saigon. In 1975, my family left Vietnam. We were in the last plane to leave Tan Son Nhut Airport before the communist government took it over. Our plane was up in the air already when the soldiers stormed the airport. My aunt had married a person that worked for Air America, the CIA's covert flying group. He was able to help us get out of Vietnam. We stayed in a refugee camp in the Philippines for about two weeks, and then we ended up in Camp Pendleton, the Marine Corps base in California. After that, we went to Arizona to live with my aunt and uncle who had sponsored us. I was in the US by '75. For my parents it was a huge adjustment. In 1979-80, my grandmother and my aunts and uncles started coming over from Vietnam.
My dad had served in the South Vietnamese military. He had traumatic experiences from the war, as well as being a heavy drinker, so it was quite challenging for the family. He and my mom separated when I was nine and a half. They divorced and I lived with my mom for a while. Then there was the battle between my mom and my dad. I was pushed back and forth between my parents, and they were kind of using me against each other.
Paul: I do know that the journey that took me to the Marine Corps was because of issues growing up. When I was in the service, I wasn't angry. I was more mentally unconscious. When I got out of the service, I enrolled in college at Kent State University and began classes in 1968. During an anti-war demonstration in 1970, the National Guard came on campus and killed four students and shot more. I got involved in the anti-war movement, not a peace movement. I was a lot angrier as a war protestor than I was as a Marine. I had a lot of energy as an angry person. I know that part of your story is issues of anger as well.
Brother Phap Uyen: My mom remarried, and I didn't feel a sense of security in that relationship either. I hung out with the wrong elements and joined a gang. We got into a lot of trouble. After high school, I didn't have plans to go to college, so I joined the military. I wanted to try a challenge, so I tried out for the Navy SEALS. I went through the training program but I didn't graduate from the program. Later on, I was an executive bodyguard for a four-star admiral.
Practicing with Post-Traumatic Stress Disorder
After coming out of the military, I ended up with what we now call PTSD [post-traumatic stress disorder]. Even though I had known Thay since 1989 and I had received the Five Mindfulness Trainings from him, I didn't really practice because I was still very young. I didn't know how to handle the anger and frustration. I had nightmares at night. I didn't want to be alone, so I was married when I was twenty-three. My ex-wife and I divorced about a year and a half into our marriage because I couldn't handle my anger and my emotions. That also led to a disconnection between my daughter and me for a while. My daughter is now eighteen years old.
There were moments when I was in a really dark place, thinking about killing myself because I was hurting the people I loved and cared about. My mom was quite scared for me because of the lifestyle that I was living—in and out of relationships, not being able to focus and go to school or handle a job. I didn't like conflict. I would just up and leave my job and move to a different job if I didn't feel the workplace was harmonious enough. I couldn't really be around a lot of people at that time. Both of my marriages ended within a year and a half because I couldn't communicate. There was always a part of me that was trying to hide the things inside of me, not being able to share openly or intimately. A lot of times, my anger would do the talking. After leaving the military, there was a time where within three months I moved six times. That's partly because I couldn't accept myself and I didn't know how to be my own best friend. I wasn't happy with myself. You can run away from a lot of things, but the one thing you can't run away from is yourself. Around 2001-2002, my mom suggested for me to go to Plum Village and possibly take a break, because I hadn't had a break since I left the military.

Connecting with Thay and the Plum Village Tradition
Paul: I ultimately found Thay and his teachings in the early nineties, after my youngest son, Nathan, was killed in a car accident. The two things that led me to Thay's teachings were the war in Vietnam and Nathan's death. I always looked at spirituality or religion from more of an intellectual standpoint, but at that point I had to face some very serious issues of life and death. I first found an article that this Vietnamese monk had written, and I couldn't even pronounce his name! And then I read Peace Is Every Step. I found out Thay actually did retreats here in the United States.
I went on my first retreat about 1995, at Omega Institute in New York. Being in Thay's presence was supportive. I hesitate to use the word "healing," but it was very supportive. When I got there, I found a veterans' discussion group within the retreat. It was a combination of war protestors and veterans who had been to war, and their families. It was a good opportunity for families to come together and sit and heal. I kept going to Thay's retreats every two years, and I kept sitting with the veterans' group and getting to know other veterans and their stories.
The people who came to those groups weren't always veterans. The woman who became known as the Central Park jogger, who was assaulted in Central Park and had been in a coma, came to one of Thay's retreats and joined the veterans' group because she felt it was one place where people could understand the trauma that she had gone through. So the veterans' group was, in many ways, a safe place for others who had gone through serious trauma.
The initial group I attended at Thay's retreat was co-facilitated by Claude AnShin Thomas, who was one of the early vets that got connected to Thich Nhat Hanh. He's since left our tradition, and he was ordained in the Zen Peacemaker Order. The other was Roberta Wall, an OI member from New York. The two of them, the peace activist and the war veteran, co-facilitated that group, which I think made everybody feel welcome. A lot of people lost their youth to the war even though they weren't there because they got so angry about it.
Brother Phap Uyen: In 2002, I was getting ready to come back to the US from Plum Village. I had already completed 1500 hours of massage therapy, and then I was going to go to school for Oriental medicine. I went in to see Thay and pay my respects. Thay said, "So, I hear you want to be an Oriental medicine doctor."
"Yes, Thay."
Thay asked, "So, why do you want to be an Oriental medicine doctor?"
"So I can help people heal, because the military has trained me to do things and use my skills to hurt other people, and I want to change that energy inside of me."
But Thay said something to me that really made me stop and think: "If you want to help them heal, the only way you can do that is by helping them go to the root of their problem. And the root of their problem is in their mind. But in order for you to do that, you need training. So you need to become a monk."
I thought, "I'm not sure if I want to commit to being a monk yet." In the Asian culture, when you become a monk, it is for the rest of your life. I decided to do it anyway, because I saw the effect that being around the Sangha had on me.
Healing Power of Sangha
The more I practiced with the Sangha, the more I could slowly start opening up. I slowly started being more gentle, friendly, happy. I smiled a lot more! My mom shared that seeing me grow within the Sangha has been a really great thing for her, because she saw me during the worst of my time, when I didn't really smile.
Now that I look back at it, I see that when I was in the military, with my friends on the base, all those things that we have as part of PTSD were normal to us because everyone else around us was doing the exact same thing. They were drinking; they were not being faithful to their partners. There was anger, violence, hostility. While we're in that environment, everything seems normal until we transition out of the military; then you realize you can't just solve that problem by shooting that person. You can't just blow up at that person anymore. You have to find a more civilized way. Fortunately for me, I came in contact with the Sangha.
When I was in Plum Village in 2002, the US was going to war with Iraq; later on, I got news that seven of the friends I had served with had died. Thay was in Italy at the time, and when he came back I was working in the registration office. Thay came in and asked me how I was doing. Thay said, "I'm sorry to hear that one of your friends passed away."
"Dear Thay, it wasn't one. It was seven of them. Right now, it hasn't really sunk in yet, because I just received the news."
Thay asked, "How are you going to practice for them? What are you going to do for them?"
I was looking at Thay and said, "They're already dead. There's not much I can do for them."
"No," Thay said. "They're dead, but how are you going to practice so that you can help your other brothers and sisters that are not dead yet, or that are going to come back from the war zones?"
That really got me thinking about what I needed to do to practice—doing walking meditation and bringing the images of the soldiers up with me while I'm walking, or the images of my friends that are now dead and don't have an opportunity to walk anymore, and to take those mindful steps for them.
But at that time I was still very young and fragile in the practice. It's taken twelve years for me to work on my practice, to hopefully offer something to our brothers and sisters in the military. Granted, all my symptoms from PTSD are not completely gone, because they'll never go away. But I can handle them in a more appropriate way instead of letting those emotions control me like they used to.
Paul: What stands out for me in listening to you is the importance of the Sangha, not only the monastic Sangha but the lay Sangha as well. For me, I could not do this without the fourfold Sangha. I know that if I wander off the path, once a week I have a gentle reminder with my local Sangha to return to the path. It's the same when I'm able to spend time with the monks and nuns. It's like meditation—when our mind wanders away from our breath, we return—and returning to the practice and the Sangha helps me maintain my practice.
Brother Phap Uyen: The way I've been practicing is using mindfulness like a bullet-proof vest. During your time, you had flak jackets; now they use Kevlar. Without the mindfulness practice, it's like walking into battle without a flak jacket or a Kevlar vest on. I'm not about to walk into battle without my Kevlar vest on!
Helping Other Veterans Heal
Paul: I'm glad to be one of the threads in that jacket. You remind me of the importance of what can happen after the Veterans Retreat at Blue Cliff Monastery in November. I know that the veterans who have benefitted most from Thay's retreats are the ones who found the Sangha and stayed with it. Maybe that's one of the areas where local Sanghas could really help out—to reach out to the veterans who come to the retreat, to make sure that they're welcome without judgment into Sanghas that continue to support them in the practice.
Brother Phap Uyen: I think it's really important, because the veterans often feel a disconnection between themselves and the rest of society. If we can get the local Sanghas to help with that, as well as having veterans' Sanghas in different geographical locations, and possibly get together once a year, or have a big veterans' retreat—something that they can pencil in every year on their calendar.
In Sister Chan Khong and Thay's Love and Understanding program, when I sponsored a child for a school year, I would receive a thank-you letter and the child would share a little bit about what's going on with their life and how school is going. We can connect veterans and local Sanghas by asking local Sanghas to sponsor a veteran for the Veterans Retreat. If we do that, the veterans will see that people do love them and care about them. It allows the veteran to send a thank-you letter, and the Sangha sees concretely that this is a person that they're supporting.
When I was living in Plum Village recently, Thay was talking about wanting Sanghas to have service projects—not just practicing and gathering at one person's house, that's good, but also to reach out to different aspects of our community to help. This is a way that we can do both things. A lot of the veterans have trouble finding jobs because people won't hire somebody from the military, especially if they have PTS or PTSD on their record. There are financial difficulties for a lot of the veterans. That's why we're trying to do anything we can to get them to the retreat.
Paul: I was very upset when we decided to go to war in Afghanistan and Iraq. I was one of the people speaking at a public gathering against going to war. I was also doing volunteer work with the VA [Veterans'Administration], meeting with families whose children had been killed in Iraq or Afghanistan. I was torn between the idea of providing support for the families and honoring their loss, and at the same time speaking out against the war.
Veterans all react differently. There are veterans like me, who quickly realized that what they had been participating in was not right. There are other veterans who strongly feel they were doing the right thing, but they're still experiencing strong emotion from those actions, whether it's post-traumatic stress, or depression, or other things that can come from war.
Brother Phap Uyen: I understand where you're coming from. Some people have come up to me and said, "Being a Buddhist monastic, how can you support the war?" I don't support the war. I don't want to ever support any act of killing or hurting people. But I support the healing of the individual. Everybody understands a human being needs to be able to heal. We see the strong power of the Sangha in being able to help us heal. The war has already happened. There's nothing we can do about that right now. But what we can do is help them heal.
Paul: I've always liked Thay's poem, "Call Me by My True Names." I am the marine who went to war and I am the veteran who protested the war. Those are all part of who I am.
Brother Phap Uyen: Yeah, I see that in myself too. A big part of it is the environment. I think because we've been through the war, we want to stand up and not have our future generations go through what we went through.
EDITED BY JANELLE COMBELIC, BROTHER PHAP UYEN, AND PAUL DAVIS