By Ann Moore
In a New Year's Eve Dharma sharing session at Blue Cliff Monastery, Sister Anh Nghiem invited us to write on the phrases: "It had been," "But then," and "I realize."
In response to her invitation I offer the following story in three chapters:
Chapter 1: It Had Been
It was the last straw when Caroline walked into my writers' group. My dislike for Caroline was a long-standing, pure prejudice, our acquaintance limited to her occasional inquiry about my mother. As she was closer to my mother's age than mine, I judged her insincere; if she really cared, she would ask my mother. Also I identified her as one of the elite with whom I feel uncomfortable.
My mother died in October of 2006. Returning from Mexico the following April, Caroline said consolingly: "You must miss your mother dreadfully," leaving me speechless, as I did not. Caroline had returned interested in prison ministry, and had been given my name to contact. Soon we were carpooling to my two prison ministries.
One day she told me she would be away the third weekend in October. "So will I," I said. "Where will you be?" We were both going to the same retreat. We began driving together to my two Sanghas. When she headed back to Mexico, I breathed a huge sigh of relief.
And now she was in my newfound writers' group. Tuesday was my early morning Sangha; Monday night I slept under a black cloud. I woke upset by my lack of either Buddhist or Christian compassion, hopeful that Sangha wisdom would help.
Chapter 2: But Then
I remembered reading about my dilemma, but where? Miraculously I found the passage in The Heart of the Buddha's Teaching: "When one person comes up to us, the sight of him makes us uncomfortable. But when someone else walks by we like her right away. Something in each of them touches a seed in us. If we love our mother deeply, but feel tense every time we think of our father, it is natural that when we see a lady who looks like our mother, we will appreciate her, and when we see a man who evokes the memory of our father, we will feel uncomfortable."
I had known that irrational aversion was triggered by unresolved childhood conflict, but I had been the apple of my mother's eye and felt only love for my father. I considered my mother for comparison:
My earliest associations with Caroline were inquiries about
I had assumed a friendship of sorts between
There was the awkward allusion to my loss, which I now recognize as the sort of dead-end assumption for which Mom was notorious.
Caroline was invading my space; I had adolescent boundary issues with
Caroline was making demands on my time; I had been Mom's sole caregiver.
The match was unmistakable. Within minutes the black cloud dispersed and Caroline became simply Caroline, a person of mutual interests, no longer a threat to my identity.
Chapter 3: I Realize
I realize now, yes, I was tense whenever I thought of Mom. Her love was so vast, so suffocating, that I could not return it in kind. For that I had always felt guilt, while remaining mentally loyal, denying negative feelings as best I could. I now saw clearly that I had projected those feelings onto Caroline.
My mother had idolized her mother, who had been instrumental in driving away my father, whom Mom also idolized. I now saw that Mom had been so judgmental because she had projected unacknowledged, unacceptable family flaws onto others, a trait which I was continuing. With that realization I felt only compassion for the mother I had long found difficult. And I now understood what it meant to heal the past in the present.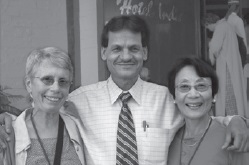 Ann G. Moore, Skillful Acceptance of the Heart, lives in Stonington, Connecticut and practices with Clear Heart Sangha in Matunuck, Rhode Island, as well as the New London Community of Mindfulness in New London, Connecticut.