A Day of Mindfulness at Google
By Sister Chan Hien Nghiem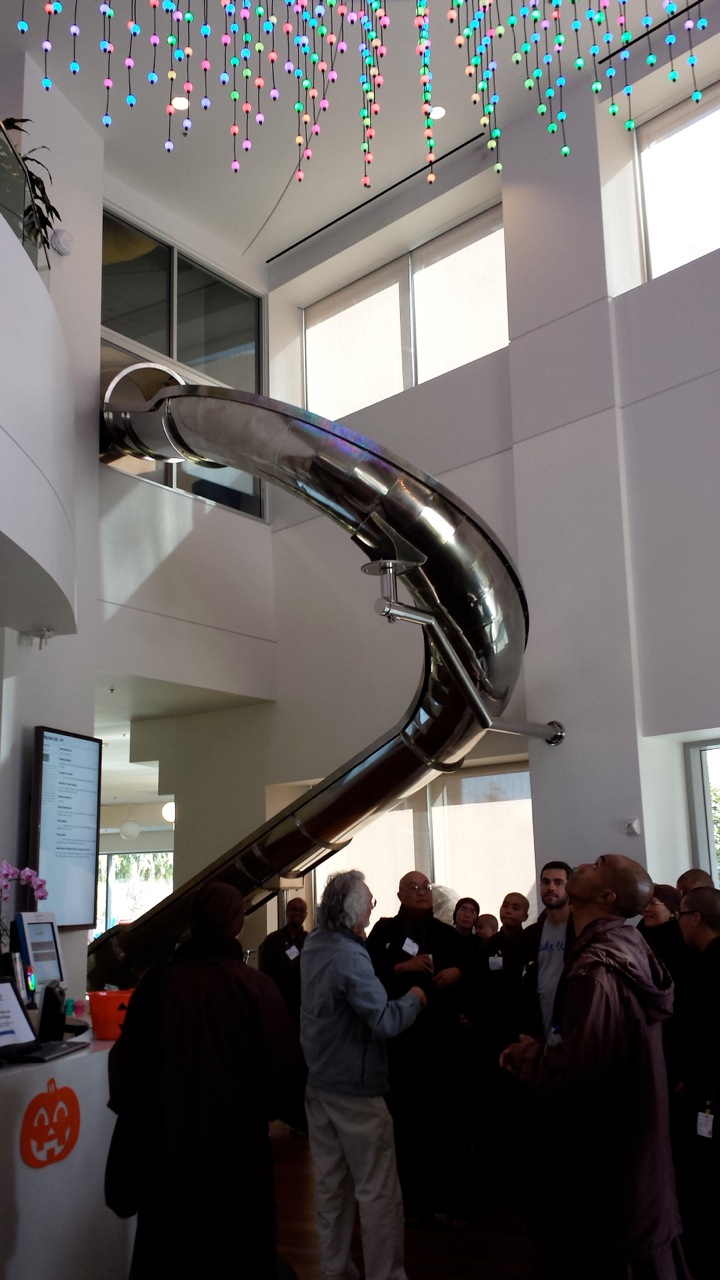 The Google campus is an interesting place. Called the "Googleplex" by Silicon Valley, it is a sprawling mass of buildings of unusual shapes and sizes, with earnest-faced, intelligent-looking young people darting between them. Some of them are riding free "Google bikes," which––like the buildings––are branded with Google's signature tones of red, yellow, green, and blue. There is a plastic pink flamingo perched on a dinosaur skeleton in the main courtyard, as well as a mini-pool, a sandy volleyball court, deck chairs, and exotic desert plants native to the Valley. Right away, you know that this is a place full of creative people, playful people––people who are dedicated to their work and their company's mission of "making the world's information accessible and useful." Google is known as one of the most innovative companies in the world––an exciting, challenging, and fun, if sometimes chaotic, place to work. Yet it is also known as a place where its young (average age twenty-nine), talented employees burn out and leave after just a few years.
As a result, Google has invested a huge amount in "employee well-being." All the food, the eighteen cafes, gyms, child care, and other onsite services are offered to its ten thousand employees completely free of charge. If you complete a project well, you can gain free "massage credits" to redeem on campus, or take some time out in a "napping pod." And yet, none of these "perks" can ever be enough to balance the intense workaholic culture. Google's CEO said that they have "a healthy disregard for the impossible." Employees may work up to sixteen hours a day, mostly in front of a screen. No matter how much high-quality food and services they have access to, they suffer greatly. They are so busy that they experience acute stress and pressure, struggle to sustain healthy relationships with their partners, and have little time for family life. And so "Googlers" were delighted when, in 2011, Thich Nhat Hanh agreed to lead a half-day of mindfulness for employees during his US tour. Google was proud to announce on its website that it was the very first corporate headquarters in America to host the world-famous Zen Master. As of this writing, Thay's Dharma talk Q&A has been viewed over 230,000 times since Google posted it on YouTube.
Thay's visit on October 23, 2013, was his second time on the Google campus. This time, Google asked for a full Day of Mindfulness, not just a half-day, on the theme "Intention, Innovation, and Insight." More than seven hundred employees signed up, so they needed to open two "satellite" locations where Thay's Dharma talk was live-streamed on big screens, with monastics assigned to each location. There was a lot of excitement in the bus as we headed to the Googleplex to start the day with an early morning walking meditation. Some of us had been there in 2011 and remembered the joyful, relaxed atmosphere, the openness of the employees, and the fun campus. There is one entrance hall where Google search terms (being submitted by users around the world in "real time") are projected flowing down a wall like a waterfall. There is another lobby with a giant swirling slide for engineers to slide down from the first floor to the ground floor.
Much of our excitement was not just to go to the Googleplex as a place, but to connect with the Googlers themselves––people in our own generation who share many of our aspirations. Software engineers (or "geeks" as they like to call themselves) are a creative, collaborative, experimental bunch of people, and meditation naturally appeals to their science-based curiosity. If they want to master technology, they also want to master their minds. Many of them have a deep faith that technology can serve the world and bring positive change, creating opportunities for all people across boundaries of nationality, race, and culture. So although we did not have green or blue hair or luminous sneakers like some of the Googlers, as Buddhist monastics we fit right in to Silicon Valley's "Zen vibe."
Our Deepest Desire
Google's unofficial company motto is "Don't be evil." Their intention is to make the world's information available––without being evil. But is information the same as insight? If we had to describe our aspiration as Plum Village monks and nuns, perhaps it would be to do good (water positive seeds and help people suffer less) by making humankind's deepest insights available to all those who are suffering. It may be that the world has a lot of information, but we may lack the tools, training, and insight to help us suffer less. Information (or too much of it) may even be a cause of our suffering.
Our Day of Mindfulness began with stopping. Thay was very joyful and relaxed as he explained walking meditation and led the hundreds of employees (many of whom had arrived early) on walking meditation around the courtyard. It was a very quiet morning, and the buildings were shrouded in mist. Everyone was perfectly silent as they took one mindful step at a time, eventually joining Thay to sit on the paving stones silently together. Absolutely nothing happened, and yet everything was happening. There was true stopping. And there was a sense of magic. Here in the pulsing heart of the Internet, there was stopping. There was peace. There was mist, and smiles, and quiet breathing. Nothing was going on, and yet everything was going on. We could feel that the Googlers were 100% engaged, 100% present. They were curious. They were tired. They knew that Thay had something they wanted, and they were eager to learn and taste for themselves what it was. Was it wisdom? Was it happiness? Was it freedom?
In a Dharma Talk back in Plum Village, Thay described how the Googlers had practiced walking meditation that morning so wholeheartedly. "They practiced very well," said Thay, unaware that one of those Googlers was sitting right there in the Lower Hamlet meditation hall, having decided to come and "check out" Plum Village for herself. She was very proud and happy to hear Thay's praise for their wholehearted practice. "But," Thay then continued, "the reason they practiced so wholeheartedly was because they suffer." And sitting there in the audience, she thought, "Yes, Thay is right. Thay has understood. We do suffer a lot. And this practice does help, a lot."
After the walking meditation, Thay offered a Dharma talk. "Each of us has a desire, an intention, which we nourish every day," he began. "Is our desire, our intention, just to run after fame, power, success, and wealth? Or is it something else? Every one of us should take the time to sit down and ask ourselves, 'What is my deepest desire? What do I want to do with my life?' It's not just a question of 'work-life balance.' It goes much deeper.
"If our deepest desire is to suffer less and be happier; if our deepest desire is to come back to ourselves, to create joy and happiness, and nourish ourselves, and help others do the same; if our deepest desire is to learn how to suffer, how to come back to ourselves and embrace and look deeply into our suffering, so we suffer much less, and can help others do the same; then that is good.
"Many of us are consuming technology to cover up our suffering and run away from ourselves, but surely we can design the kind of technology that can help us do the opposite? This is a question of innovation: we have to invent new ways of practice to suit our present situation. If we do not renew our teaching, our practice, then we cannot serve society. All of us have insight, we just need something or someone to help us bring it to life so that we can know which direction to go in––and which direction not to go in."
Thay went on to speak about the Four Nutriments, and how to nourish body and mind with mindful consumption. He also spoke about how the practice of deep listening and loving speech can be applied in corporations, and about his own experience of nourishing himself with the very simple practices of walking and breathing with mindfulness and compassion. There was then plenty of time for questions and answers. Every question came from the heart. They were the questions of "seekers," of young minds seeking to make sense of their busy, stressful lives and seeking to bring deep meaning to them. We could feel their openness and their deep trust and respect for Thay. We could also hear their suffering.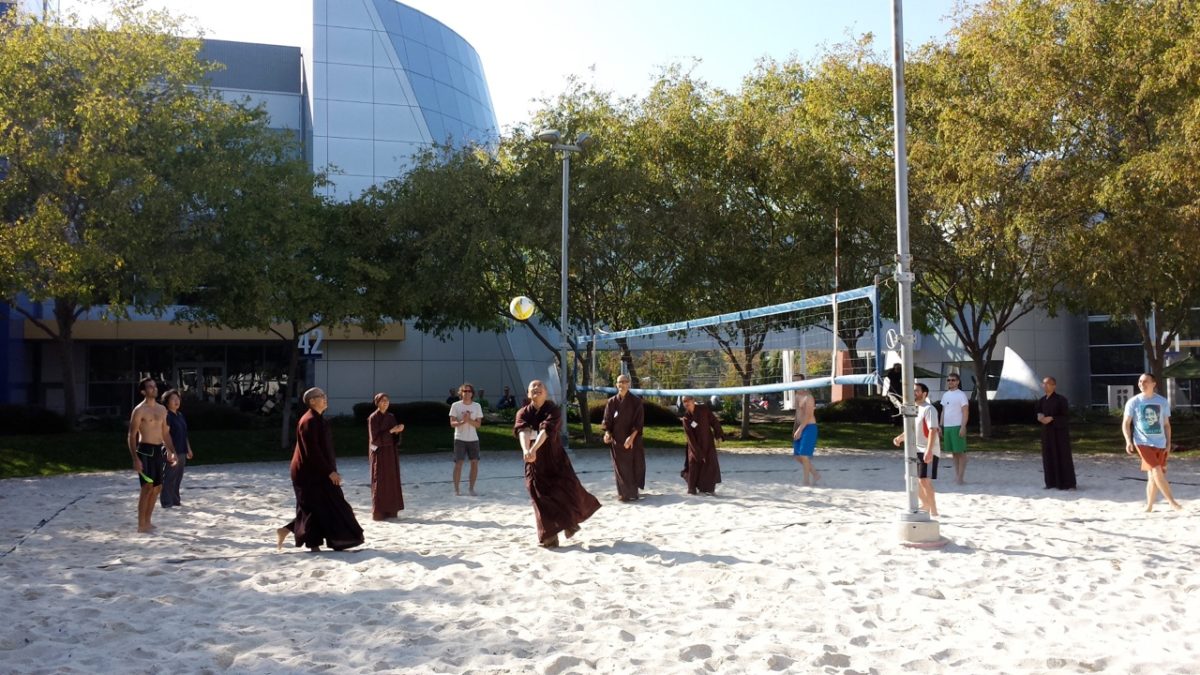 Sharing Aspirations
Many of us were sitting on stage behind Thay, as representatives from a different world. We may go for days or weeks without even opening a computer or listening to a track of worldly music. Unless we have worked in the registration office before Summer Retreat, we may have never known what it's like to receive several hundred emails a day. We have a chance to stop, not just for a few minutes every day, but for hour after concentrated hour, contemplating our body, our breathing, the food or the miracles of nature around our practice centers. We can take a shower without Radio NST (Non-Stop Thinking) blaring through our mind's ear.
When I worked in news journalism before I ordained, every day I would have to read six newspapers cover to cover and listen to two hour-long news radio shows, while following the waterfall of live "news wires" cascading down my screen. I feel it has taken me years to slowly quiet my mind and enjoy the silence of nothing happening, except life in all its wonders. Sitting there on the stage, I wondered if any of the Googlers would ever taste the deep peace and relief of being "free from information" which has refreshed my spirit in the monastery. We can't give them that kind of peace and silence, but we can demonstrate that it is possible––in our smiles and in our steps––and we can show them how to create the conditions to generate tiny, life-changing glimpses of it in their day.
Soon we were all enjoying a delicious, vegan, mindful meal together. Google is a pioneer of corporate mindful eating, and since Thay's first visit, the company runs a monthly "mindful meal" session in its cafes. During these lunches, Googlers have a chance to listen to the Five Contemplations, eat in silence, and share about their experience together. After Thay's second visit, they plan to make a permanent "mindful eating zone" on campus, where employees can come to nourish themselves peacefully during their lunch break.
As well as supporting and nourishing their mindfulness practice on campus, some of us also had our own secret aspirations as we stepped into the world of Google that day. One or two of us were looking for GoogleMap employees, hoping we could inspire them to code a live, editable, browsable map of all our Sanghas and mindfulness events around the world. Brothers Phap Luu and Phap Khoi had a giant hard drive stashed in a backpack, hoping to inspire a Googler to import a decade of Thay's Dharma talks into the back end of YouTube and publish them on our channel. (It would take perhaps a year's constant uploading to do it from rural France). I was looking for someone who would design a really elegant, simple, flexible, free mindfulness bell app. And Thay, never one to think small, was looking for soul mates who would design the kind of technology that would help people suffer less and stop our civilization going in the wrong direction.
In the afternoon, Thay, his attendants, and a few other monastics met with senior Google engineers to discuss how they could do just that. While several hundred employees enjoyed total relaxation in the auditorium with Sister Chan Khong (surely much more healing and restful than the many massage chairs strategically placed throughout the offices), and others played volleyball with monks and nuns, a dozen of us sat around a giant boardroom table to have a Dharma discussion with Thay on the future of information technology.
Is it possible to create the kind of technology that can help people come back to themselves, embrace and handle the suffering inside? One chic and elegant employee was wearing the new "Google Glass"––the cutting-edge technology that enables you to send messages, run web searches, take photos, and record video without even lifting a finger. But was it helping her be truly present for herself or for the discussion?
The world watches 450,000 years' worth of Google YouTube videos each month. That's more than twice as long as modern humans have existed. But is this helping us suffer less? Is it possible to create, and make available on a global scale, the kind of content on the web that helps people to take care of themselves, their loved ones, and the planet? Google may know that someone is checking her Gmail one hundred times in one evening. That person is, at the same time, running Google searches for "causes of depression." She makes orders through her Chrome browser for large quantities of junk food. Are the Google "algorithms" intelligent enough to offer some constructive ways to help this person? Google wants significant profits, that is true. But they also want to be good, to not be evil. Is there more they can do?
This was no ordinary business meeting, and the two hours we spent together flew by. It was amazing to contribute as part of the Sangha––as though we were the voices of one body, offering a new energy or idea in each moment, with Thay guiding us all the way. It was extraordinary to see our beloved teacher––a Zen Master from another generation, who was already over seventy by the time the 21st Century started––engaging so wholeheartedly with these young technology leaders, with such a quick and sharp mind, and with so much love and joy. The Googlers were delighted. And one of them, as Thay explained the deep meaning of why the bell and stopping are so important, was even moved to tears.
It was hard to bring the meeting to a close, and even harder to leave the room. We did so as friends, perhaps even as soul mates. The next time we meet will be for a retreat.
We didn't take the slide down to the ground floor. We enjoyed every step.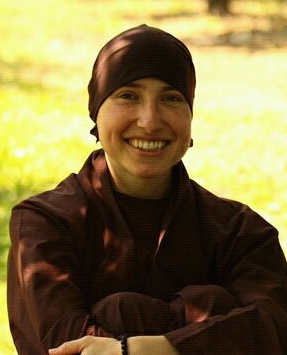 Sister True Dedication (Chan Hien Nghiem) was born and raised in England and currently lives in the Lower Hamlet, Plum Village. She has been practising with the Sangha since 2002 and ordained as a nun in 2008.