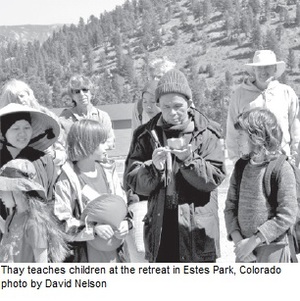 By Suzanne Vitullo
After visiting Plum Village two years ago, I was inspired to introduce the practice of inviting the bell in my elementary school classroom. The children I teach are learning to speak English and come to ESL class for about eighty minutes every day.
Here's how I introduced the practice to the children: "I am going to invite this little bell three times, very slowly. When we hear the bell, we will take a few moments to calm down and to pay attention to our breathing. When we breathe well, more oxygen enters our brains and we are able to learn and think better. When we are calm, we can focus better."
After the bell sounds, we all take deep slow breaths. I invite my youngest students to put their hands on their bellies to feel their breath go in and out.
At first, I invited the bell; now the children take turns. The student who rings the bell chooses a good listener to invite the bell the next day. After the bell sounds and we have all enjoyed our breathing, the children simultaneously say "Thank you" to the child who invited the bell.
Regularly, we review the reasons for inviting the bell. I might ask: "How do you feel when we ring the bell?" Children have responded: "I feel calm inside." "When the bell rings I don't feel mad about anything." "I feel happy." Often if I forget to invite the bell, the children remind me, "Ms. Vitullo, remember the bell!"
We have all become more aware of how paying attention to our breath is helpful. When children are upset or angry or crying, I remind them to pay attention to their breath. This often calms the tears enough so I can find out what is wrong. It offers an alternative to acting out, to reacting without thinking. Sometimes, it allows the children to find their own center.
At first it felt strange to integrate the practice of inviting the bell into my classroom, though it soon became a part of our regular routine. When my assistant principal observed my class, she noticed that the children enjoyed the bell and it seemed special to them. Inviting the bell in my classroom has also helped support my practice, allowing time for both me and the students to come back to our peace and joy. May my sharing inspire other teachers to bring mindfulness practice into their classrooms.
Suzanne Vitullo lives in Basalt, Colorado. She recently took a leave from her teaching job to attend the winter retreat at Plum Village.