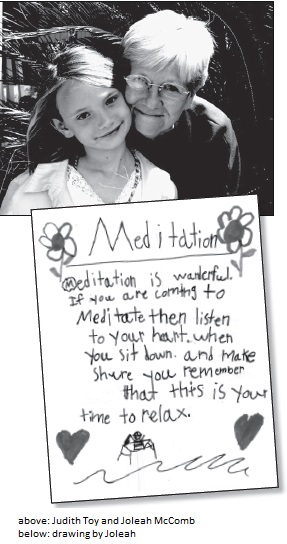 I received this drawing from my eight-year-old granddaughter, Joleah McComb, who lives in Charleston, South Carolina. Joleah attends days of mindfulness when we lead them in that city. She has recently been diagnosed with neural damage from toxic molds, and has been sick a lot over the past two years. Her family had to leave their home and all of their belongings because of the dangerous molds. She recently had to leave her school on the ocean as well, since toxic molds were discovered in her classroom. The family has suffered, as they have all been sick and now displaced.
For her eighth birthday, because I know she likes to practice mindfulness and meditation, we gave Joleah a jolly Ho Tai statue and an incense burner so that she could set up an altar in her bedroom, which she did. Here's what she wrote about meditation.
Judith Toy, True Door of Peace, practices with Cloud Cottage Sangha in Black Mountain, North Carolina.