By Christian McEwen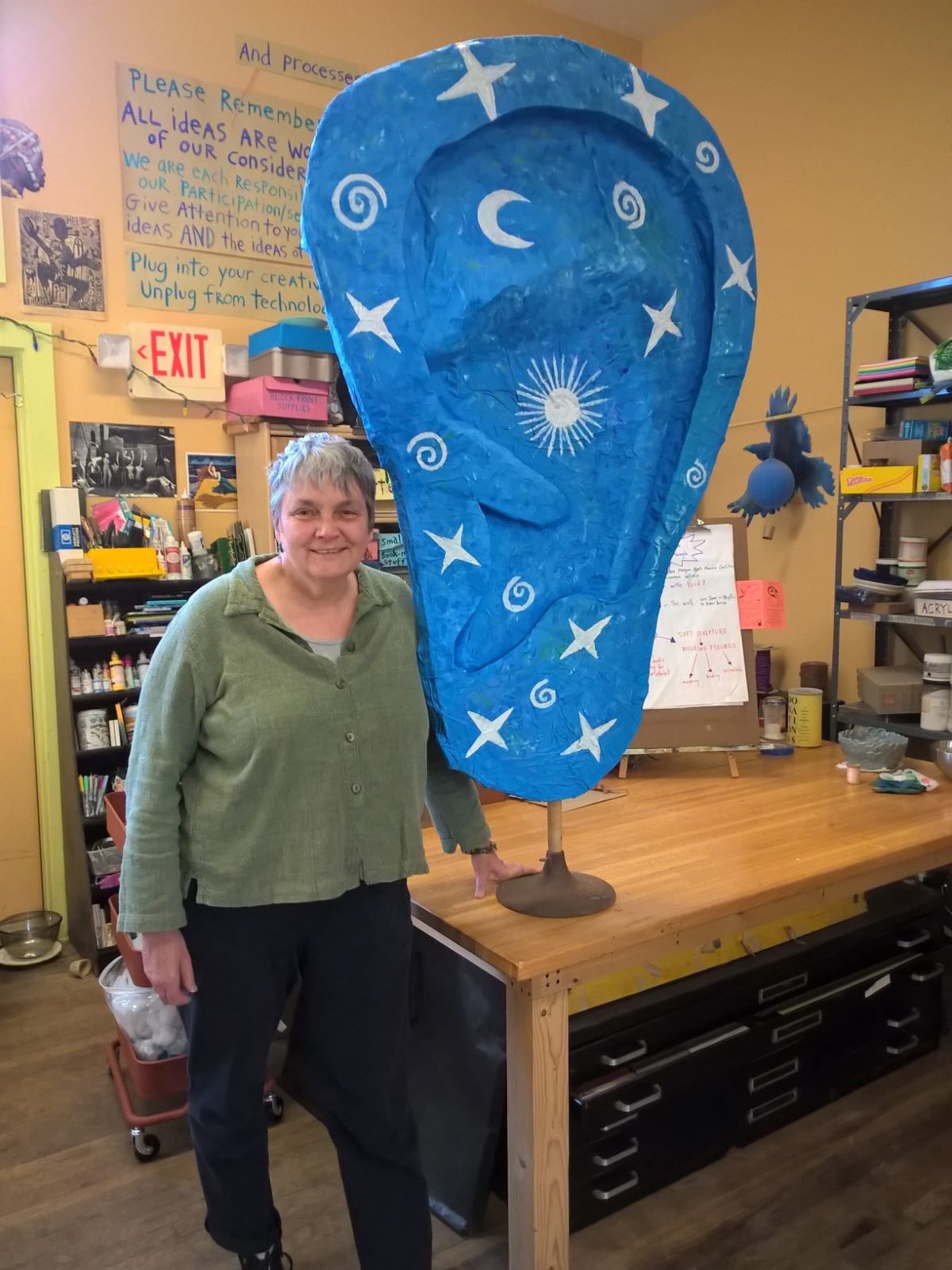 "To talk with someone
ask a question first,
then—listen."—Antonio Machado
For several years now, I have been gathering material for a book on listening. So when a local business association advertised a small grant focusing on "art in the community," it somehow felt natural to create a Giant Ear.1 I could see it clearly in my mind's eye: made of papier-maché, four or five feet tall, gleaming in bright acrylic paint. I would set it up at the local farmers' market, I told myself, and offer open "listening sessions" to whomever happened to come by. I had no plan to record those conversations, or to turn them to any practical account. I just wanted to take the time to sit and listen.  
The Ear was intended as a joyous and subversive antidote to our world dominated by cell phones, computers, and other entrancing devices. To everyone who saw it, the ear was a reminder of the special pleasure to be found in long meandering conversations, most especially with friends and family. But I was also thinking of our poor divided country, how we couldn't seem to talk to one
another and couldn't find our way to common ground. I wanted to explore a braver, more generous, more inclusive kind of listening, not just with friends and allies, but with strangers, too. I wanted us to talk together face-to-face.
I applied for the grant last winter and was lucky enough to receive the money. Friends and allies rallied round to help construct the Giant Ear. It stood upright on a long pole, decorated with stars and spirals, a full and crescent moon, and a blazing sun. My friend Gilbert built a portable booth out of wooden scraps and
painted it a fetching silver-gray. He and his wife Susan supplied a Big Green Umbrella for use on steamy days. One bright May morning, I drove the whole kit and caboodle to the small village of Ashfield, Massachusetts. I set it up under a kindly maple tree. Would anyone actually stop and talk to me, I wondered. Mrs. Smarty gave a party. No one came.
But I was fortunate. The sun shone. The sky was cloudless blue. The stallkeepers at the market made me welcome. Before I knew it, some of their many customers stopped by to chat. What was the Ear for? They wanted to know. Had I made it myself? Was I trying to sell something? Oh, so I was listening! That sounded like a nice project. What did I plan to do with all the stories?
Often, I would answer them right then and there—an easy way to enter into conversation. I also had a basket of explanatory brochures. Most people were curious, intrigued, and willing to take a risk. Almost immediately, someone sat down and talked with me. As soon as he got up, someone else was standing by to
take his place.
That summer, I held a total of three Listening Sessions on the village common, all timed to coincide with the weekly farmers' market. I also brought the Giant Ear to a workshop I was teaching in upstate New York and later to a "Festival of Radical Interconnectedness" at a local college town. At least five hundred people
saw the Giant Ear, and more than forty visited the booth. Many, but by no means all, were Massachusetts natives. One man had been born and grew up in Iran; someone else was clearly French in origin. Ages ranged from thirteen to eighty-seven.
The conversations covered a lot of ground, from digital overwhelm and anxieties about the new administration, to painful tales of marriage and divorce, and the challenges of grown-up children. There were more fine-tuned local stories too. A thirteen-year-old trans kid arrived, hair dyed a fetching purple, and spoke passionately about their love of trees. A farmer talked about his work,
which he really did enjoy, hard and unpredictable as it could be. "I wake up in the morning," he told me, "And I look forward to my day." A friend of his—a radiant young woman—was learning how to build stone walls.
One of my favorite stories had to do with Peace Pilgrim, who walked across the U.S. in support of peace, carrying nothing but a toothbrush, a comb, and a change of underwear. My interlocutor, now a woman in her sixties, had encountered her as a college student in Colorado Springs back in 1970. She remembered Peace Pilgrim setting off across the campus, bound for California, her little backpack resting on her shoulder.
More visitors stopped by, and the stories continued to unfurl. One woman described a group of elderly ladies chatting together round the kitchen table. Some crucial implement had broken down. They were doing by hand what would usually be done by machine, and meanwhile taking pleasure in each other's company. It made her think about slowing down—the sheer joy of it—and also about human expertise. She didn't just mean domestic skills, she told me. She meant the richness of family and connection, what might ordinarily be dismissed as gossip. "Those women know so much!" she said.
I saw that little tale as a kind of parable, a quiet confirmation of my private enterprise. We were strangers to each other—shy, a little wary—but we could make a space of ease and safety nonetheless. I could've mentioned Thich Nhat Hanh and the Fourth Mindfulness Training with its emphasis on Deep Listening. Alternatively, I could've quoted the feminist theologian Nelle Morton on "hearing one another into speech." I could have referred to Barack Obama in
his last speech as President, "We have to pay attention and listen," or made jokes about Lucy's booth in the Peanuts cartoon. But I didn't do any of that. Once or twice I sauntered over to the bakery stall and bought myself a cookie and a cup of coffee. But mostly, I just kept sitting in my folding chair, delighting in the booth and the Giant Ear. I felt myself braided into the larger community in
some way I never could've imagined.
Much later, I remembered the great oral historian Studs Terkel, and what he said when someone questioned him about his work.
"The first thing I'd say to any interviewer is . . . 'Listen.' It's the second thing I'd say too, and the third, and the fourth. 'Listen. . . listen. . . listen . . . listen.' And if you do, people will talk. They'll always talk. Why? Because no one has ever listened to them before in all their lives."
1 The Ear came to me in a private burst of inspiration. I realized only later that it was inspired by two sources: the work of Bread & Puppet Theater, based in Glover, Vermont, and the booth created by peace activist Fran Peavey, who traveled the world with a small cloth sign reading "American Willing to Listen."
Christian McEwen is a writer, teacher, and cultural activist. She is the author of several books, including World Enough & Time: On Creativity and Slowing Down (2011), and Sparks from the Anvil: The Smith College Poetry Interviews (2015). Christian grew up in the Borders of Scotland, and now lives in Williamsburg, MA.