By Cao Ngoc Phuong and Therese Fitzgerald
During the tumultuous past months, it has been very telling to note the juxtaposition of the many programs, such as Vietnam: A Television History, and Phan's War, along with news and programs about the war in the Persian Gulf. We still have so many wounds within our own society, within Vietnam, and beyond to care for. Now we have the wounds of the Gulf War to attend to.
Our aim with the committees to help the hungry in Vietnam is first of all to become intimate with people in Vietnam who suffer from the lack of such a basic necessity as food. Out of this awareness, we are moved to find ways to alleviate the suffering of the hungry, homeless, and displaced persons. We are uniquely suited to learn from, and respond to, people in even remote areas of Vietnam, thanks to the great network of friends and social workers of Sister Cao Ngoc Phuong and Thich Nhat Hanh.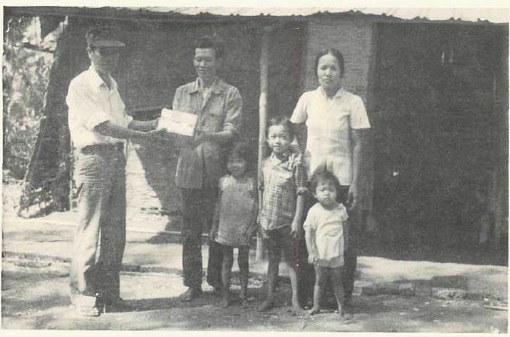 Of course, the devastation of Vietnam's population, land, and economy during the war with the United States and since has left deep scars. The United States still has an embargo on all economic exchanges with Vietnam. Many of the people we assist in Vietnam are people who are suffering very directly from physical, psychological, and political wounds from the Vietnam War. Letters, such as the following one from a social worker, keep us in touch with their struggle:
When we received the money you sent, our hands trembled as we held it. We have been involved in relief work since 1975, and never before have we received such a large sum of money. During the last ten or fifteen years, I have invited a few friends along with me to repair houses in villages struck by hurricanes. We give massages, relief care, and prepare herbal medicine for the sick. Sometimes, when I see my countrymen starving, I cannot hold back my tears. In the past, you have sent me enough money to help only two or three small villages. But this time, with more money, I was able to reach many more families, among them twenty of the hungriest and neediest in Dong Hoi, where three people had already died. We reached fifteen families in Gio Linh, seven families in the village of Huong Chu, five orphaned families in the village of Huang Chu, nine families in Le Kho with children who had died from hunger, and eight families in Vien Pho. All of them received the gift that you collected from various meditation students all over the world and sent to me.
Dear friends, if only you could have seen the light of astonishment and deep emotion in the villagers' eyes when I brought the money to them and placed it in their hands. Tears of joy could be seen on all the old people, all the parents of children who are like skeletons because they have no milk or rice; all the fathers who are in good health but wholly powerless because they do not even have the dried strips of manioc mixed with weeds and banana skins to give their wives and children to eat.
I am sure you will feel happiness and gnawing pity at the same time as I do when I look at the naked children, lips purple, shivering in the biting cold wind, and when I can bring a half-smile and a little hope to them. We suffer because we see our work is so minimal, like a drop of water in the desert.
In 1990, the committees worldwide who help with this work, sent parcels of aid to many families with handicaps (including victims of napalm, blindness, leprosy), as well as many families that were victims of natural disasters (hurricanes, floods, etc.). Financial assistance was sent to medical teams that serve many remote villages in Vietnam, including Dong Nai, Binh Long, Nha Trang, and Binh Dinh. Also to support the boat people still detained in refugee camps in Southeast Asia, we sent assistance three times during the year to four camps in Hong Kong, one camp in Thailand, two camps in Malaysia. We offered spiritual support to refugees in the Galang Camp in Indonesia and the Palawan Camp in the Philippines (by sending books and tapes of dharma talks by Thich Nhat Hanh in Vietnamese). To support the writers, artists, monks, and nuns who are in jail in Vietnam, we sent financial and material assistance to them. Six childcare centers in Ho Chi Minh City received aid from our committees. These centers provide dinners and shelter for street children at night and day care for children of poor, working parents.
During the Retreat for Young People and Families this past month in Santa Barbara, we devoted one day to contemplating the casualties of the wars in the Persian Gulf and in Vietnam. We listened to a representative of the Fellowship of Reconciliation "Civilian Casualties Fund" speak about the devastation for the Kuwaiti and Iraqi people. Over $1,000 was collected to help support the victims of the Gulf War, and another $1,000 to help support the victims of the Vietnam War. We also prepared thirty-two parcels of medical supplies to send to desperately needy people in Vietnam. It was wonderful to hear the questions and comments of the young people as they learned about a life quite different from their own here i n America, while they packed and taped up the parcels.
In the evening, we made a procession, chanting the "Two Promises" of understanding and compassion, to the swimming pool where we floated handmade wood and crepe paper boats in remembrance of the boat people, the victims of the Hiroshima bomb, and others who have suffered because of poverty and war.
Human Rights Situation
The news that the monk, Venerable Thich Quang Do has been given back his freedom (a government report from Hanoi sent to an Australian Senator) is completely wrong. The most recent letter we received was sent on October 11, 1990, and the news is "Thay Quang Do is still sick [which is code-language for 'in prison'] and he urgently needs medicine. I am getting more and more worried about him."
The Venerable Huyen Quang is still in exile in Quang Ngai with no likelihood of his being allowed to return. Thay Tue Sy is still held in prison A-20, in a remote part of Thy Hoa. Thay Tri Sieu, and the writer Doan Quoc Sy are still being held in Xuan Loe, but it is reported that the government has tightened up on them since the first of January, and life in the prison is now very difficult with severe hard labor. The two writers and scholars are no longer allowed to do the translation work they did during their first months in this camp. The Venerable Due Nhuan is still being held in Ham Tan, and has just recovered from a serious illness, which some people thought he would never recover from. Thay Tue Sy is no longer allowed to see anyone except his closest relatives - which is impossible because his father has died and his mother lives in Laos. He is reported to be as thin as bamboo, although his eyes still shine brilliantly.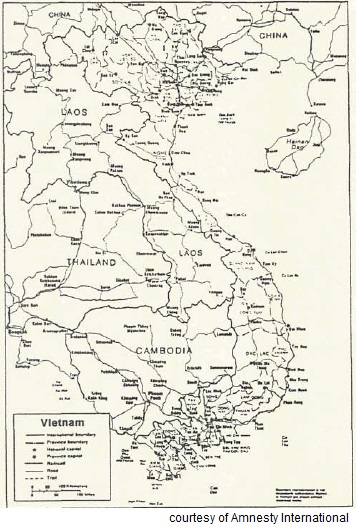 The Situation of the Boat People
The situation of those who are being held in refugee camps as prisoners is desperate. In Hong Kong last December, there was another case of
self-immolation. Boat people are being refused the right to dock not just in Hong Kong, but everywhere. A heartless and unjust system of screening has disqualified great numbers of boat people from the category of political refugees." Many people were sentenced to life imprisonment with hard labor in 1982 because they resisted the regime in Vietnam, but they are not determined to be political refugees because they do not have papers from the government confirming this fact, as the screening system demands. There are many hands silently working in Plum Village to supply the screening authorities with such letters of confirmation for each case. Work like this is as minimal as a few drops of rain on a vast desert, but until now, Plum Village did not know what more to do. Ecole Sans Frontieres, based in France, is looking for volunteers to go to the camps in Malaysia to teach Vietnamese to the Vietnamese children there because they are afraid the day will come when they are sent back. If these children cannot read or write in their native language, it will be very difficult for them. Plum Village sent cassette tapes of Thay's talks in Vietnamese to all the refugee camps and a small number of books. We have heard that in all the camps, which have able monks and nuns, the refugees learn sitting and walking meditation, and tea meditations are also organized.