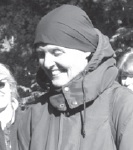 Dear Thây, dear Sangha, The Buddha taught the nature of interbeing. In our own time scientists have discovered the non-local nature of elementary particles. We feel in our daily lives that one nation is deeply connected to all nations of the world — we call this globalization. As Thay travels the world we feel the appropriateness of this way of teaching.
Thay goes to Vietnam and whether we stay behind in the U.S. or buy an air ticket to join the Plum Village delegation in Vietnam, we share in the karma of Thay and Vietnam.
The Grand Offering Ceremonies Bringing Relief without Discrimination from Past Injustice taking place in Vietnam during Thay's visit are certainly very grand and powerful. Here at home we can set up our own little altar and gather as a family or sangha to read the Five Mindfulness Trainings for the souls of those who laid down their lives willingly and unwillingly during, or as a result of, the war in Vietnam four decades ago. The souls find relief in our own home although it may be far from Vietnam because they are non-local and our commitment to practice sila, the mindfulness trainings, is strengthened. As we gather before the altar our compassion is aroused for beings who are visible or invisible, already born or yet to be born, alive or departed. Here in the U.S. we have our role to play in practicing the mindfulness trainings, so that the tremendous inequity that lies between developing countries like Vietnam and over-developed countries can be redressed.
Still, in developing countries material development is already damaging the spiritual and moral dimension of life as it has done in the overdeveloped countries. With the destruction of this dimension the family breaks up because communication breaks down. Sila no longer has its place. The three spiritual powers — putting an end to the mental poisons, understanding, and love — give way to worldly and material power. Globally we need a practice of redeeming the three spiritual powers; this is what Thay is teaching in Vietnam and teaching the whole world.
We are praying that in August we shall have enough good merit to receive Thay in the U.S. so that Thay can encourage us and show us how to develop the spiritual and moral dimensions and powers in our own lives.
On a local level the Maple Forest Monastery of Vermont will move to the Blue Cliff Monastery of New York at the beginning of May. We hope to see you there in a spacious, beautiful, and comfortable setting at our opening (June 2), Wesak (June 3), OI Retreat (June 29, if you are an ordained OI member), or at our Summer Opening (July 6-20, for anyone who cares to come). Thay has given us the name Blue Cliff, so that we can work on the koan of our life: the koan that has practical meaning in terms of our everyday suffering and obstacles. (The Blue Cliff Monastery in China is the monastery where the most famous record of koans was compiled in the 12th century.)
May the monks and nuns of Maple Forest take this opportunity to thank all of you who are so generously supporting the purchase of this monastery with your material and spiritual support.
Sister Annabel, True Virtue