Deer Park Transforms its Ecological Footprint
By Laura Hunter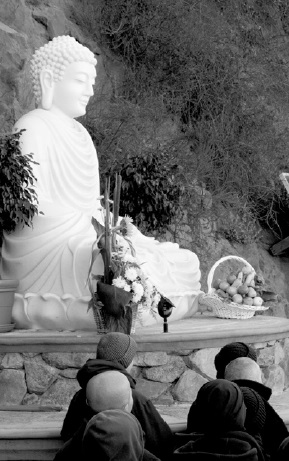 "We do not have to sink into despair about global warming. We can act." —Thich Nhat Hanh
Deer Park Monastery and its lay supporters, led by Dennis Howard, have taken a significant step to engage the problem of global warming. On September 21, 2007, during a retreat at Deer Park Monastery, Thay and the sangha made a special dedication. The ground-breaking ceremony was attended by 1000 practitioners and marked the formal beginning of the solar effort at Deer Park.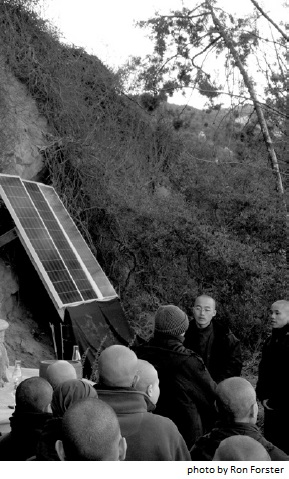 "Every one of us can do something to protect and care for our planet," says Thich Nhat Hanh. "We have to live in such a way that a future will be possible for our children and our grandchildren. Our own life has to be our message." The ceremony was very moving and one of the practitioners remarked that the idea that Deer Park will be powered by the energy of the sun filled him with joy. Many people had tears of joy in their eyes as the moving dedication was given. Ron Forster attended the ceremony and said, "Feeling the warmth of the sun grow as the sun rose with the dedication seemed so obvious that this was right action for us. It really connected with me how much sense solar power makes."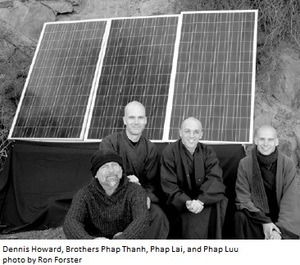 The sixty-six-kilowatt photovoltaic system will be completed by the end of the year and will prevent 120 tons of CO2 emissions each year. A significant portion of the project will be funded by the State of California (about $180,000 rebate) and the remaining $350,000 needs to be raised through donations. All donations are gratefully received. You can donate online at www.deerparkmonastery.org; post a check payable to 'Deer Park Monastery' (marked "Solar Project") to 2499 Melru Lane, Escondido CA 92026; or telephone (760) 291-1003.
Other ecological initiatives at the monastery include a "CarFree Day" every Tuesday; conversion of three cars to run on waste vegetable oil; composting and recycling; planting native plants to reduce water use; and replacement of all lighting with energy efficient bulbs. During the most recent tour, the monastery promoted World Car-Free Day on September 22 and has raised almost 70,000 pledges from people worldwide on www.carfreedays.org.
If you are interested in the environmental initiatives of Deer Park please visit our website at http://www.deerparkmonastery.org/no car_day/greener_deerpark.html. You can also hear Thay's Dharma talk on the environment on the Deer Park Dharmacast podcast at www.dpcast.net or access us through iTunes. If you would like to volunteer to help us with our environmental efforts, you can volunteer your skills by contacting Deer Park or through the Car-Free Days web site.
Laura Hunter, Boundless Perseverance of the Heart, practices at home with her husband Ron and three dogs and at Deer Park Monastery. She works for an environmental justice organization as an environmental advocate.