By Sister Chan Khong
We are very happy to announce that on November 14, 1997, Thich Nhat Hanh officially opened the Maple Forest Monastery in Hartland, Vermont. The first winter retreat is now underway, led by Sister Annabel with ten Buddhist monks and nuns living and practicing at the monastery.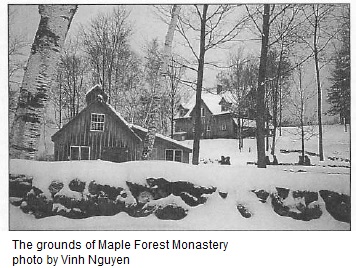 Affiliated with the Maple Forest Monastery will be a new Buddhist retreat center also located in Hartland, Vermont, to be named Green Mountain Dharma Center. Green Mountain will hold retreats led by monks, nuns, and lay Dharma teachers throughout the year. It will also be home to the Mindfulness Training Institute, where Dharma teachers and mindfulness practice facilitators will be trained to assist in the establishment of local Dharma Centers and Mindfulness Practice Centers throughout North America.
The first Mindfulness Practice Center, located in Woodstock, Vermont, has already opened its doors. The MPC is led by two lay Dharma teachers, Anh-Huong Nguyen and Anh-Thu Nguyen, and a member of the Order of Interbeing, Pritam Singh. The MPC has been organized in a nonreligious, nonsectarian way so that friends of all traditions will feel at home when they come to experience the art of mindful living. The practice at all three centers will be entirely in the tradition of Thich Nhat Hanh.
With the establishment of the new monastery in Vermont, Thay welcomes his students and friends to participate fully as sponsors of this timely undertaking. Establishing the roots of Buddhism in the soil of a new culture requires the creation of a monastic community in the country of that culture as well as the active support and participation of a broad-based lay community. Thich Nhat Hanh has appointed the Maple Forest Monastery Support Committee to help with the realization and maintenance of this project. The Committee will warmly receive any suggestions you may have.
Sister Chan Khong, True Emptiness, has been an associate of Thich Nhat Hanh for over 30 years. She lives in Plum Village, France. Her autobiography, Learning True Love, is available from Parallax Press.