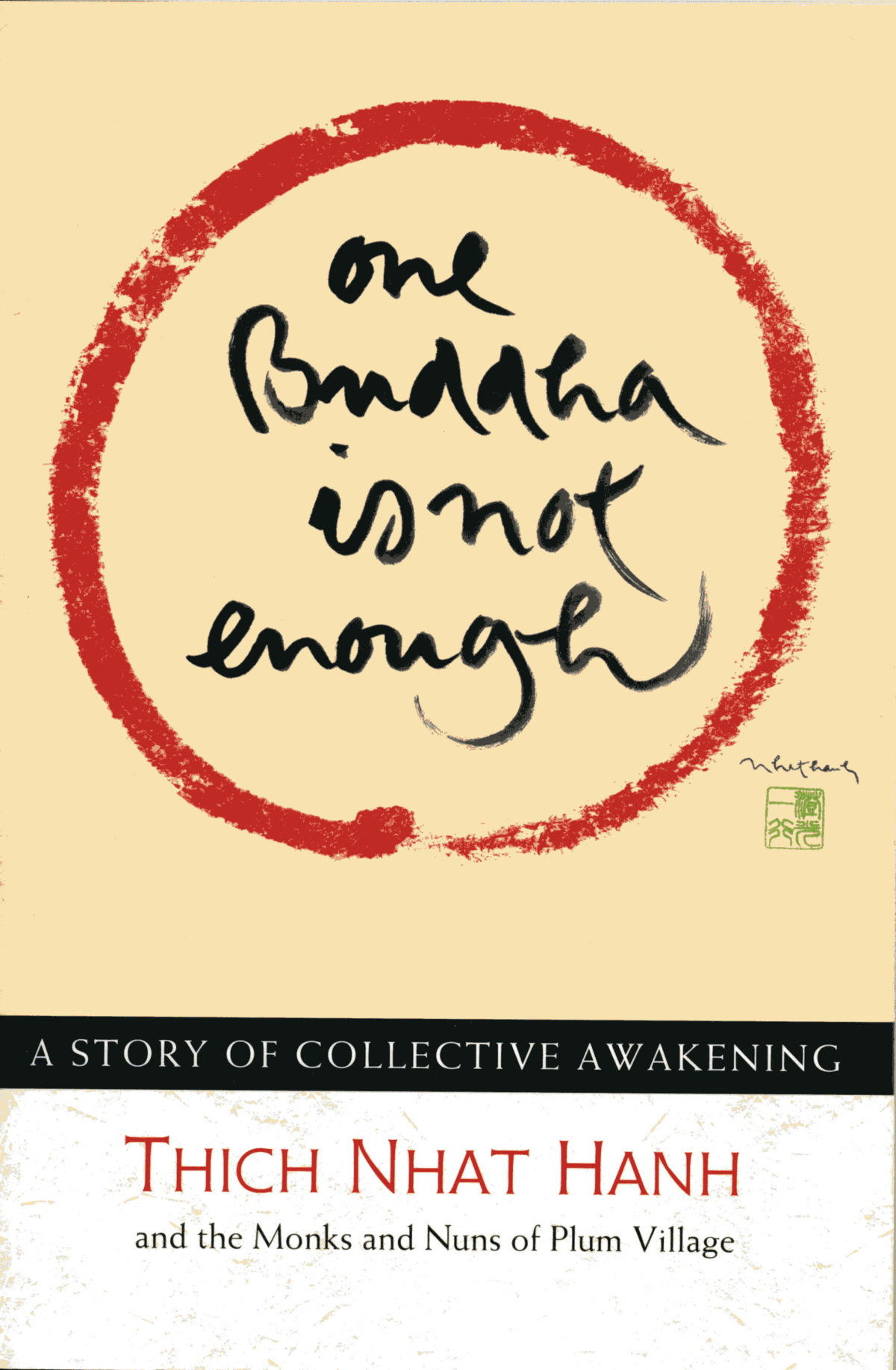 One Buddha Is Not Enough
A Story of Collective Awakening
By Thich Nhat Hanh and the Monks and Nuns of Plum Village
Parallax Press, 2010
Paperback, 216 pages
Reviewed by Rasoul Sorkhabi
In August 2009, more than nine hundred people gathered at the YMCA of the Rockies in Estes Park, Colorado, for a five-day retreat with Thich Nhat Hanh, entitled "One Buddha Is Not Enough." I was one of them. Many of us had read Thay's inspiring books or heard his lectures, and we were looking forward to seeing and hearing him in person.
That first evening, we learned that Thay would not attend because he was hospitalized in Massachusetts, where he had led a retreat the week before. Many participants were disappointed, but they also appreciated the situation. Over the next four days, the retreatants as well as the coordinating monks and nuns made the retreat a delightful experience for all. Every day we listened to Dharma talks and chants, ate our food mindfully, and sat and walked in the silence of mindfulness. An account of our experience has been published in this elegant volume.
The book consists of an introduction about the Colorado retreat ("The Miracle of Sangha"), nine chapters by the monks and nuns (texts of their Dharma talks at the retreat), an excerpt from the hospital diary of one of the monks who accompanied Thay ("You Continue in Us"), two letters from Thay that were read to retreat participants, and a final chapter written by Thay ("We Have Arrived, We Are Home"). Reflections and remarks by retreat participants are included, giving a people's voice to the book. Overall, this is a carefully crafted, absorbing read. Happily, the book preserves the sense of humor that was present at the retreat.
There is something profound about the title One Buddha Is Not Enough. "In order to save our planet Earth," Thay has said, "we must have a collective awakening. Individual awakening is not enough. That is why one Buddha is not enough."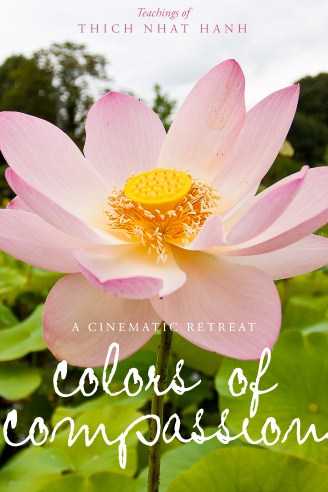 Colors of Compassion
Teachings of Thich Nhat Hanh
A film by Eloise de Leon
Running time: 50 minutes 2011
Reviewed by Angela Dews
Filmmaker Eloise de Leon promises Colors of Compassion will be a cinematic retreat. It is that. In this documentary that chronicles Thich Nhat Hanh's 2004 People of Color Retreat, we walk with our teacher through Deer Park Monastery's tawny landscape. The camera pans and then stops. We breathe. We hear a bell, a bird.
Thay says, ". . . the act of making a step is an act of freedom, an act of liberation. You liberate yourself, you liberate your ancestors. It's an act of revolution." Retreatants also connect the practice to freedom, and express their willingness to be present: "All you've got to say is Shakyamuni Buddha taught liberation and we're there."
Those who speak on camera identify themselves as Mexican, African American, Vietnamese, and mixed with other cultures and nationalities. They share why they came and where they came from: "We can feel that we know our parents and our ancestors, and still we ask the question, who am I?" "The color of our skin or what we are categorized as, it doesn't make us. If we are not skillful, it can confine us." "How to not abandon our communities and be a mindful social activist is the crucial question for our liberation." Their stories also answer questions some might have about a retreat for people of color. Why do we need such a retreat? Why might someone like me need the Dharma?
The filmmakers skillfully balance talking and stillness in wonderful scenes: Thay teaches interbeing to a room full of brothers and sisters—some in robes and some not—in the Ocean of Peace meditation hall; and, at the end of the film, during an extraordinary celebration, many receive the Five Mindfulness Trainings and their Dharma names. Perhaps some will find their way through this film into practice, and others will appreciate the vibrancy of people of color, who may have been invisible until now, in their own Sanghas.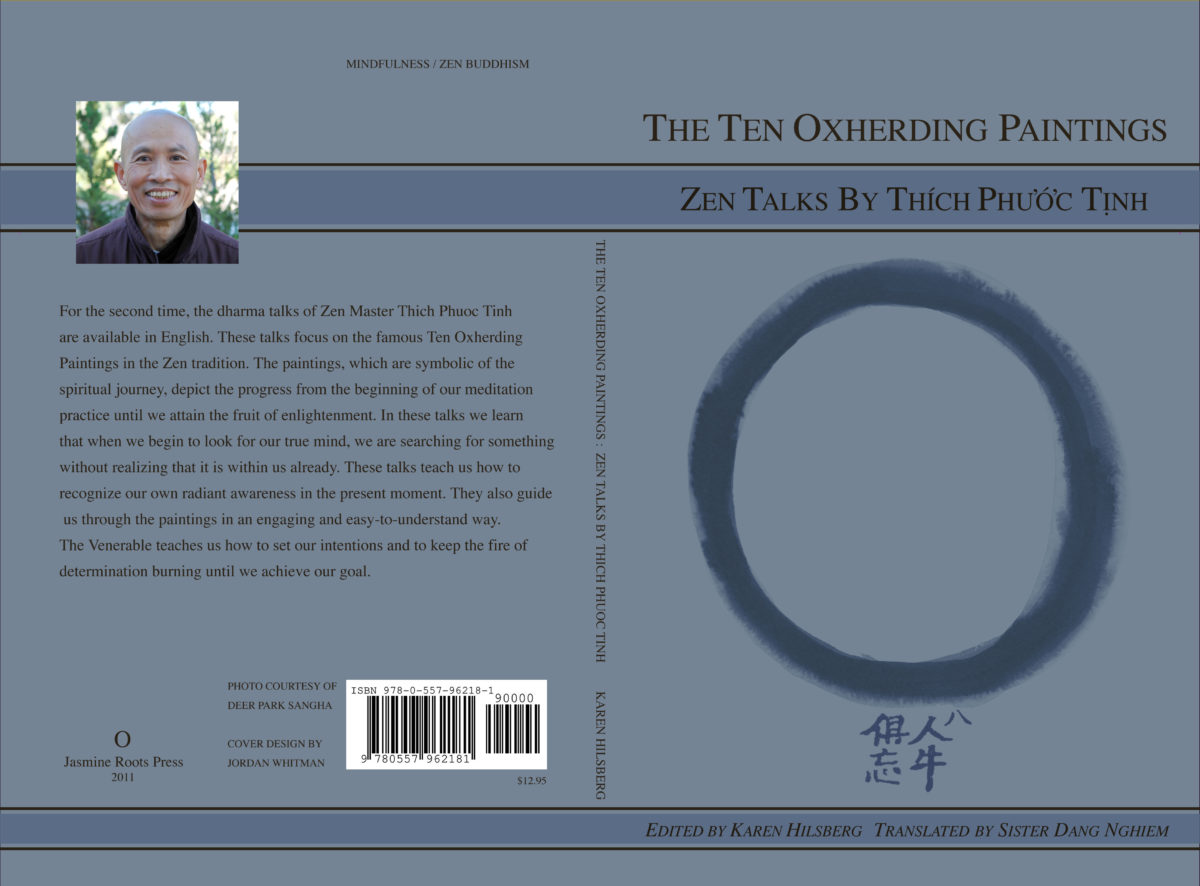 The Ten Oxherding Paintings
Zen Talks by Thich Phuoc Tinh
Edited by Karen Hilsberg
Translated by Sister Dang Nghiem
Jasmine Roots Press, 2011
Reviewed by David Percival, True Wonderful Roots
The Ten Oxherding Paintings have helped Zen students conceptualize the path to enlightenment for almost one thousand years. Attributed to Kuoan Shiyuan, a Chinese Zen master, they depict a young child (the spiritual seeker) searching for an ox (the true self) and his eventual attempts to control it.
In this fresh look at familiar teachings, Venerable Thich Phuoc Tinh doesn't waste any time; he confronts us with the simple truth: "the joy, the enlightenment, the nirvana, all those things are already within us." The ox is not somewhere else; it just appears that way to the confused child who continues to search. When I began practicing, I also spent too much time searching outside of myself—for teachers, retreats, books, etc. I didn't understand about coming back to the beautiful island within myself. Only later did I discover the space of mindfulness that was always here in my body and my mind.
As he explains the Ten Oxherding Paintings, the Venerable gives us the immediate realization that we are already riding on the ox—we already are what we're seeking. We simply need to stop, come back to ourselves, and realize our true nature of recognition and awareness. By cultivating mindfulness and living constantly with our true nature, we'll recognize the impermanent and fleeting nature of our feelings and perceptions. Instead of being caught up in our mental stress, we'll dwell in the beautiful space of emptiness, "no longer caught by the self or the ego."
This beautiful book is an inspiration and a call for practitioners to dwell in the energy of mindfulness, and to understand that "the Buddha is right here in our bodies, in our sadness, and in our anger."
There is truly nowhere to go and nothing to search for. Whatever we have been looking for has always been right here, inside of us. We can enjoy these profound teachings, enter the mind of our wonderful teacher, Venerable Thich Phuoc Tinh, and dwell in the Buddha nature that has always been within us.