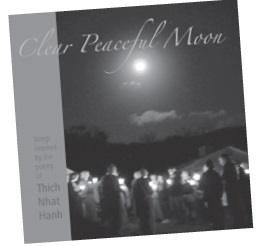 Clear Peaceful Moon
Songs inspired by the poetry of Thich Nhat Hanh
By Joseph Emet
Parallax Press
CD, 47 minutes
Reviewed by Janelle Combelic
This is a new release from the creator of the beloved collection A Basket of Plums. Joseph Emet is a Dharma teacher who lives in Montreal and writes beautiful songs in both English and French, all inspired by the words of Thich Nhat Hanh.
This new collection includes an old favorite that I heard at Plum Village many years ago and always loved for its whimsical lilting tune. The words evoke the delights of walking meditation:
The mind can go in a thousand directions, but on this lovely path I walk in peace. With each step a gentle wind blows, with each step a flower blooms.
In his note about this song Joseph writes that he "saw this gatha of Thay's printed on the back of a friend's calling card a long time ago."
Most of these songs are practice songs, meant to be sung with a Sangha — or perhaps alone in the car or while walking. The arrangements are simple and sweet, showcasing the clear voices of Emily M. King, Jean Monpetit, and the Skylarks, a women's ensemble from the Pine Gate Sangha in Ottawa. But when I actually sing them with others they come alive.
At the June 21-day retreat at Plum Village in 2006, Joseph taught us to sing "Waking Up This Morning":
Waking up this morning I see the blue sky. I join my hands in thankfulness for the many wonders of life.
It is especially beautiful as a round. A friend and I tried to teach it at the monastic retreat in Estes Park last year, and failed laughingly at making it into a round. But it's a lovely song just as it is.
I had the good fortune of participating in a singing circle with Joseph at the Path of the Buddha retreat this past June at Plum Village. On our last lazy day, Joseph came to Lower Hamlet and about twenty of us sat on the veranda of the meditation hall while Joseph led us with his guitar.
My favorite moment came while we were singing "Remember":
Remember the time when, a white cloud, you were floating in the sky and I, a wandering stream, used to sing on my way to the wide ocean.
After we had learned the song, Joseph instructed us to turn to the person next to us, and sing it to each other. It wasn't long before my partner and I had tears in our eyes. Somehow, for that moment, we truly remembered being a cloud, being a stream flowing to the ocean.
Newcomers to our practice often wonder at the childlike songs we enjoy. But music opens the heart in a way nothing else can. Almost everyone can sing. Simple songs connect us to one another — and to our inner child's joyous heart.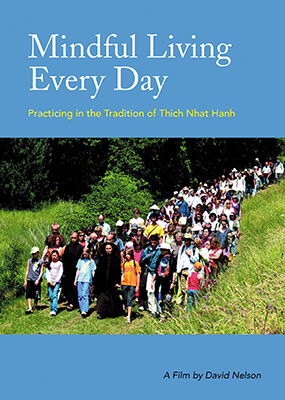 Mindful Living Every Day
Practicing in the Tradition of Thich Nhat Hanh
A film by David M. Nelson
Parallax Press
DVD, 120 minutes
Reviewed by Barbara Casey
A few Sundays ago, nine of us gathered to enjoy a morning of mindfulness. After sitting and walking outside, we watched Mindful Living Every Day: Practicing in the Tradition of Thich Nhat Hanh, the new film that introduces Plum Village style practice in a fresh and beautiful way. Produced and filmed by David Nelson, and written by Nelson and the Plum Village monastics, the deep, mindful energy of this film conveys the teachings impeccably. After the viewing, every person present wanted his or her own copy.
The narration in this forty-minute film is shared by several monks and nuns. The scenes of Plum Village life, children in the Netherlands, and practitioners in Vietnam and the U.S. bring variety, interest, and light-heartedness to the presentation. The narrator begins the film explaining that we practice the art of mindful living, and that mindfulness reveals love, which makes us free. From there, the first section of seventeen short chapters offers simple teachings on stopping, mindful breathing, sitting and walking meditation, working and eating. Later, simple teachings on interbeing, how to water good seeds, transforming feelings, the Five Mindfulness Trainings, and Beginning Anew are offered.
The photos include Plum Village sunrises, children playing, practitioners exercising, walking, and working, and Thay inviting the bell. Each chapter is introduced with Thay's calligraphy, and occasional cartoons illustrate teachings as well.
Already this film has brought great happiness to our Sangha, and to friends and family of our Sangha members. One Sangha member is passing her copy to her children and grandchildren. Another member invited a friend and her thirteen-year-old son to watch it, after dishing out bowls of ice cream. She reported that they all sat in silence at the end, ice cream melting in the bowls.
This may be the best method I know to share the simple practices and the deep, transformative energy of mindfulness in a widely appealing way. A deep bow of gratitude to David Nelson for this Sangha-building tool.
Bonus feature: Each of My Steps Is a Prayer. A documentary of Thich Nhat Hanh's pilgrimage to his homeland Vietnam after over 40 years in exile.