By Stefano Carboni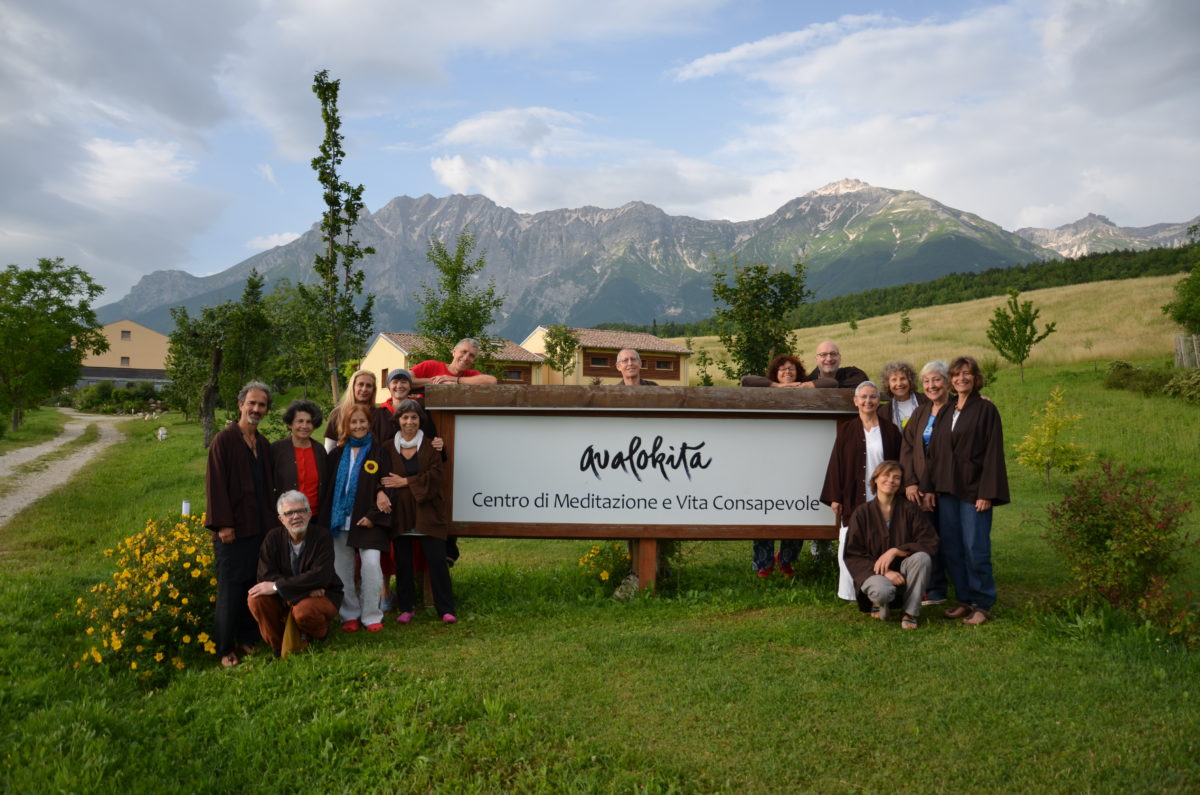 The realization of Avalokita center has been a Sangha work and has succeeded only because the Italian community practicing Thay's teachings has acted collectively with joy, each committing their own skills and resources.
The idea of creating a center actually started in the Italian Order of Interbeing community in 1997 when Thay suggested his students create communities of mindful living everywhere in the world. It was a very strong invitation, especially to the lay community: a seed was planted!
Beginning Steps
In that period, when visiting Plum Village, we connected with Helga and Karl Riedl, German Dharma Teachers living there. Since Helga speaks Italian very well, she was responsible for the Italian families. We developed a great appreciation for their work: the way they presented Thay's teachings to Italians and their generous availability to listen to us, offering personal consultations and support. They made a strong bridge between Thay's teachings and us, especially about being a community.
In 1999, together with another German Dharma teacher, Karl Schmied, Helga and Karl created a lay practice center in Germany, Intersein. In addition to Plum Village, we started to visit Intersein regularly as a model lay practice center. We deeply appreciated the depth of the practice, the resident community, the beauty of the place, how they cared for the gardens and buildings, and of course, Helga and Karl's support. In 2003, the Italian Sangha invited Helga and Karl to come to Italy and be the spiritual guides for an Italian practice center. In the following years, with clear guidance, they slowly took us in a process where we felt more and more confidence and energy to be primarily responsible for the center.
In the beginning Helga and Karl guided and encouraged us by saying, "First of all, you can create a group in the Order of Interbeing community and put together a vision of the place. Then, when the center is ready, you will have a very clear and shared vision about what you want to do together. We have great models—Plum Village, Intersein—but maybe you can manifest an Italian center!" At the same time, Sister Chan Khong offered us deep inspiration. When we asked about raising money to buy a place, she smiled gently and reminded us that our spiritual tradition is based on Shraddha, which in Sanskrit means trust. She added: "If you practice well, the money will come. But, most importantly, if you want to create a practice center, be a practice center right away."
As a first step we founded an organization to raise funds. At the same time, those of us who were able started gathering once a month to practice together and create a vision of the center. We were about fifteen and met in person from Friday to Sunday for a program similar to what we have now: meditation, silent meals, walking meditation, and visioning sessions. Our motto became: "There is no way to a practice center, practice center is the way." With much confidence, we followed this aspiration just to be a practice center even if we didn't know whether would receive money for the place or find people to live here full time.
Creating a Vision Together
It was a very powerful time for many of us, creating connections, building trust in each other and in the process. We learned a simple process of decision making, like the Sanghakarman process, in which we cultivate our views and refine insights together as a Sangha body. Creating a vision together was a deep and nourishing opportunity of growing up, each one of us as a person and as a community. At first you might think that everyone has a fairly clear vision. Then you discover everybody has their own ideas! Somebody wants a volleyball field, someone else wants sheep, another wants a big organic garden, and on and on and on. Through visioning sessions, everyone was able to express themselves and be heard, as well as have a chance to look through the community's eyes, more and more increasing our group's harmony.
Over time, we understood we had to focus on what could support our practice, and this principle still supports us. For example, we would like to grow an organic garden with vegetables and big tomato plants, but at the moment, we are only three residents. We already spend a lot of time watering all the fruit trees in the evening. So we asked, "Will an organic garden support our practice?" "No? Not now." We then dropped the idea. We have many ideas to improve our center, and they are all welcome, but it always comes down to the main question: "Does this support our practice or not?" Then, it's very clear and easy to decide: if yes, we include it; otherwise we drop it.
We envisioned a center with a core community of at least five residents, as Thay has often suggested, with the idea that when our core community becomes stable and settled enough, we could create a bigger circle of families and children, a multi-generational community of practitioners. The core community keeps the fire going. People could practice meditation together in the morning and then go to work or school as socially engaged practitioners. They could receive support from the community and then bring Thay's practice into the world. This is still the vision we keep in our hearts, even if at the moment we are only a few residents. Maybe we will realize it in ten years or fifteen years.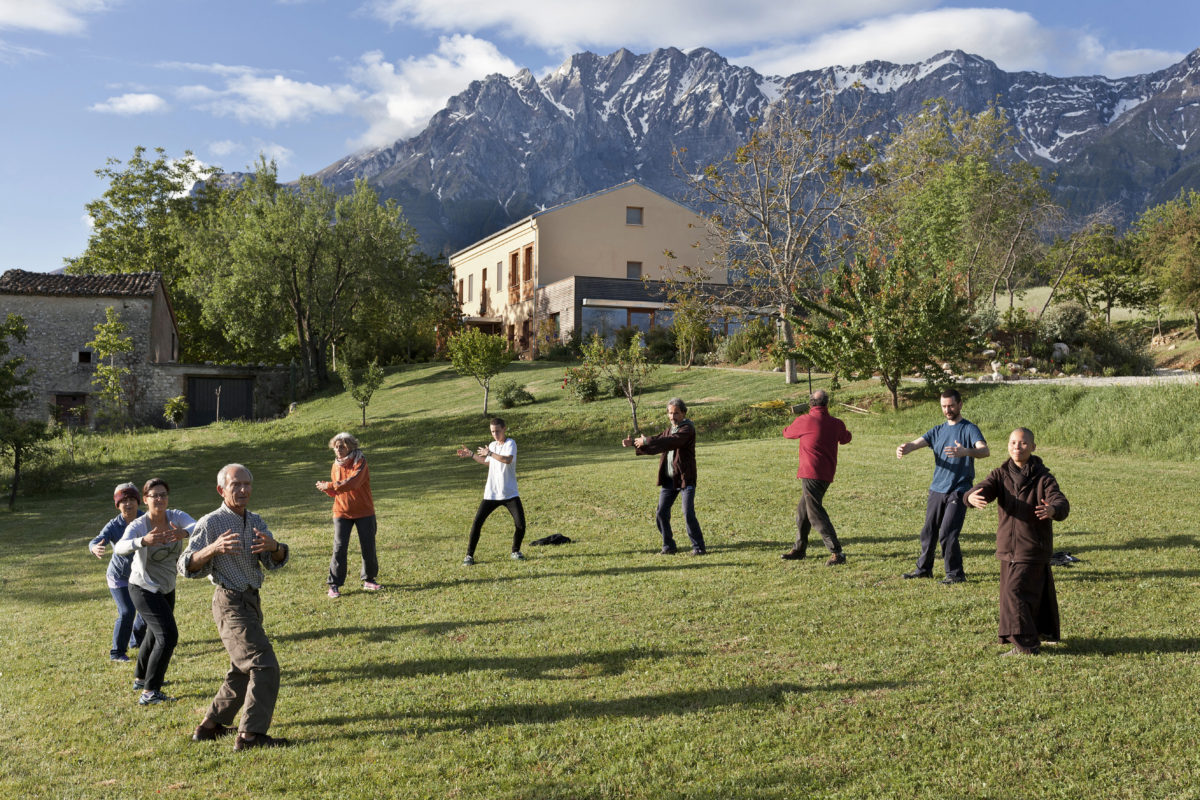 Finding the Right Place
With this vision in mind, we started looking for a place around Italy's geographical center–one with the potential to grow. We were looking for an affordable place, well-preserved, with good air and water. We received suggestions from Dharma friends all over Italy. We visited many places: some were too expensive; others were affordable and nice but too far from any center. Driving more than twenty or thirty minutes to town becomes a problem if you need medical care or take children to school every day. If our vision was a bigger community, then we also needed to be close enough to schools.
One place in Tuscany was very beautiful. When we visited with Helga and Karl, they said it was beautiful and nice, but it was more money than we had and we would have to borrow money to pay for it. They also said, "The question is whether you want to practice together or want to run a business. Because if you settle here and buy this place, then you will have to be constantly wondering how to pay for such a place, and this will distract you from your practice." Evidently that place in Tuscany would give us too many cows, as Thay says. We let it go and patiently kept looking.
One day, a dear friend heard about this place and said, "Why don't you come have a look?" It was quite a ruin but also beautiful with mountains, spaciousness, and fields. We invited Helga and Karl to visit the place together with the community. We walked to the top of the hill and sat close to the big oak and cherry tree. For half an hour, we just looked and felt it out. Then we said, "Why not? This is good!" Here we are now.
Before buying the place, we met with people in the village, town, and county governance to discuss whether they would like to support us in our intentions. "Were we truly welcome here?" We wondered. We explained our intentions in depth and spoke with their mayor. We shared that we wanted to start small, but we had the possibility to grow. We agreed with them that we would have the potential to build up to three or four thousand square meters. This was very important; we had to think ahead that places could really grow. The place may not, but if we started here and outgrew the space, we would have to go elsewhere and start over. So we wanted to really build at the right place. Our request was warmly welcomed and supported!
Thay and a group of monastics came to visit in March 2008 before the retreat in Rome. Thay gave us his blessing and an inspiration for the center name, adding: "This is the Pure Land!"
Meanwhile, we had raised money enough to buy the place, thanks to local Sangha events all over Italy and fundraising during large summer retreats offered by Helga and Karl in a famous Italian Dharma Center. We set up a foundation to purchase and own the property. It was composed of about thirty Italian Order of Interbeing members, together with Helga and Karl, with a charter based on the Fourteen Mindfulness Trainings. We hoped a charter that incorporated the Fourteen Mindfulness Trainings would help our practice touch people who needed to read it as a legal document—lawyers, local administrators, and others whom we contact for administrative and bureaucratic matters such as construction permission.
After buying the property, a couple of Order of Interbeing friends with their children moved to the place to follow the restoration works and create connections with people in the village. We invited them to a Day of Mindfulness, where we could have a silent lunch together and explain our practice. Everybody came and asked questions, and we showed a video of Thay. Over time we created more and more connections. Now, during Christmas time, Easter, and New Year, some of us attend mass in the village church, and we know the priests. Also, after earthquakes in 2009 and 2017, the church was partly destroyed, so we invited the priests to come here and offer mass. Now we have a very good relationship with the village. They appreciate what we do, and they say, "Ah, you make this very beautiful. We love how you care for the borders." We have planted many beautiful plants and flowers near our neighbors' property.
To buy the place was not so expensive. It was about 200,000 euros, but it required many renovations. We needed money, and money came. Practitioners from all over Italy started giving donations from five euros to 100,000 euros. Our inner circle of Order of Interbeing members gave generously, and we received (and still receive!) donations from one to two hundred other people. This generosity brought a lot of energy to our project. By the end, we gathered over one million euros. From this point of view, our center has been a community creation.
The Work of a Sangha
Since the beginning, the few residents have been supported by a very large extended community of Order of Interbeing and non-Order of Interbeing members: a group of people who, in rotation, came to support the center events, both materially and spiritually thanks to their work and stable practice. The center would not have survived without their presence. Recently, the relationship between those who live here and those who do not has deepened. Thanks to stable and dedicated practitioners all over Italy, the center can offer more events in the future.
This is our experience of creating a community practice center in Thay's words: "A place where we can go from time to time to renew ourselves. The features of the landscape, the buildings, even the sound of the bell can be designed to remind us to return to awareness." Why not come and have a look?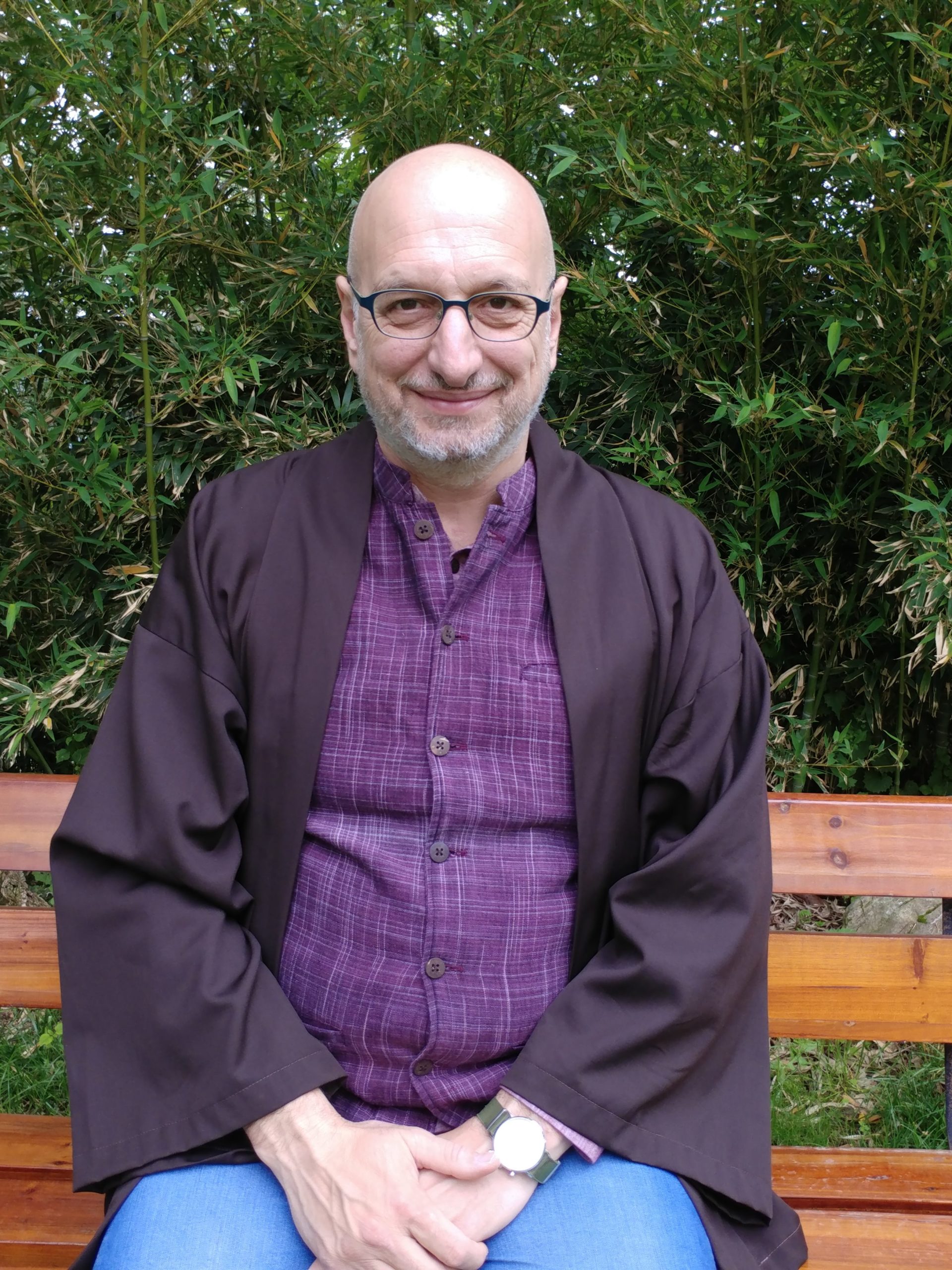 Stefano Carboni, True Great Mind, has been following the Plum Village tradition since 1996 and was ordained as a Dharma teacher in 2006. Over the last fifteen years, he has dedicated his time and energy to Avalokita, where he lives since its opening in 2012. He offers mindfulness retreats and weekends together with the residential community.