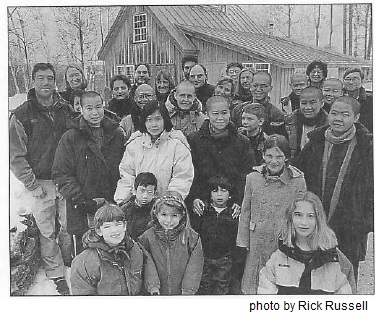 By Anh-Huong Nguyen
Dear Friends, February 14th and 15th, we had an open house for the Mindfulness Practice Center of the Upper Valley, Vermont. About three hundred people joined us in mindful sitting and walking, clementine ceremonies, introductory talks, total relaxation and singing. The Mindfulness Practice Center of the Upper Valley is "a resource center and gathering place supporting the art of mindful living in the tradition of Thich Nhat Hanh."
I want to share with you more about the unfolding of this first Mindfulness Practice Center. One afternoon Thu and I were having tea with Thay, and he asked us to open a Mindfulness Practice Center in Virginia, where we live, as an experiment. We both were very enthusiastic about the idea of nonsectarian mindfulness practice, so we agreed. However, after Thay's visit to Vermont, the plan for a Mindfulness Practice Center in Virginia was changed. First, there was a tremendous response to Thay's public lecture in November in Woodstock, Vermont. Despite having to reschedu le because of a snowstorm, well over 1,000 people attended Thay's lecture on a Sunday evening.
While Thay was in Vermont, he officially accepted land that had been offered on which to build a monastery (now called Maple Forest Monastery). He was also invited to look at a piece of property for a potential Dhanna Center. Thay found it to be a wonderful setting, and spontaneously said, "Green Mountain Dharma Center." This Dharma Center will be the home of the Order of Interbeing in North America. When he went back to Plum Village, he left behind six nuns and three monks at the monastery, and soon after that, Sister Annabel came to start the winter retreat. It became obvious to Thu and me that the first Mindfulness Practice Center should start unfolding in Vermont as well, so that we could all support each other. So Thu and I and our four-year-old son Bao-Tich found ourselves in wintry Vermont one week before Christmas to support and help in whatever way we could.
Thay has said, "When conditions are sufficient, things manifest; when conditions are lacking, they are no longer apparent." The Monastery, the Green Mountain Dharma Center, and the Mindfulness Practice Center of the Upper Valley have begun to manifest in Vermont because the conditions here were sufficient. No one person could make it happen. The newly ordained novice monks and nuns in Key West who were unable to obtain visas to go to Plum Village made up one condition. Thay is another condition. Thay's and our desire to offer the practice of mindfulness to help relieve the suffering in our society and in the world is another condition. The body of the Order of Interbeing, where each one of us is a cell in that body, and the strength of our local Sanghas and the Community of Mindful Living, are other conditions. The beautiful natural environment of Woodstock, Vermont, and the strong response of the community here to Thay's teaching are still other conditions. If we continue to look deeply, we will discover the many conditions that have come together to make all this possible. It is just a matter of coming together! Keeping this in mind, we are deeply appreciative of and grateful for what is unfolding.
Thay's dream of having a fourfold Sangha (monks, nuns, laymen, and laywomen) in North America has started to become a reality. Thay sees the important role of Tiep Hien members in developing a mindful culture fostering happy individuals, loving families, and a healthy planet through establishing nonsectarian mindfulness practice centers as well as local Sanghas. As soon as the Dharma Center property is purchased, the Education and Training Committee of the Order of Interbeing will have a home to execute a training program for Order members to be local mindfulness practice center facilitators, to assist at retreats, and at the Green Mountain Dharma Center itself. As an experiment, if this first Mindfulness Practice Center can fulfill its task of creating a more mindful and loving community, nonsectarian Mindfulness Practice Centers will become our offering to the twenty-first century.
The Mindfulness Practice Center of the Upper Valley currently offers a program six days a week, 9:00 a.m.-5:30 p.m., including mindful sitting and walking, community work, stress reduction/guided relaxation, presentations with questions, tea ceremony, and a children's program three afternoons a week. We also have introductory talks. In the next two months, we will have three weekend retreats. The Center is also working with the Vermont Department of Corrections to look into the possibility of developing a mindfulness program for inmates in the state's correctional facilities. We have been asked by several local senior centers to give presentations about our practice, and we look forward to working with area teen centers as well. Several of our members have expressed an interest in offering programs that reach out to families and individuals in the community to help provide skills to enhance their efforts to deal with poverty and abuse. There are nurses, medical doctors, psychotherapists, and hospices who have expressed great interest in working with the center for different outreach programs.
At the MPC of the Upper Valley, we often remind each other of what Thay has said regarding the practice: "We want to offer people a real product, not a fake one." If we do not practice, we have nothing to offer to people. Although we are quite busy here, we have managed to hold Beginning Anew ceremonies among ourselves at the MPC as a way to resolve conflicts and deepen our practice of working together in harmony. We also take turns joining the nuns in sitting meditation at the Maple Forest Monastery so that we can be nurtured and supported by their loving presence. Every time we come to the Monastery, we feel that we are going home.
We hope to see you here in Vermont very soon so that we can walk and breathe together this fresh mountain air of our new spiritual homeland.
Anh-Huong Nguyen, Chan Y, is a Dharma teacher and a member at the Sangha in Washington, D.C.
---
Mindfulness Practice Centers Mission Statement
We are dedicated to the creation of a mindful culture fostering happy individuals, loving families, and a healthy planet. We intend to promote mindfulness at all levels of society.