By Chan Luong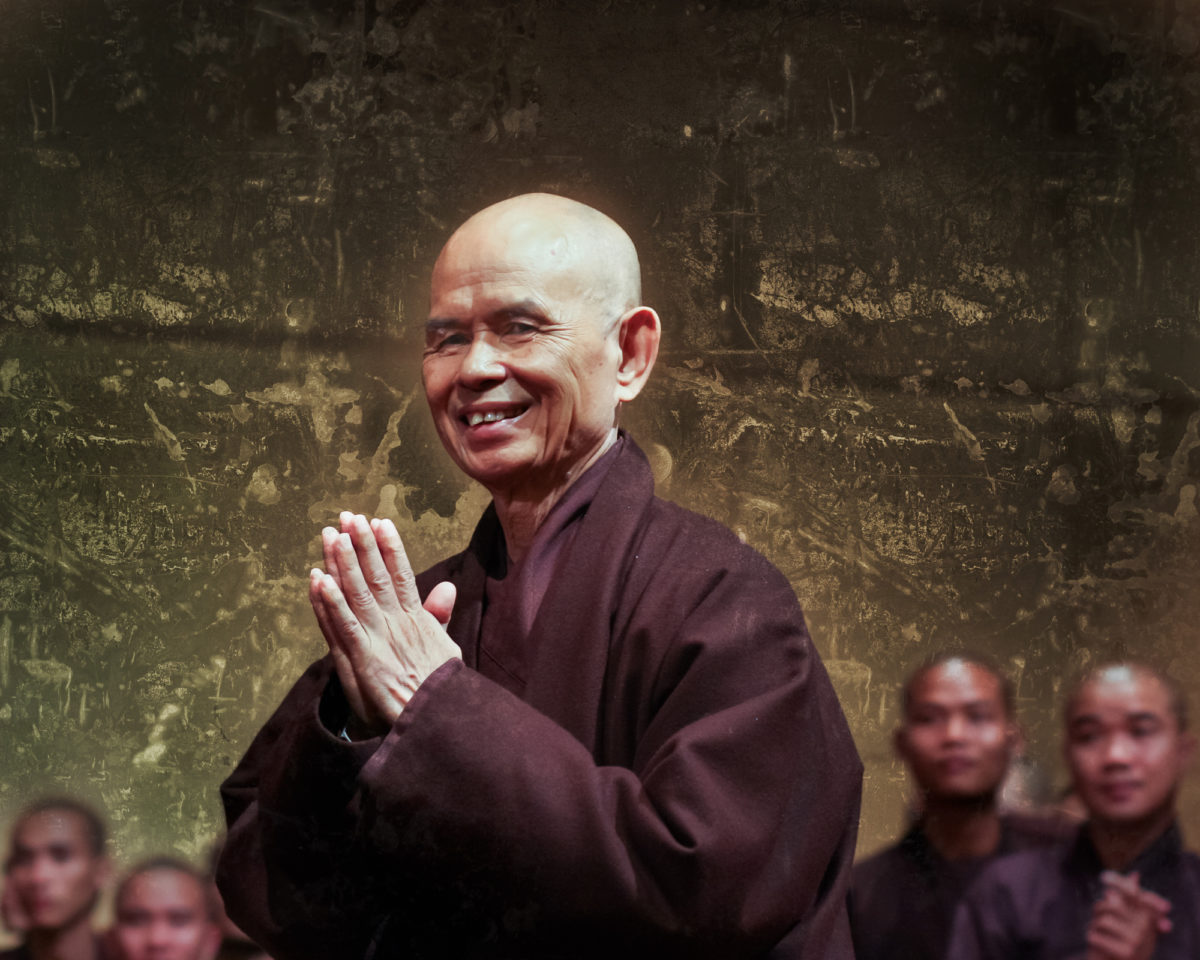 My teacher was a famous writer in Vietnam. The Buddhist and non-Buddhist young people of my generation knew Thay by his renowned book, A Dialogue with Young Adult.* Over fifty years ago, he called for reform in Buddhist practice in Vietnam and focused on the essence of the teachings rather than the manifold forms. I see him as a revolutionist monk.
Many people talk about the enlightened beings of our century. My comment is the common Vietnamese saying: A teacher like Thay appears only once every few hundred years. Like other great beings, Thay has embodied compassionate living throughout his life. Since the day he founded the School of Youth for Social Service in 1964, Thay and Sister Chan Khong have ceaselessly reached out to people who suffered during and after wartime. Many of us already know about Thay's books, his teachings, and his influence on numerous lives. I would like to share with you some of my fondest memories of Thay.
The Mindful Way
One time, during a retreat in the early days of Plum Village, some of us young people spent an afternoon with Thay, collating pages of a book for binding and publishing. After he had explained how to carry out the task, we all followed Thay around a large table, picking up pages and putting them together to complete the book. Thay walked slowly and mindfully with great ease. At the end, we realized the number of books each of us had collated was less than Thay's. With surprise and wonder, we asked Thay how that could be. Thay gently smiled to us and said it was simply because he had more experience than we did. I thought how sweet he was! However, this experience helped me to understand that with practice, one can be mindful and productive at the same time.
During the time when I was fortunate enough to be Thay's assistant in the Lower Hamlet, I saw how Thay spoke, taught, and played with young people. They were happy and delighted, and they adored Thay. There was never a wall between this most venerable monk and the youngsters. I felt the communication between them was deep, and Thay could easily transmit his teachings directly to them. They were called "mini OI members." I have worked with teenagers for over twenty years as a clinician. If I have been able to help them make changes in their lives, I attribute it to the loving, compassionate, and mindful way that Thay has taught me. I know that I need to keep the light of mindfulness and compassion shining and learn ways to take care when the light dims.
One year when we celebrated Christmas at Plum Village, the monastics and laypeople spent hours creating the festive occasion. Tables were beautifully decorated with leaves and dried flowers. Food was abundant. Thay mindfully walked to the table to invite the bell marking the beginning of dinner. Then we suddenly noticed him calmly holding a big spoon to invite the bell, as the inviter was not available. There were no reprimands, no interruptions of the celebration.
I thought Thay felt that his lay students may be a little shy about their compassionate actions in life. One day, in a question and answer session, Thay responded to the big question, "What is compassion?" He simply said: "Compassion is like when you are inside your home, warm and comfortable with a cup of hot tea in your hand. It is cold and dark outside. You hear a calling, put the cup of tea down, and walk out in that cold, dark, and windy place to help." Thay's words have profoundly affected my ordinary and humble life as an OI member.
Those of us who live "down under," far from France, often receive a special treat before our departure from Plum Village: having tea or walking with Thay. Moments of sitting or walking meditation with Thay remain fresh and vivid in my memory. When we walk beside him, we feel his presence; his energy of mindfulness is so powerful that peace emerges in us.
Life-Changing Pilgrimage
In 1988 I went to India with Thay and a delegation of just over thirty people. We arrived at the Lumbini Motel in a remote village after a long and dusty trip. The showers didn't have hot water. I managed to get some help from motel staff and carried a bucket of hot water to the shower room. When I accidentally crossed paths with Thay, he gently asked me where I had found the hot water. I offered to fetch some for him. But he quietly said, "Thay already had a shower with cold water." We had all forgotten to look after our teacher, but still he had kind words for us.
While in India, we pilgrims followed Thay to Vulture Peak. Every day we walked up the mountain, listened to Thay's Dharma talks, and watched the sunset together in silence. Gazing into the distance with my mindful breath, I felt the beauty of the sunset flow through me, and I didn't need it to last forever. We also felt the presence of the Buddha on Vulture Peak through Thay's words. Since that day, when I encounter difficulties in life, I silently say, "Namo Shakyamunaye Buddhaya" to get in touch with the Buddha in myself.
One day, others were busy at the Indian market or resting, and I sat with my teacher on the rocks. We enjoyed the silence together. Unexpectedly, Thay said, "Just breathe, dear." Thay's gentle words left a deep imprint in my mind. Years later, I read the book Breath By Breath. The author, Larry Rosenberg, commented that Thich Nhat Hanh said, "I have watched my breath [for] over fifty years [and it has]…only grown in interest."
That pilgrimage to India with Thay changed my life forever. While traveling on a full moon day, we stopped so that Thay could recite the precepts. There were no candles, no table. Thay gathered some Bodhi leaves and rocks to make an altar under the tree. With some simple incense, he conducted the most beautiful ceremony I ever attended. That experience taught me that we could create something beautiful with our mindful energy, and that without mindfulness, ceremonies could become empty rituals.
A Rare Combination
Our teacher is a rare combination of a great poet and a venerable monk. Therefore his teachings are profound, yet gentle, loving, and compassionate. His teachings and ways of organising have never been doctrinaire. Many of us feel like we have come home when we hear him talk.
Thay is a kind teacher, and he sees that the teachings of impermanence and non-self are not easy for many of us to practice. His insight about the Buddha's teaching on impermanence is incredible. Thay says that without impermanence, a young plant cannot grow into a tree, a child cannot grow to be an adult. Personally, I had never heard anyone talk about impermanence in that way before. His Dharma talks about non-self are very clear. He helps us see the ultimate dimension of life through the historical dimension, leading to the ending of our suffering.
Thay can be fierce in his teaching. He has told us many times that he doesn't like us to be like parrots that repeat words they do not understand or like empty husks of grain that practice outer forms and have no substance inside. He's also a sweet and loving teacher who wants to know whether each Plum Village hamlet has enough firewood and food for winter days.
Thay sees interbeing in all things. He often tells us that each of us is a flower in the garden of mankind; each kind of flower has its own beauty. If you are a chrysanthemum, a daffodil, an orchid, or a rose, be a beautiful chrysanthemum, daffodil, orchid, or rose; do not strive to be a different kind of flower, making yourself unhappy. He also says a garden is beautiful because it has different kinds of flowers.
Many practitioners may still seek the bliss of entering Jhana, detached moments from the world. But I love my teacher's incredible "stillness in action," a testament to his solidity and deep peace. Larry Rosenberg writes, "Thich Nhat Hanh's lineage draws on both Theravada and Mahayana teaching. He more than anyone else demonstrates the importance of bringing breath awareness into daily life, of staying awake in the midst of all our activities. He is unrelenting in his teaching, and it took such a strong message to get through to me." Such a message is as vital to us, Thay's students, as it is to Larry.
Lightness Fills My Path
Plum Village has grown so rapidly; nowadays, even when you stay on a retreat, you only get a glimpse of Thay. As he is approaching his senior years, everyone contributes to protect and preserve Thay's energy for the Dharma. The new generation of practitioners may not have as much teaching of mindfulness directly from Thay as in the early days.
We know that Thay is growing in years, and we know deeply the universal law of impermanence. I remember that one year, at the end of a June retreat for OI members in Plum Village, Thay conducted a simple closing ceremony. Afterwards, we all stood up and offered a lotus flower with our joined palms as our way of saying goodbye to Thay. While Thay slowly walked out of the hall, suddenly, in that solemn silence, a voice arose: "We love you, Thay." I thought that loving voice spoke for all of us that day.
* Noi Voi Tuoi Hai Muoi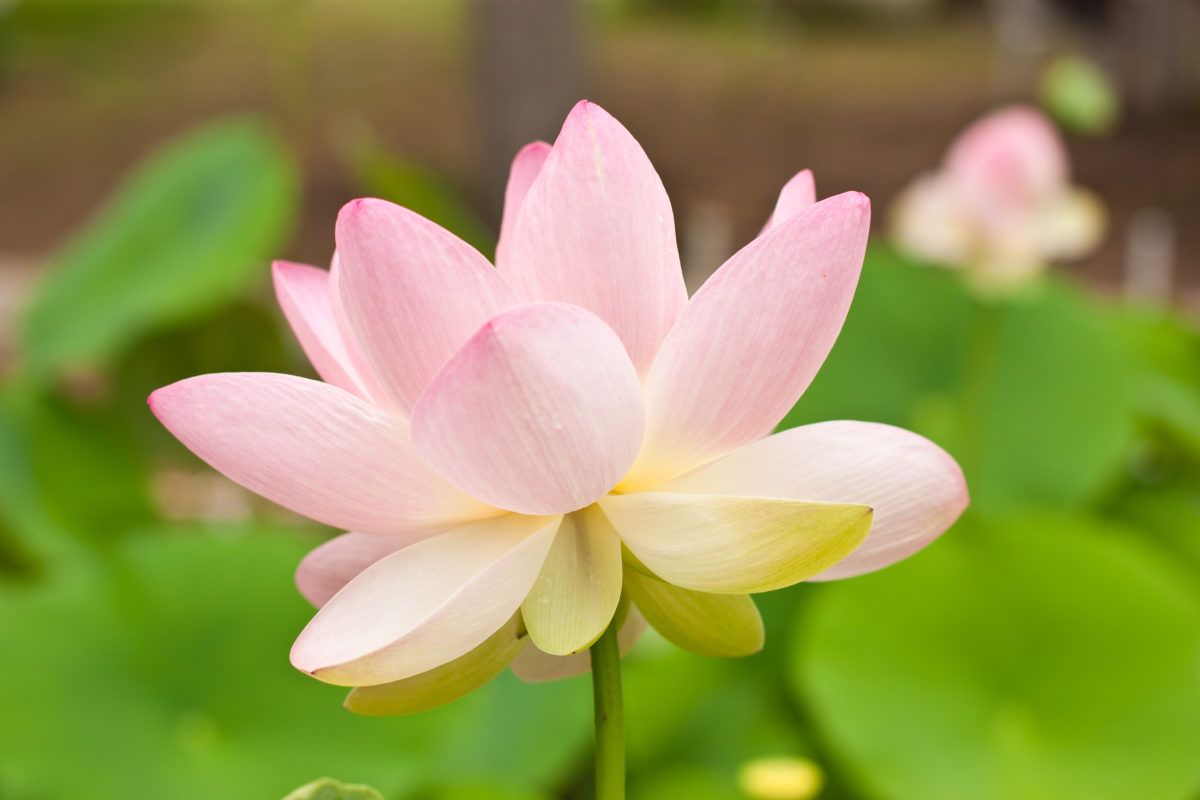 Mai Than-Trong, Chan Luong, became an OI member in 1988 and ordained as a Dharma teacher in 1994. She was one of the founders of the Lotus Bud Sangha based in Sydney, Australia. Mai is currently a semi-retired senior psychologist in Sydney.