This program is offered for the ongoing education of Order of Interbeing core community members. It is suitable for anyone who has begun to practice transformation using mindfulness in daily life and has received the Five Mindfulness Trainings. The program draws its power from the Dharma Teacher whose insight connects with the student and whose skills create a setting for deepening practice. The specifics of elaborating a Buddhist viewpoint, teaching skillful means for practice, and leading the student to new levels of understanding are not readily spelled out as traditional curricula objectives. "Dharma Curriculum" develops when brought to life by the understanding and skillful means of a Dharma Teacher. Using this program in private study can be beneficial and is encouraged. But, it is principally designed for use in a cohort group with a skilled teacher in a retreat setting. Only in this way can it be assured of attaining the full power envisioned by Thay and Sister Annabel.
Thay originally offered the program with the idea that a practitioner could come to Plum Village and study and practice for four years. We have adapted the course for those who are not able to spend four years in Plum Village.
The basic content may be covered in two ten-day retreats led by Plum Village or Maple Forest Monastery Dharmacharyas and three or four weekend retreats led by local Dharmacharyas each year, plus regular study and practice at home. Over four years, all stages would be covered. All Order members are encouraged to complete the four stages. Ten-day retreats involving the four-stage program will be organized in Plum Village and/or at Maple Forest Monastery under the direction of Plum Village and Maple Forest Monastery Dharmacharyas, if there are enough interested participants. Dharmacharyas may also travel to conduct retreats involving the program.
In May 1998, Thay will lead a 21-day retreat in Burlington, Vermont. The two ten-day retreats of Stage I can be covered by this retreat. Everyone interested in following the four-stage program is encouraged to participate in this retreat with Thay and the monks and nuns from Plum Village and Maple Forest Monastery. Stages I and 2 will be offered in 1999 in Plum Village or Maple Forest Monastery if there is enough demand to warrant it.
Local Sanghas and individuals are invited to communicate their need for study support and guidance to the Order of Interbeing Education and Training Committee. The committee will evaluate the global need and make every effort to arrange for study retreats to be organized accordingly. We also want to know who, in various geographic areas, is able and willing to teach and/or organize weekend study retreats. We encourage all order members, whether or not they can attend the formal trainings and retreats, to use this outline as a study and practice guide. It is keyed to available texts, and there will be tapes of the retreats where Thay or senior Dharmacharyas have taught these topics.
STAGE 1
Texts for study and practice--Interbeing: Fourteen Guidelinesfor Engaged Buddhism (Third Edition); Breathe! You Are Alive; Our Appointment with Life; For a Future To Be Possible; Old Path White Clouds; The Blooming of a Lotus; The Heart of the Buddha's Teaching; The Peace Treaty.
Practice--Walking meditation at all times. Sitting meditation: Shamatha-calming, stopping, and nourishing; Vipashyana-looking deeply. Metta meditation to parents, using selected exercises in The Blooming of a Lotus. Bell inviting for Dharma talks, meditation, tea meditation, and meals. Practice Beginning Anew and the Five and the Three Prostrations. Write letters to parents and or other family members. Basic Buddhism: The Four Noble Truths, The Noble Eightfold Path. Chanting: Opening verse, closing verse, Heart of the Prajnaparamita, Refuge Chant, etc. Singing: Breathing in, Breathing out; I Have Arrived; Being an Island; In, Out; and other practice songs. Sixty days of mindfulness each year.
Assignments--Write to a friend who knows nothing about the practice and tell him or her about walking meditation in a way that will help him or her. Write about your experience of metta meditation toward your parents. Write a song describing your practice of walking meditation, working meditation, or watering the seeds of happiness. Ask three family members or others with whom you share a lot of time to comment on your strong and weak points. Report your decision on practices to transform your weaknesses.
STAGE 2 Revise and continue to practice Stage l.
Texts for study and practice--Transformation and Healing; Teachings To Be Given to the Sick; Interbeing; The Heart of Understanding.
Practice--Walking meditation: Deepen your own practice and explain walking meditation to others. Sitting meditation: Deepen the practice. Use all the exercises in The Blooming of a Lotus. Organize a tea ceremony. Invite the bell in ceremonies. Offer incense. Explain the Peace Treaty and Beginning Anew. Facilitate Dharma discussion. Basic Buddhism: The Six Principles of Harmony, The Seven Ways of Resolving Conflicts, The Four Immeasurable Minds. Check with the three family members or others who commented in Stage 1 about your last year's efforts at transformation, and report on their comments.
Assignments--A song expressing your insight. Write on how you envision the Pure Land in which you wish to be reborn.
STAGE 3 Revise and continue to practice Stages 1 and 2.
Texts--A Bhikkhu's Request; Thundering Silence; Diamond That Cuts Through Illusion; Preface to the Anapananusmrti Sutra by Dhyana Master Tang Hoi; History of Vietnamese Buddhism.
Practice--Sitting meditation: the nine-point metta practice. Report on how you put into practice the nine-point metta meditation practice with those with whom you are in conflict. Ask six people for feedback on your strong and weak points. Report your practices to strengthen the good points and transform the weak points. Organize a Day of Mindfulness. Guide meditations for others. Basic Buddhism: Interdependent Co-Arising, The Seven Factors of Enlightenment.
Assignments--A song expressing your insight. Write on the practice of the Four Noble Truths in your daily life.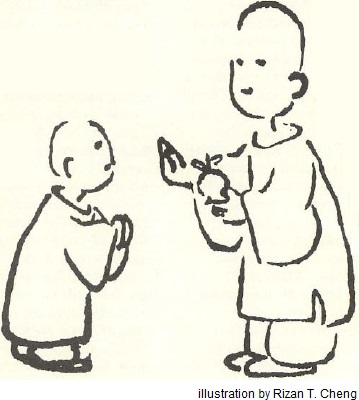 STAGE 4 Revise and continue to practice everything in Stages 1, 2 and 3.
Texts--Samiddhi Sutta; Lotus Sutra; Fifty Verses, with reference to the Thirty Verses of Vasubandhu; the 39 Mindful Manners from Stepping Into Freedom.
Practice--Organize a retreat; give a Dharma talk; Sangha-building; Chanting; conducting ceremonies for the sick and the deceased; Basic Buddhism: the chittasamskaras.
Assignments--A song expressing your insight. Write on your experience of practicing Buddhism as someone with non-Buddhist roots. Write on your experience of Sangha-building. Ask three of your co-workers and three family members how you have improved in transforming the weakness they pointed out last year.
Minh Tran, Chan Huy, is a Dharma teacher who practices in Maple Village, Montreal, Canada. Rowan Conrad, True Dharma Strength, is a member of the Open Way Sangha in Missoula, Montana.