"I heard these words of the Buddha one time when he was staying in Savatthi in the Eastern Park with many well-known and accomplished disciples .... The senior bhikkhus in the community were diligently instructing bhikkhus who were new to the practice-some instructing ten students, some twenty, some thirty, and some forty; and in this way the bhikkhus new to the practice gradually made great progress .... " - The Discourse on the Full Awareness of Breathing
The Greek hero Odysseus had a loyal friend and advisor named Mentor, who was also the teacher of his son. Thus we have the word "mentor" for a wise and loyal teacher and friend. In Buddhism, the word kalyanamitra (good friend) is used in the same way.
My grandfather was my first mentor. When I was eight, he spent many hours with me in his garden, explaining the ways of compost, gathering rainwater, and mulching. During family gatherings, he would turn to me with full confidence and ask me to go and harvest the vegetables for our meal. Eventually, he would hand over the care of his whole garden when he went out of town.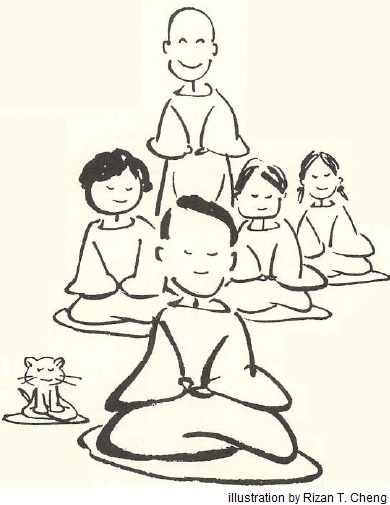 So happy was I in this loving mentors hip, I worked hard to establish relationships with all the elderly people in our neighborhood. How wonderful it was to sit in this woman's parlor and learn the art of conversation; to visit that woman's cellar and marvel at all her hanging herbs and onions; to laugh at that man's stories. Such ease with mentoring made it easy for me in Catholic school to engage with the nuns inside and outside of class and to learn from them.
This tendency to engage with my elders has continued. In my 30s, I entered a comprehensive mentoring relationship with author and patroness of Zen in America, Nancy Wilson Ross. During our five years working together, Nancy taught me much about how to take someone into my consciousness and care about their entire being.
After that, I mustered the courage to ask for a closer mentorship with my root teacher, Richard Baker-roshi, when I asked to be his assistant. "Why do you want such a position?" he inquired. "I want to get to know you better," I replied. I was Roshi's attendant for a year and learned directly with him an immense amount about myself and life. Most importantly, I discovered how basic are honesty and compassion in the mentoring relationship.
For the past 15 years, I have been very fortunate to learn from two extraordinary mentors: Thich Nhat Hanh and Sister Chan Khong. I have studied "the art of mindful living" with them in so many ways. Seeing how That loved Arnie as a student and friend helped me learn how to love him as a Dharma friend and husband. Watching Thay go back to his "island of self" on many occasions helped me see how I could protect my mindfulness in order to be truly present for myself and others. Sister Chan Khong taught me ways to engage people in an empowering way when I saw how she asked those she helped in Vietnam to tell her of someone who had even less. Being with Thay and Sister Chan Khong, I have learned new ways of being. At the Lamp Transmission Ceremony at Plum Village in 1994, Thay told us, "Dharma transmission takes place in every moment, 'notjust in a ceremony. When I walk with you, I am transmitting the Dharma."
In this section of The Mindfulness Bell, we share working documents from the Order of Interbeing Education and Training Committee, and accounts from many Order members and aspirants on their experiences of mentoring together. -Therese Fitzgerald, Senior Editor