How the Mindful Walk with Thich Nhat Hanh in Los Angeles Became an International Day of Mindfulness and Peace
By Beth Howard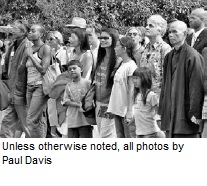 At the retreat in Estes Park, Colorado, someone asked Thich Nhat Hanh what could be done to bring peace to the situation in Iraq. He responded by saying that there are many wrong perceptions on both sides. We must begin, he said, by looking deeply at our own practice. To have peace in the world, we must first have peace within ourselves. Thay also suggested that we share these practices with others, teaching them to look deeply and helping them to find peace within themselves. "There is much in the peace movement that is not peaceful," he stated.

Participants at the retreat organized a Peace Affinity group to discuss these issues. At the meeting, Sister Susan from Deer Park Monastery began by reiterating that the peace movement lacked peace at its core. When asked how Thay might participate and help us, Sister Susan said that Thay would support our efforts, but we needed to do the work.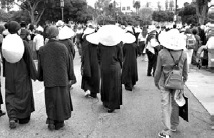 And so the Peace Is Every Step project was born.
An Alternative Peace Movement
Peace Is Every Step formed as an alternative to the currently fractured peace movement. Its purpose is to use deep listening, deep looking, and loving speech to foster peace in each individual and in the world. It is a peaceful organization for individuals and organizations who wish to create peace from a nonviolent, non-angry place by using peaceful means. As Thay teaches, to have peace in the world, we must start at home, within ourselves.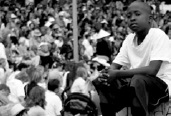 Specific suggestions by participants at the meeting included local, state, and national initiatives and actions; advertising campaigns; and networking with a number of peace organizations. A large peace rally was already planned in Washington, D.C., which seemed a perfect opportunity for a mindful, peaceful presence. Melissa O'Neil and Kelly Osborne, human rights and environmental activists and organizers, volunteered to work with Sister Susan to create a database that would allow the Peace Affinity group to stay in touch and share ideas and information. Jeremy Williams offered to build the Peace Is Every Step Website.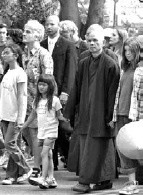 Susan Skog, a writer and inspirational speaker, presented a synopsis of the Peace Affinity meeting to the larger Sangha at the retreat. "Peace is still alive in America," she said. "We just need to water the seeds of peace."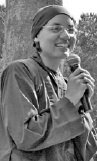 Two weeks after the retreat, Peace Is Every Step was online at www.peaceiseverystep.net. The first e-mail was sent out to inform the group of a Peace Walk in Los Angeles, led by Thay and organized by Deer Park Monastery. Skog, Williams, and Janet Jackson were instrumental in networking with and inviting peace groups and media. Many existing peace organizations put out invitations and e-mails to their members announcing the Peace Walk, including True Majority, United for Peace and Justice, Code Pink, and Nonviolence International. Almost immediately, people responded from around the globe, with plans to have simultaneous events that would coincide with the L.A. Peace Walk, thus creating an International Day of Mindfulness and Peace.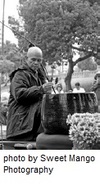 Walking for Peace in Los Angeles
On Saturday, October 8th, Thay led over three thousand people in a mindful, silent Peace Walk. Thay requested that we walk together in silence, with no banners or signs; the walk was not a demonstration against anyone. He said, "If you are a Buddhist, please come. If you are a Christian, please come. If you are Jewish, Muslim, or belong to or identify with any other religious creed or peace organization, please come. If you are white, brown, black, yellow, red, or any other color, please come. We shall learn together that wrong perceptions of self and others are at the foundation of separation, fear, hate, and violence, and that togetherness and collaboration is possible."

Thay explained from an open stage before the walk, "We don't think shouting in anger can help. If you make other people angry and fearful, then you cannot reduce violence and fear." He encouraged participants to practice deep listening and loving speech.

The two-hour silent walk and prayer for peace proceeded serenely through the streets surrounding MacArthur Park in Los Angeles. Cindy Sheehan, whose son Casey was killed in the war in Iraq, attended the walk. (See Sheehan's comments on page 14). For many, the walk exemplified A.J. Muste's often quoted phrase: "There is no way to peace. Peace is the way."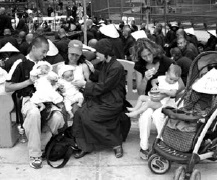 The walk was widely covered in the local media. In an interview with the Los Angeles Times, Thay stated, "I don't think shouting angrily at the government can help us end the war. When we are able to change our own thinking, the government will have to change."
A Peaceful Homecoming Parade
On the same day, across the globe, people gathered to support Thay's message. Peace Walks or vigils were held in a dozen cities, including Lafayette, Indiana; Portland, Oregon; Atlanta, Georgia; Cheyenne, Wyoming; Helena and Lewistown, Montana; Fort Collins, Colorado Springs, Denver, and Boulder, Colorado; Saskatoon, Saskatchewan, Canada; and Sydney, Australia.
The Peaceful Heart Sangha in Fort Collins, Colorado, practiced mindful walking in Colorado State University's Homecoming Parade. Before the parade some Sangha members expressed concern because of recent clashes between pro-war and antiwar protesters in their city. But after the walk, what many recalled were the smiles of the people along the parade route, reminding them of Thay's saying, "A smile is the most basic kind of peace work." Susan Skog, who lives in Fort Collins, remembers best the hands of children, reaching out to receive bright yellow bookmarks printed with the calligraphy, "Peace is every step."
Future Plans
Currently, plans are underway for additional peace projects. One proposal is A Long Walk for Peace, a mindful walk covering as many as 200 miles that would also offer the opportunity to practice engaged Buddhism, perhaps by helping to build housing for hurricane victims.
For further information about Peace Is Every Step events, go to www.peaceiseverystep.net. If you have questions or suggestions, contact info@peaceiseverystep.net, and if you would like to be on Peace Is Every Step's listserve, please send an e-mail to sangha-subscribe@peaceiseverystep.net.
Beth Howard, Peaceful Source of the Heart, practices with the Bird & Bell Meditation Group in Cheyenne, Wyoming and with the Peaceful Heart Sangha in Fort Collins, Colorado.