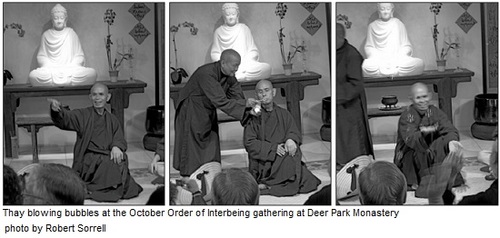 The Breath of the Buddha
June 1–21, 2006
After becoming enlightened, the Buddha Shakyamuni continued to practice breathing, sitting, and walking meditation. Practicing in this way helps us develop our wisdom, compassion and happiness.
In this twenty-one day retreat, we will study the practice of mindful breathing, using the texts of both Northern and Southern Buddhist traditions of the Anapanasati Sutra. We will explore how to update and apply these teachings in our daily life, and how we can offer them to others.
A Mindfulness Retreat for Scientists in the Field of Consciousness
A Convergence of Science and Meditation
August 19–26 , 2006
Science studies the brain from outside, but do we know what happens when we look inside to experience our own minds? Ancient Buddhist wisdom has been found to correspond very closely with recent scientific discoveries on the nature of reality. Discoveries in science can help Buddhist meditators, and Buddhist teachings on consciousness can help science. Zen Master Thich Nhat Hanh and the monks and nuns of Plum Village invite you and your family to a seven-day mindfulness retreat to learn about our minds using Buddhist teachings and recent scientific findings.
During the retreat participants are invited to enjoy talks by and pose questions to Zen Master Thich Nhat Hanh. Although priority will be given to neuroscientists and those who work in the scientific fields of the brain, the mind, and consciousness, everyone is welcome to attend.
In the beautiful setting of Plum Village, we will enjoy the powerful energy of one hundred lay and monastic Dharma teachers, and enjoy the brotherhood and sisterhood of living in community. Lectures will be in English and will be simultaneously translated into French and Vietnamese.