A Retreat for Software Developers and Designers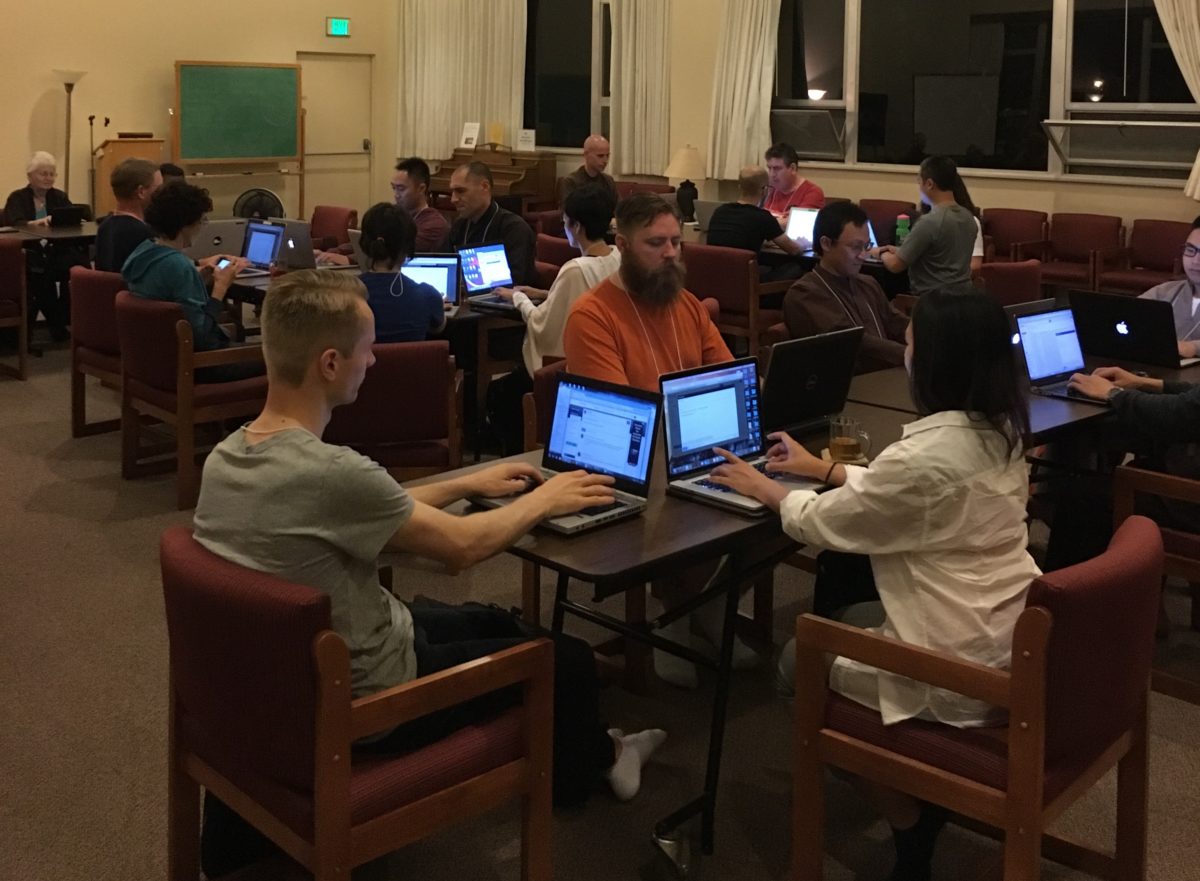 "I realized that I want to cultivate more joy, less fear, less self-loathing and comparing. And the way I use technology now is not filled with joy. It's filled with duty, and habit, and comparing, and energy-sucking, and time-sucking. How can I further shape my relationship to the tools I have to use every day, even though those tools do not always make me happy, but can cause much suffering?" — A software designer after the retreat
Does technology bring us more happiness and freedom? Have our two-and-a-half million years as a Homo species, and the 541 million years of evolution since our ancestors exploded into more complex and diverse forms of life swimming through the Earth's oceans, prepared us for the emotional quagmire of the last twenty years, where we communicate and generally interact with each other, with the computer, and even with ourselves, through a screen and a keyboard, a camera and a microphone?
Thay teaches us that when we use our computer for two hours, we forget entirely that we have a body. When I was eight years old, in 1984, my mother arranged to borrow during the summer break the newly minted Apple IIe bought by the elementary school where she taught. My parents sat me down in front of it, and as I glared with boyish insouciance at the ominous, darkened-green monochrome screen, I was told, "Your father and I feel you should learn how to use this, for your future." So began, for me, a decades-long process of, at times, literally forgetting that I have a body as I used computers to program, to write school papers, to play games, to write emails, and later to build websites for the Plum Village community. Is it really possible, I asked myself as a young monk, to be fully mindful of the present moment, of our breath and our bodies, while using a computer?
The article that you are currently reading started as a draft written on paper with a fountain pen; a later draft, typed on a computer, was subse­quently laid out on the page in electronic format. It was likely given to the printer on a USB key, or sent as an email—a process which only forty-some years ago would have seemed an almost impossible coordination of hundreds of computers, operating according to a highly sophisticated set of protocols implemented in software. It is no less incredible that most of us now don't give a thought to all this technology when a freshly printed copy of the Mindfulness Bell shows up in the post. Can we train ourselves, though, to look deeply into what is going on in the technology, and with mindfulness touch the interbeing nature of our body, our mind, and the phenomenal world around us, arriving at a more profound understanding of who we are and how we can live happily in the present moment?
A PROPOSAL AND AN EXPERIMENT
In August of 2014, in a café in Waldbröl, Germany, just a few steps from the European Institute of Applied Buddhism, a group of monks and nuns were sipping lattés with two young Wake Up practitioners who work in tech. The monastics proposed an idea: Thay wants us to develop a device that will help people to practice to be free and happy. During the next US tour, led by the international Plum Village monastic community, why don't we hold a retreat in Silicon Valley exclusively for software developers and designers? If we get them together to practice mindful breathing, walking, eating, and so on for a few days, surely their skills, combined with their collective insight, could accomplish far more than we technologi­cally naïve monks and nuns could ever hope to.
With the generous help of our dear friend and lay Dharma teacher Kenley Neufeld and some skillfully placed suggestions by Thay Phap Dung during the US Tour planning meetings, the retreat was set for October 11-16, 2015 in Burlingame, California, just a few miles south of San Francisco.
It was a small retreat—intentionally. We limited enrollment to about twenty-five participants. We wanted to experiment, and like all good scientists, we started small lest the materials with which we were working should explode.
For starters, we did not write up a schedule for the retreat. The team leading the retreat—six nuns and monks including Su Co Dieu Nghiem, Thay Phap Trach, Thay Phap Luu, Thay Phap Man, Su Co Hien Nghiem, and Su Co An Nghiem, along with Kenley—wanted to evaluate from hour to hour how things were developing and how the retreatants were responding. The leaders wanted to be free to propose new events a half-day at a time. The beauty of Thay's training gave us the space to mindfully collaborate in real time between activities, listening to everyone's input to form a consensus about what to do next. The sisters and brothers' depth of practice and experience in organizing retreats gave us the freedom to operate with such ease and flexibility.
MINDFUL EMAIL MEDITATION
Email meditation was our first divergence from the schedule of a "normal" retreat. The retreatants brought out their devices—be it a laptop, an iPad, or a mobile phone—and, after making sure they were all connected to Wi-Fi, put their devices away. They came back to their breathing, establishing themselves solidly in the present moment, aware of their body and their feelings.
After some moments we all took out our devices again, even the monks and nuns, and put them on the table in front of us. Each one of us placed our hands on the device and practiced looking deeply into it. We saw the minerals that were mined for building the body and components of the device; the miners and the dangers of their daily lives; the software, tens of millions of lines of code, which made the machine something we could use and interact with; the engineers who devoted thousands of collective hours to design, reject, and re-design each component: the CPU, the graph­ics card, the hard drive, the screen, and so on. We then came back to an awareness of our emotions as we opened up the device, still without turning it on. Some of us could see our reflection in the glass screen of the device, which brought giggles. Then, with our attention firmly rooted in our breathing, we switched the device on.
How many emotions rushed through me as I turned on my laptop during this meditation! I noticed the conditioned response of excite­ment that manifested in me as my laptop was booting up. I noticed how quickly my mind shifted gears into "doing" mode, instead of just being present in the moment. All that in just a few seconds.
We were instructed, after breathing and recognizing the feel­ings present in us and the state of our minds as we gazed upon the screen of the device, to accomplish one task: to open the email application and write an email to a loved one—mindfully. A bell was invited every few minutes to help us come back to our breath­ing as we wrote our emails as a collective body of practitioners. Then we all pressed Send together. The entire meditation lasted forty minutes. Forty minutes to send just one email!
After the retreat, participants shared about the positive expe­rience they had with email meditation. One young woman said, "Writing a mindful email was a huge eye- and heart-opener." A software developer remarked, "In the retreat I felt like the partici­pants and monastics were all exploring ideas together, not being led by some controlling force. The reflection period after sending the mindful email is one example. At one point the monk asked if we felt like it was awkward, or useful, or weird, or what? I felt like he was being so genuine. It was risky for him to openly ask how people felt."
Exercises like this and others—bringing mindfulness to the point of intersection between humans and devices—had a positive effect on the participants, as they later reflected. "When I now walk for more than a few steps, when I have to wait somewhere, sometimes when I'm emailing, when I feel emotions coming up that take me out of balance, I notice and I become aware of it. That's a major step forward."
COLLABORATIVE VISIONING
The retreat progressed, for the most part in noble silence, with mindful working activities interspersed with the bedrock practices of mindful sitting, walking, eating, and total relaxation. Sometime around the middle of the retreat, the team came to a decision point: should we continue with relatively simple medita­tive exercises, or should we go a bit further to open a collaborative visioning space where retreatants could decide for themselves how the session is run?
Taking a bit of a risk, we reached a consensus to propose a collaborative visioning activity to the participants, asking them to self-organize into three groups and respond as a team to the follow­ing prompt: "Develop something that can help to reduce suffering and bring about lasting happiness." We were clear that we wanted to leave the prompt quite general, hence the word "something."
After two days of working together in this cooperative setting, with deep looking and loving speech, the three groups presented their proposals. One proposal was for an online API (application programming interface), another was for an app, and the third was for a kind of wearable device.
"Working thoughtfully in groups, collaborating mindfully, was a dream come true," reported a young designer. "There are many habits I have that are not growing the good seeds in me. Many of these habits relate to my interactions with technology—or, perhaps, how I feel used by it. I do now, after the retreat, fully believe that technology can be used for good—but it has to be about bringing people together rather than making us feel separate and unequal."
"I've been to many retreats, but this one is a little different," shared a Vietnamese-American software developer. "I met interest­ing people who shared similar issues, and I learned a lot from them. I also am inspired by their strong desires to help others and build a community of conscious living. That is what the world needs."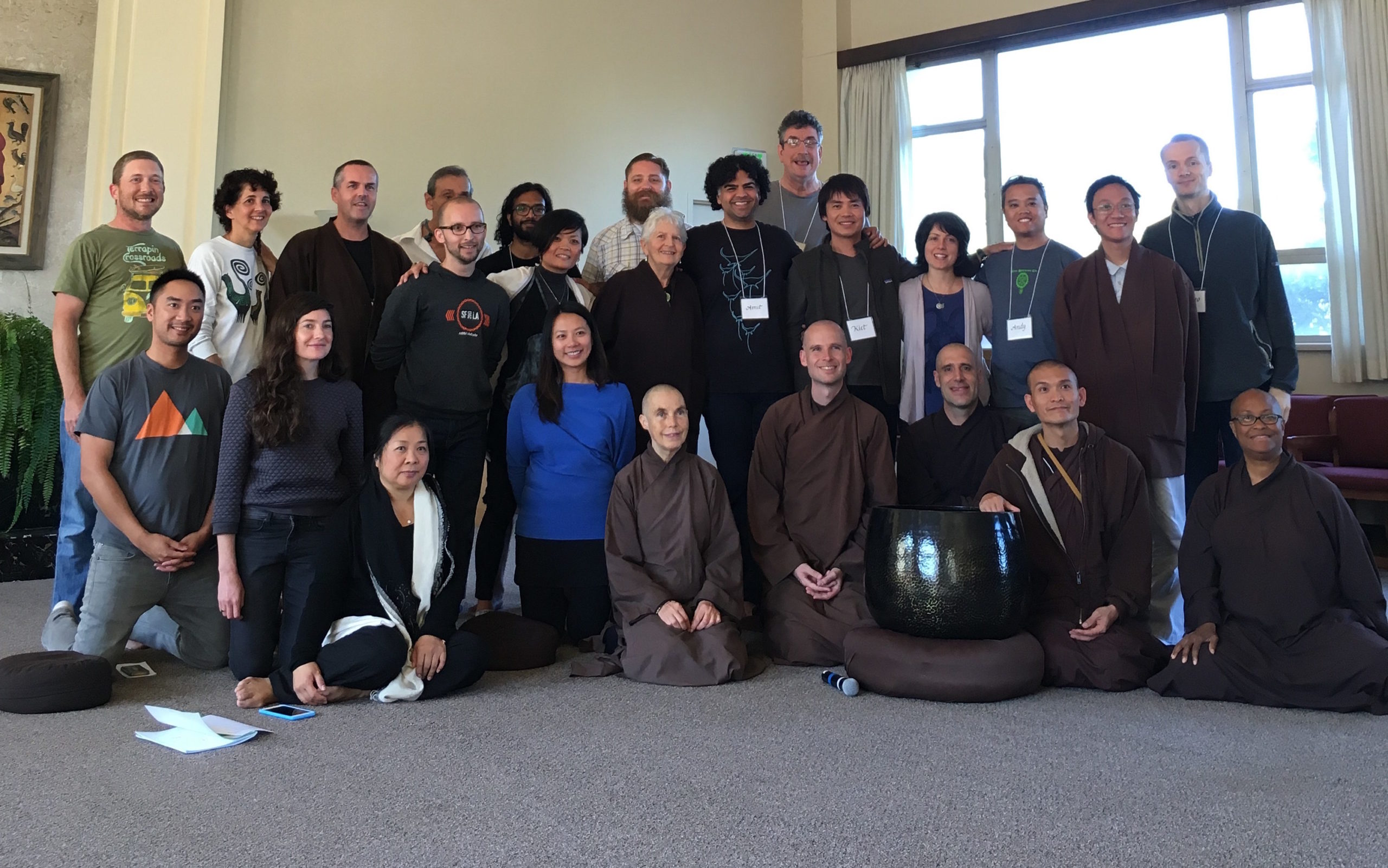 APPRECIATION FOR THE PRACTICE
As much as they enjoyed the tech-related activities, the partici­pants also expressed deep appreciation for the simple, time-tested practices that Thay has tirelessly transmitted to us: mindful breath­ing, sitting, walking, and eating, and for the presence and gentle guidance of the monastics. "The ritual of showering, getting seated in the dark, and being guided by the monastics in morning medi­tation was absolutely transformative," reflected one participant.
A software developer shared, "The combination of sitting, walking, and eating meditations that started the day were very important to me (all while respecting noble silence). This created an amount of space not normally available in my everyday life to see how much joy there can be just by being."
A CTO of a software company, when describing his experi­ence of the retreat to others, said, "I generally don't even mention the technology component. The most striking aspect is the sheer amount of space made and support given to explore being with oneself. The other thing I mention is the Dharma sharing, and how the monastics expertly mediated those conversations to be open, safe, and productive."
"Being guided by the monastics felt genuine. I feel they all had a deep commitment to the teachings and practice," said one developer. "In the context of this safe, quiet, respectful space, I remembered that I'm not just a computer programmer and Dad. I'm a person." Another retreatant said of the monastics, "They taught me more by example than I have learned by much reading and studying."
The Dharma talks in the retreat, mainly offered by Su Co Dieu Nghiem (Sister Jina), touched many of the participants. "Sister Jina's teaching on the seeds of consciousness had a major impact on the way I understand myself, and, in particular, my past and how it shaped who I am," said one developer who works on embedded chips. "The retreat was a microcosm for the life I want to live: a peaceful daily routine with part of the day structured around my own nourishment and another part of the day focused on work. I feel so much potential in a day structured like that."
So what will come from this retreat that combined deep mindfulness practice and collaborative visioning sessions? Stay tuned as the team from the retreat, together with other monastic sisters and brothers, continues to explore how technology can help transform our suffering and create lasting happiness. Keep an eye out for the Plum Village app—A Cloud Never Dies—coming soon to a device near you.
Reprinted with permission from 2016 edition of La Thu Lang Mai.