The European Institute of Applied Buddhism
Distinguished programs of Buddhist Studies may be found at any number of universities around the world. There is, however, a crucial element missing from most, if not all of these programs: training in concrete methods for using the wealth of the Buddha's teachings to relieve suffering and promote happiness and peace in ourselves, our families, our communities, and across the world. The European Institute of Applied Buddhism (EIAB) offers a complete program that fully integrates the study of Buddhist texts with concrete applications at all levels of students' daily life.
Buddhism as taught at EIAB is not religion. The teachings of the Buddha are offered in a non-confessional, non-sectarian manner, and there is no agenda either explicit or implicit to "convert" anyone to (or away from) any religious status. EIAB offers training in practices and methods developed by Shakyamuni Buddha himself and by others inspired by his teachings, with the sole purpose of relieving suffering and bringing happiness to ourselves and our world.
Under the aegis of Zen Master Thich Nhat Hanh, the world-renowned meditation teacher, scholar, and writer, together with senior Dharma teachers of Plum Village, students of EIAB gain not only a firm grounding in essential Buddhist teachings, but a mastery of their own minds, bodies, speech, and actions through cultivating the art of mindful living. Specifically, EIAB trains students to apply Buddhist teachings in such a way as to:
Release tensions of the body, reduce bodily stress and pains, and in many cases alleviate not only symptoms but also underlying causes of
Look deeply to understand whatever suffering may be in them or around
Recognize and transform painful feelings and emotions through
Use compassionate listening and skillful words to create bridges of real understanding between individuals and also between groups in
Courses are open to all who wish to improve the quality of their own lives and those of their families and communities by learning effective means of making happiness and peace a reality in all aspects of daily life. Buddhist teachings are offered at EIAB in a very practical, nonreligious way, and students of any—or no—religious background can benefit from learning them and putting them into practice. No academic prerequisite is necessary to begin a course of study at EIAB. Courses are taught at several campuses across Europe, North America, and Asia.
Credit is awarded upon successful completion of each course. Upon completion of a prescribed series of courses, students may be awarded the degree of Master of Buddhist Studies and Practice (MBSP). Other institutions with programs in Buddhist studies, comparative religion or other subjects may like to send students for, say, ten to twenty hours of training at EIAB to bring deeper meaning to their studies. EIAB works in cooperation with other academic institutions to promote maximum transferability of EIAB credits to programs at those other institutions.
The EIAB also offers specialized programs of study and training for longtime monastic and lay practitioners who have realized the benefits of Buddhist practice and wish to become Dharmacaryas (Dharma teachers), to share the teachings and practice of Buddhism with others in ways that are relevant and effective for our time. The EIAB Dharmacarya Council decides when a student in this program is ready to receive official recognition as a Dharmacarya in the teaching tradition of Ven. Thich Nhat Hanh and Plum Village. This official recognition may include a ceremony of Dharma Lamp transmission.
Sister Annabel, True Virtue, former abbess of Green Mountain Dharma Center, has moved back to Plum Village to help Thay in setting up the European Institute of Applied Buddhism.

Thich Nhat Hanh Receives Doshi Family Bridgebuilder Award
On September 5, 2007 in Gersten Pavilion at Loyola Marymount University more than 1,400 students, faculty, staff, and community members gathered to listen to and meditate with Thich Nhat Hanh who was the recipient of the Doshi Family Bridgebuilder Award. LMU is a Catholic university rooted in the Jesuit and Marymount traditions, located in West Los Angeles, California.
"In our civilization, most of us are running from anger, fear and difficult situations and because of that we suffer and those around us suffer," Nhat Hanh said. "We need to look deeply at our suffering and pain to understand its root… as a means to cultivate compassion and understanding." Nhat Hanh then discussed the significance of practicing mutual compassion and building a community of brotherhood and sisterhood. His work includes bringing Israelis and Palestinians together for mindful meditation practice. He explained how the two groups overcame obstacles through listening compassionately and helping one another remove wrong perceptions rooted in fear.
Thich Nhat Hanh is the third recipient of the award from LMU's Center for Religion and Spirituality and the Doshi Family. The award is given annually to honor an individual or organization dedicated to fostering understanding between cultures, peoples and disciplines. The event in Nhat Hanh's honor was funded by the Doshi Professorship of Indic and Comparative Theology. Past recipients include Deepak Chopra and Zubin Mehta.

In this issue we introduce "Dharma The Cat Cartoons," generously provided to the Mindfulness Bell by creator David Lourie.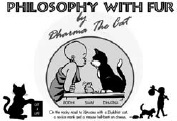 The cartoons have been published in twenty-eight countries in eighteen languages; they are available in an "e-book" collection. An online blog invites "multi-faith commentary" from readers.
About "The Lesson," David writes that this is "a great example of how sometimes when we try to teach others, others teach us! To start with, Bodhi has undertaken an unnatural challenge when he tries to retrain an animal's basic nature — that is, to stop Dharma from hunting."
David then goes on to explain that the story is actually autobiographical. The one-year-old cat that his family adopted from an animal shelter was affectionate and gentle. "But when we first brought him home and let him loose in the yard, he became an instant terror to our happy little neighbourhood, by stalking everything that moved — and catching most of it," writes David. Over the next year, the family trained him with patient gentleness to not harm the creatures he traps by giving him a reward for releasing them. "Therefore he still hunts, but at least he has learned to be gentle — a mixed lesson that is the result of my not thinking it through properly in the beginning."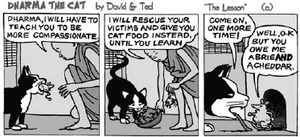 David Lourie is an Emmy Award-winning writer and editor of documentaries, and creator of Dharma The Cat Cartoons (www.DharmaTheCatCartoons.com). Having been introduced to meditation while at U.C.L.A. in 1965, David has since studied Buddhism in the Theravada tradition. He lives in New South Wales, Australia.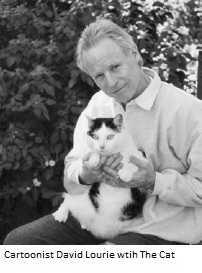 English-Language Retreat & International Vesak Conference
Vietnam, May 2008
In place of the biannual June retreat at Plum Village, Thich Nhat Hanh will offer a six-day retreat on "Engaged Buddhism for the 21st Century" in Hanoi, May 5-11, 2008.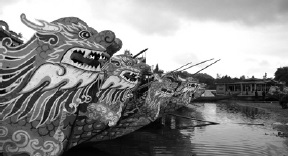 After the retreat (and a day of rest), Thay and his students will participate in an International Conference to celebrate the Buddha's Birthday (Vesak) organized by UNESCO, May 13-17. The theme of the conference is "Buddhist Contribution to Building a Just, Democratic and Civil Society" and Thay will give one of the three keynote addresses.
In addition, the Vietnamese organizers have asked Thay to invite his students to participate in the conference as presenters and attend as guests. The conference will focus on the following seven themes:
War, conflict and healing: a Buddhist perspective
Buddhist contribution to social justice
Engaged Buddhism and development
Care for our environment: Buddhist response to climate change
Family problems and the Buddhist response
Symposium on Buddhist education: continuity and progress
Symposium on Buddhism in the digital age
Students of Thay who would like to offer a presentation (7-10 minutes maximum) on one or more of these themes are invited to submit proposals, by December 31 if possible. Proposals should include:
title and abstract of no more than one single-spaced page
a one-page CV or a 250-word biography
(optional) a paper, of no more than 7000 words
The cost of the retreat and conference is $675 or 520 euros, which includes the cost of the hotel (double-occupancy), intercity transportation, and most meals. (See the inside front cover for additional information, or go to www.plumvillage.org.)
Tentative Itinerary for the Lay Delegation
Sunday, May 4, 2008 Official arrival day – Hanoi, Vietnam
Monday, May 5 to Sunday, May 11 English-speaking retreat for Western lay practitioners Hanoi
Monday, May 12, 2008 Lazy day resting day (breakfast at hotel, lunch & dinner on your own)
Tuesday, May 13, 2008 VESAK – Arrival, registration, and welcoming delegation from different countries (breakfast at hotel, lunch & dinner on your own after registration at National Convention Center)
Wednesday, May 14 Friday, May 16 VESAK conference, with seven workshops on Engaged Buddhism by Plum Village practitioners; and keynote addresses by Bhikku Bodhi, Nobel laureate Amartya Sen, and Thich Nhat Hanh
Saturday, May 17 Official departure day VESAK – Optional package tours (by VESAK organizers) Optional Tour: Avalokiteshvara Caves with Sr. Chan Khong (not included in price package)
Sunday, May 18 Rest day – on your own
Monday, May 19 Thursday, May 22 Optional tour — depart for Hue to visit Tu Hieu Root Temple and charity programs in the Thua Thien and Quang Tri Provinces with Sr. Chan Khong (not included in price package) Return to Hanoi on May 22nd
Registration and Information If you would like to participate in these special events, or would like more information, please contact our registrar Sr. Tue Nghiem at tnhvntrip@earthlink.net. Presentation proposals should be submitted by email to Sr. Pine at vesak2008@yahoo.com; please include "Vesak 2008" in the subject line.
— Sr. Chan Khong (for the Brothers and Sisters of Plum Village)