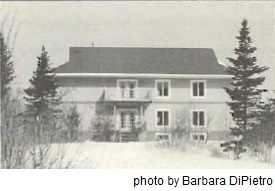 Maple Village, Brossard, Canada
Contact: Chan Huy
9089 Richmond
Montreal, PQ J4X 2S 1, Canada
Tel: (514) 591-8726 Fax: (514)466-8958
Email: chanhuy@prisco.net
In 1984, Toan and Quyen Do enjoyed their experience at Plum Village so much that they invited about ten of us to organize a retreat in Montreal with Thay. At the time, what happens in a retreat was a mystery to almost all of us, but we enthusiastically organized it under Thay's guidance. In September 1985, we had our first retreat with Thay at Camp Les Sommets, a simple weekend resort. That was all it took for the Maple Village Sangha to take form and begin its marvelous journey. Our small group spent many weekends searching for a good location. We gathered to make cushions for sitting meditation, prepare meal menus, and enjoy being together. We looked after almost everything; but none of us knew that we also needed a bell in a retreat! We ended up using a cassette tape and a speaker for the mindfulness bell. Thay called it our "electronic bell master."
In 1986, we organized our second retreat with Thay at the Entrelac Scout Camp. This time we were better equipped, with big and small bells. The highlight of this retreat was the ordination of our first six Tiep Hien brothers and sisters. As Thay was sitting in his room searching for a Dharma name for our eldest brother, an oriental cactus plant which we brought along began to bloom. That night, instead of sitting meditation, we enjoyed two hours with Thay in a tea ceremony celebrating the Quynh flower, which blooms and withers within three hours. Thay gave our brother the Dharma names Tam Khai (Opening of the Heart)-Chan Hoi (True Understanding).
For five years, Thay came to teach us. Maple Village was not only blessed by his and Sister Chan Khong's loving care, but also by contributions and support from friends in Canada, the U.S., and other countries. Five years after our first meeting, Maple Village made a home on a hilly wild land of 100 acres with a lake. A road was built and a simple building was constructed with electricity and water. The building, large enough to host 100 people, has a meditation, dining, and activity hall, and a dormitory.
In 1996, 11 years after our first retreat, we are still together on our mindful and joyful journey. Hundreds of people have joined us, and we cannot count the numbers of people who have taken the Five Mindfulness Trainings at Maple Village. Forty brothers and sisters belong to the Order of Interbeing, ten are Dharma teachers, and one sister has become a nun and now practices at Plum Village. Many have brought the practice back to their homes and built strong Sanghas in Boston, Toronto, Ottawa, Edmonton, and Quebec City. Every year, many come back to participate in our spring and fall retreats with Sister Annabel and other Dharma teachers, or in a summer Day of Mindfulness.
In Montreal, the present Sangha consists of 15 families. Meditations are held Sunday morning and night, and Wednesday and Friday nights. At Maple Village, we are all volunteers and work part-time for the Maple Village Society. We often speak three languages (French, English, and Vietnamese) at our retreats . We keep participation fees for activities as low as possible. Our core community includes many non-Order members, who are sometimes even more dedicated than the ordained ones.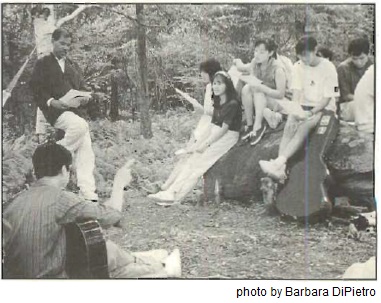 For many of us, Maple Village has become a second family . Slowly, we have discovered that we have more sisters, brothers, aunts, uncles, and friends than we previously perceived. A phone call from a caring elder sister, a small gift from a younger brother, advice from a concerned uncle, and a helping hand from a considerate friend are some of the most precious gifts we receive. Suddenly, for some of us who live alone, we are not truly alone anymore. This family link between us has developed through doing things with mindfulness, lovingkindness, and compassion. Together we practice sitting meditation, and together we clear bushes for a walking meditation path. Together we repair damages of a spring flood in the Village building, and together we sing "Breathing In, Breathing Out" for people in a prison. Together we celebrate the birth of a new baby, and together we mourn the death of a beloved brother.
We also have problems and improvements to make in this second family. We know that living together is an art to learn with the practice of mindfulness; but we know that we are trying our best. Come visit us and be part of our family. On this continuing mindful journey, many have joined us and discovered a familiar and comforting link, a Famille Sans Frontieres.