In your daily life, do you have awareness that you have feet?
When you walk across the parking lot or around your office, do you have mastery of your steps?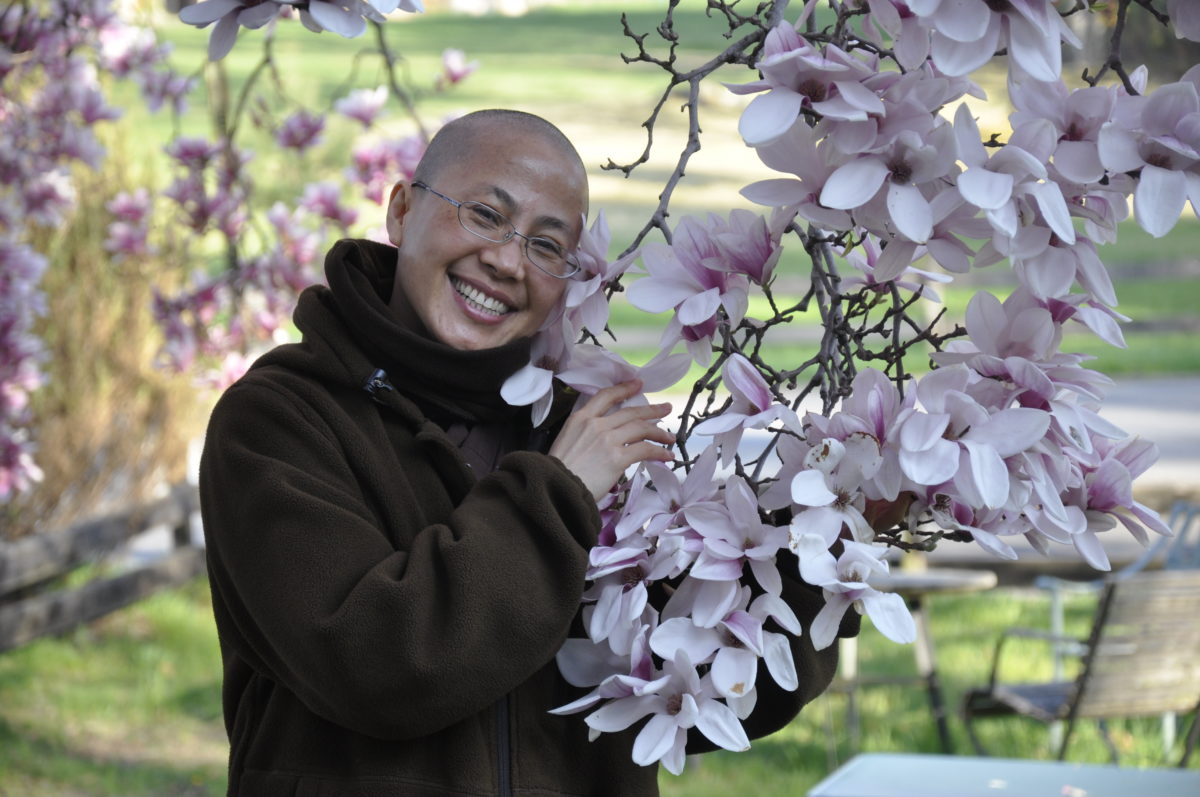 There is a story about a scorpion and a frog. One day, the scorpion needs to cross a pond. So the scorpion tells the frog, "Frog, my friend, would you please take me across the pond?" The frog replies, "Well, I want to be helpful to you, but what if you sting me midway? I will die." The scorpion says, "Why would I do that? If I sting you, you'll die and I'll die too." The frog feels reassured, so it says, "Okay, that is reasonable. I do not mind carrying you across the pond. You can jump up." The scorpion jumps on the back of the frog, and the frog gets into the water and begins to swim. Everything is going well until, halfway across the pond, the scorpion stings the frog. The frog is in deep pain, and as it is drowning, it cries out to the scorpion, "Why did you sting me? Now I'll die, and you are going to die, too." The scorpion replies, "I know that, but I cannot help myself. It is my scorpion nature."
When the scorpion stings the frog, it knows that it is going to harm itself and the frog, and yet it still does it; that is the scorpion nature. Do we have scorpion nature? What is our scorpion nature? Certain things we do and say, certain thoughts we have—we know that they are not going to help anybody, including ourselves, and yet we still do them. Why is that? It is because we cannot help it; we simply cannot resist it.
One time, Thay said to me, "It is not an issue whether you like it or not." I did not understand what he meant, but I did not like what he said. However, out of total respect and confidence in my teacher, I received his teaching and kept it in my mind. After a few years, suddenly it came to me: when we like something or we do not like something, that is our habit energy, and it is already ingrained in us. "I like this color. I hate that color." "I want this iPad." "I want to sleep in, and I don't want to wake up early in the morning to go to sitting meditation." "I need another degree." "I need another outfit." There are things that we like and things that we do not like. There are things that we want and things that we do not want. These likes and dislikes, wants and not-wants, needs and not-needs are clearly defined in our minds. We can understand this as our scorpion nature, driving us to think, speak, and behave reflexively.
Our deeply ingrained instinct is to survive and to avoid death. The sense of "me" and "mine" is essential to the survival of the "I"—which is reflected in our likes and dislikes, wants and not-wants, needs and not-needs. Our tendencies and habit energies have their roots in our animal ancestors, their aggression, and their primal fight-flight-freeze response. Through evolution, humans have also developed the capacity for self-awareness and inhibition. Unfortunately, many of us resort to our primal instincts more often than to our highly developed capacities, and we easily identify ourselves with our habit energies. For example, you can claim righteously, "That is the way I am! I can say whatever I want to say, and I can do whatever I want to do!" I used to say these things to my beloved friends. I said those things out of frustration, sadness, and restlessness, and still I justified them.
If we keep doing that, with time, people put up a wall to protect themselves against us. They are not open to be there for us and to listen to us anymore, and so we become more frustrated, our speech becomes harsher, and the vicious cycle continues. Before we know it, we are far apart as parents and children, as friends, as brothers and sisters. We are like separate cosmos because we think, "I am like that. This is how I am, and this is my nature. You are like that. This is how you are, and this is your nature." If you look deeply, you will realize that this is the scorpion nature because it bites us and it bites our loved ones, severing us and killing us slowly.
In medical school, when I rotated through the hospital ward with patients with Crohn's disease, irritable bowel syndrome, and other chronic intestinal problems, I was told that they could be the most irritable and needy patients. Now I can understand this phenomenon from an insider's perspective. Chronic physical pain can cause a person to feel uncomfortable, restless, irritable, and reactive. When you are sick for a long time, your family members and friends become used to your illness, so they may not pay as much attention to you. It is easy to feel lonely, deserted, depressed, and needy as a result. If people say something insensitive or unskillful, you may replay their words a thousand times, harboring feelings of unworthiness, disappointment, resentment, and even hatred. All of these emotions are harsh and powerful, and they can cause your speech and bodily actions to be unpleasant and difficult for others to tolerate. Therefore, others avoid you, and your negative feelings are confirmed and strengthened, creating a vicious cycle. These fleeting feelings, if fed day after day, can become our attitudes and then our personality.
From my own illness, I have learned to pay close attention to my likes and dislikes, wants and not-wants, needs and not-needs. For example, monastic brothers and sisters are preparing to go hiking. Usually I would not miss a chance to go hiking, but when my energy level is low, the thought of walking under the sun for a long distance feels repugnant, and the mind translates this feeling with conviction: "I don't want to go hiking." It even goes so far as to say, "I don't like hiking anymore." Aware of this thought, I breathe and smile, returning my mind to right view: "It is not that I don't want to go hiking or that I don't like hiking. I simply do not have enough energy to do that right now. Perhaps I will have enough energy to do it tomorrow or some other time." When you are not well, you find yourself not wanting to do many things and not liking many people. It is important to recognize the reason behind your likes and dislikes and not to identify yourself with these feelings, which can mold you into a certain personality.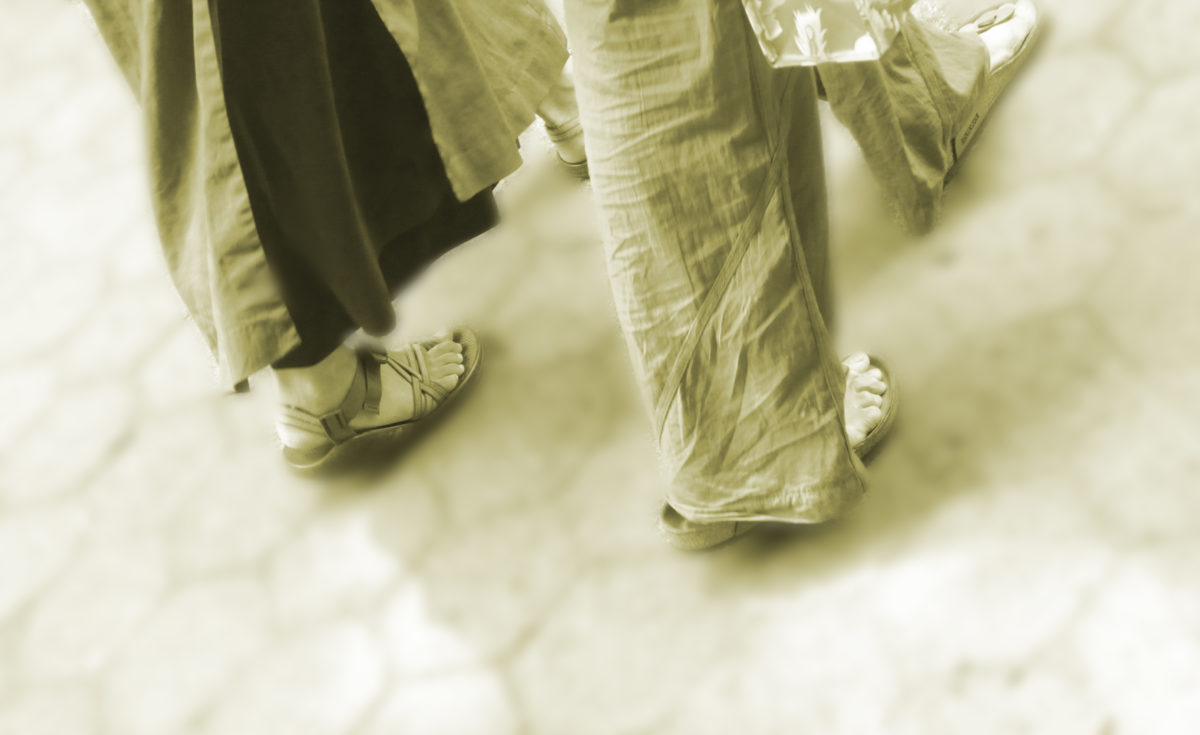 Transforming Scorpion Nature
Mindfulness will help us to recognize our Buddha nature as well as our scorpion nature as they are. For example, you can have a beautiful flowerbed, but if a lot of tall grass grows, you will not be able to see the flowers. Once you are able to identify the grass and weed it, the flowers can reveal themselves more clearly. Earlier today, I was doing walking meditation with the Sangha. The heat was scorching, my headache felt worse, and I began to hear myself wishing that I were in a cool room. Then I touched the cone hat that I was wearing, and I felt grateful for it. I had a pair of sunglasses on, too. Otherwise, the sunlight would have been too bright for my eyes and worsened my headache, and so I was grateful for my pair of sunglasses. Then I heard the breeze moving through the trees, so I stood waiting for it to come and felt it brushing my cheeks with its coolness. In just a few seconds, my awareness and my gratitude cooled down the heat that was inside of me.
Walking meditation is one of the practices that can help us to transform our scorpion nature. The scorching heat is there, but there are also conditions that we can be grateful for, like the cone hat, the pair of sunglasses, the occasional breeze, and the presence of the community. Mindfulness helps us to take care of our scorpion nature, which is complaining, "Gosh, it's so hot! Why do we have to walk in the heat like this? I must be crazy. I want to be inside doing something better. Why do I have to be out here?" One of the characteristics of the scorpion nature is that it complains. Aware of our steps and breaths—one step at a time and one breath at a time—our mind becomes more focused, the inner chattering quiets down, and we become aware that many conditions of happiness are supporting us. Mindfulness helps us to recognize the negativity in our internal dialogue, be present for it, and quiet it down.
If we do not recognize the negativity as it is, then it goes on and on in our mind without our awareness. Suddenly, we can explode and yell at somebody, because the undercurrent has built up enough momentum to surface as a powerful wave. Therefore, it is important simply to recognize something as it is. We can say to ourselves: "Breathing in, I am aware that this experience is unpleasant. Breathing out, I am here to relax the tension in it." Or: "Breathing in, I am aware that there is something unpleasant arising in me. Breathing out, I am here for you." This practice of simple recognition helps us to face a situation or person with more stability and equanimity.
The cultivation of gratitude is essential to the transformation of our suffering. If a person is blind, what she wants the most is to be able to see. If a person is having an asthma attack, what he wants the most at that moment is to be able to breathe in and breathe out normally. If you are having chest pain or a heart attack, what you want the most is for the pain to go away and for the heart to function normally again. What conditions are we in right now? Can our eyes see? Can our lungs breathe normally? Can our heart function normally? Yet, we may not recognize or acknowledge them, and so we are not grateful for them. Instead, the scorpion nature will say, "I wish I could be here or I could be there. I wish I could have this or have that." The wanting never stops, driving us to be restless and dissatisfied, which is the source of our suffering. We want things other than what we already have, but in the most critical moments, what we truly wish is for things to be normal again. Our practice is to recognize daily the positive conditions in our lives and to be grateful for them, so we don't wait until they are gone and then yearn for them.
There is a practice called "tri tuc," meaning you know that you have enough. "Tri" means "to know, to master, to remember," and "tuc" means "enough." Interestingly, this character "tuc" also means "feet." You remember that you have enough and you master what you have. It also means you remember that you have feet, and you master your feet! In your daily life, do you have awareness that you have feet? When you walk across the parking lot or around your office, do you have mastery of your steps?
To know that we have feet—that is enough to make us happy. Therefore, our feet symbolize all the conditions of happiness that are available to us right here and right now. Without mindfulness, we take what we have for granted, and we feel forever impoverished. We can even take the mindfulness practice for granted; as a result, we are actually less fortunate than those who are sincerely seeking a spiritual path. With awareness of our steps, of our bodily movements, of the in-breaths and out-breaths, we train to dwell stably and gratefully in the present moment. This is also a concrete way to check whether we are practicing correctly and authentically or not.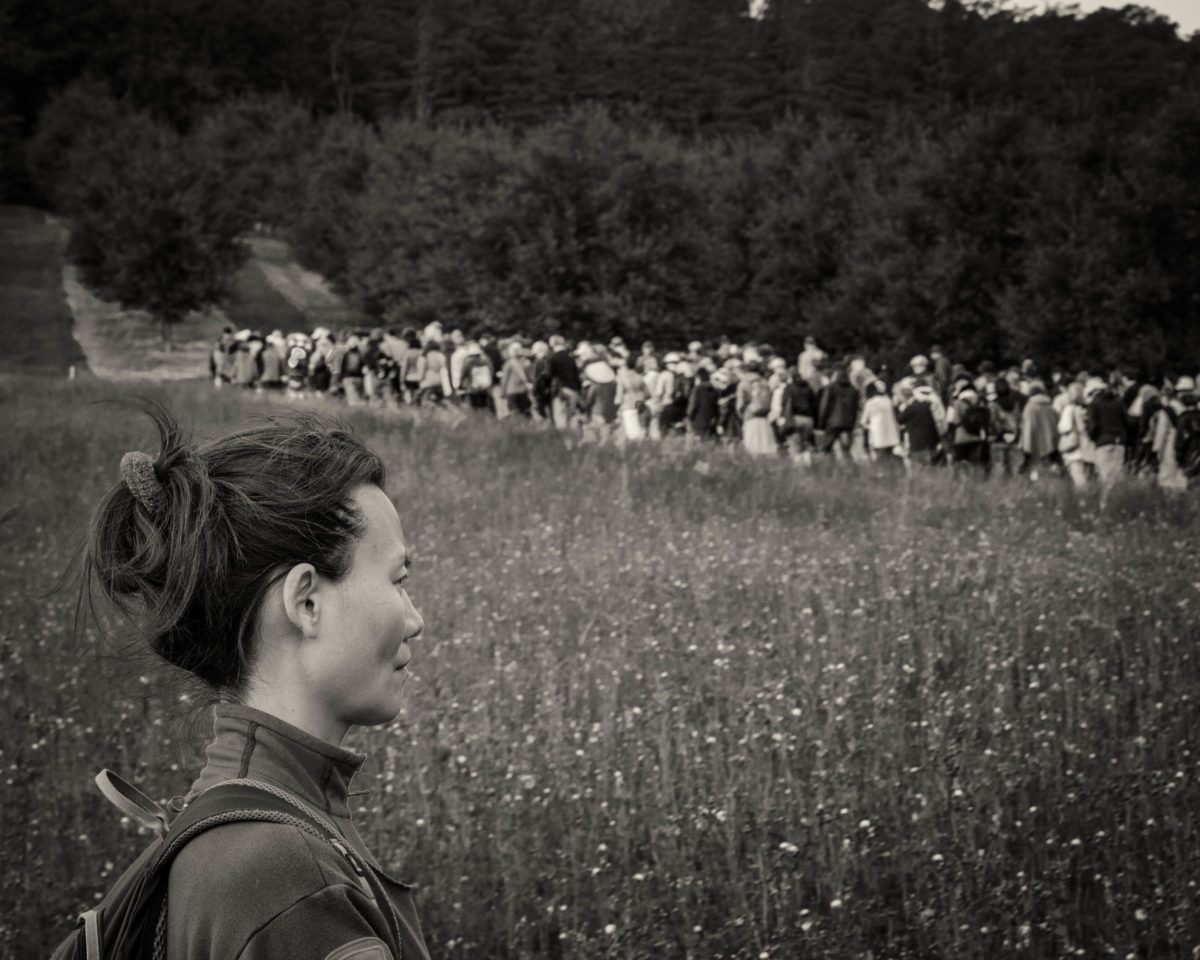 Learning to Be Grateful to Our Illness
A teenager in a retreat shared, "I have asthma, and I hate it! I just hate asthma!" He said it with all of his conviction. Should we hate our illness? Hating our illness is our usual response. However, we can learn to be grateful to our illness. When I was in medical school, I was strong and athletic. From my school on 3rd Street, I could run through Golden Gate Park all the way to the ocean, which was near 57th Street. Then I swam in the ocean even though the water was perpetually cold. After that, I jogged back to my school. It was something fun and effortless to do. Then, I developed low blood pressure in my late thirties and contracted Lyme disease in my early forties. Right now, I cannot run as I used to. I even feel out of breath walking from the dining hall to my room at times. Yet, instead of feeling distraught about what I have lost, I am learning to be more grateful for what I still have. I am also more grateful for the moments when I am well.
When you have limitations or discomfort in your body, you can practice sitting still and coming back to your breathing, or you can lie down and put your hand on your abdomen and say, "I am here for you. It is okay." You learn to recognize the fragility of your body, feeling deeper love and appreciation for your body because against all chances, your body is often healthy and forgiving. Even if you stay up until one in the morning or even if you drink and smoke, your body still tries to heal itself. It will heal itself repeatedly so that you can wake up the next morning and function normally. It continues like that year after year, until one day it is not able to recover so well. You start to cough and feel tired walking up a hill because of the damage that has been done to your body. At every stage, we can recognize what is going on and what we still have. We can say "I am here" for the losses as well as for the gains of life.
Often I say "I am sorry" to myself. I did not know to say "I am sorry" to myself before. I just expected things to be a certain way, and when it was not like that, I felt frustrated, angry, or despairing. As a monastic practitioner, I have learned to be grateful and to be sorry for my own unskillfulness. It is a sign of true love when you can say "I am sorry" to your own body. You learn not to show off your body because it is beautiful, because it has nice clothes on, or because it is attached to a nice looking car or a cool phone. You learn to love your body because you realize that it is the best friend that you can ever have, and that it is the most forgiving partner that you can ever find. This is "tri tuc:" to know, to remember, and to master what you already have.
If you have a bell, you can invite one sound of the bell while you sit beautifully, with your back upright and relaxed. As you listen to the sound of the bell, scan through your body slowly and say to yourself:
Breathing in, I am aware of my head. Breathing out, I relax my head. Breathing in, I am aware of my eyes. Breathing out, thank you, eyes. You are still in good condition. Thank you for allowing me to see the beautiful nature and the lovely faces around me.
Take time to scan each part of your body: the ears, the nose, the mouth, the hands, feet, the lungs, the heart, and all the other organs. They are always there for you, taking good care of you and forgiving your unskillful thoughts and deeds.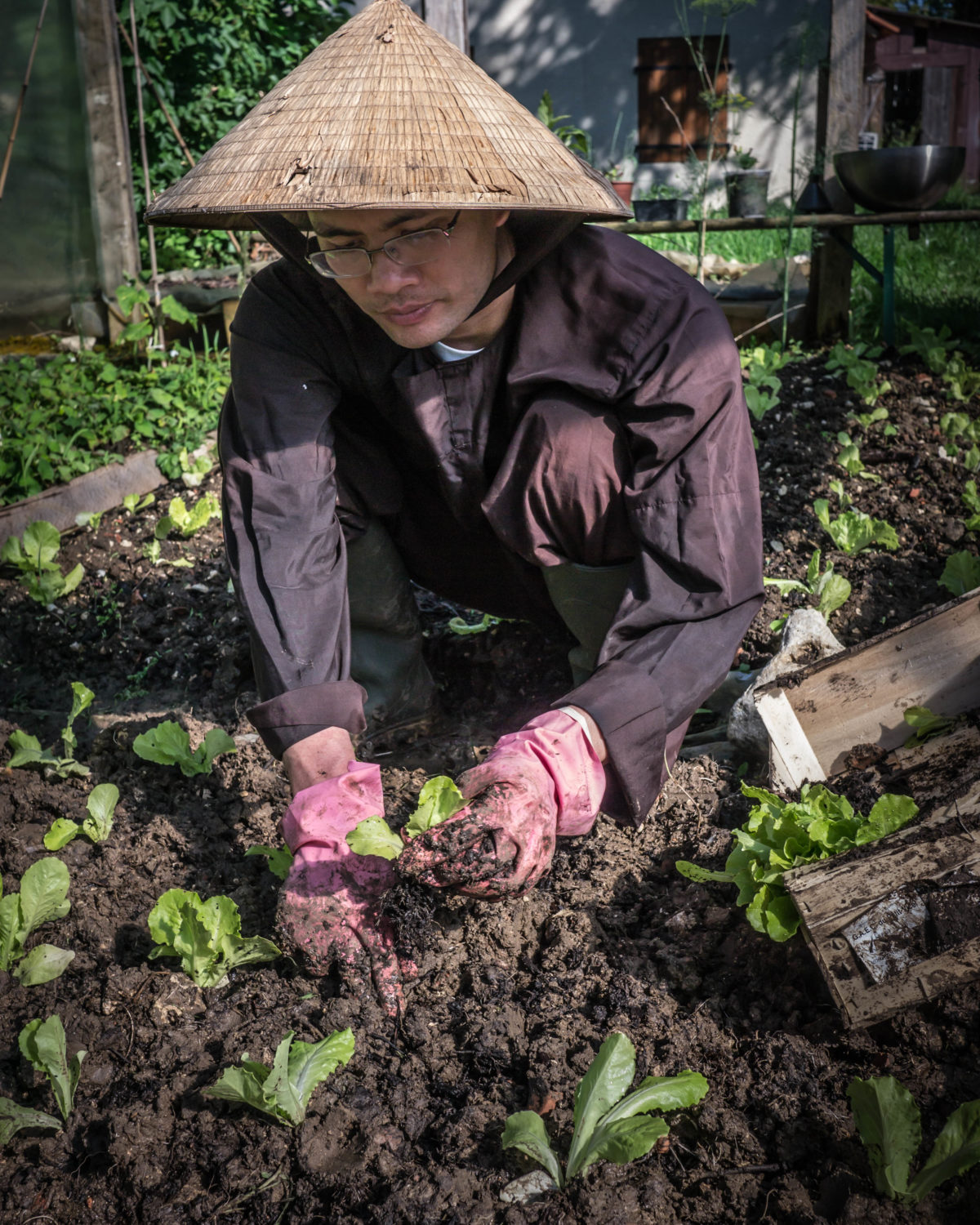 This Too Shall Pass
When we experience something pleasant, we want more of it. When we eat an ice cream cone and it tastes good, we eat quickly while thinking about the next one. When we have a lot of fun, we wish it would last forever. However, in our practice we also learn to recognize that "this too shall pass." This practice helps me to cherish deeply what I have in the moment and, at the same time, to release it from my grasping. Even when I am very happy being in the presence of a particular person—we can truly connect and understand each other—something in me whispers, "This too shall pass." It is bittersweet, because you remember that everything is impermanent; it comes and it will go. Every so often I look at myself in a mirror and say, "My youth is passing by me right now." It was yesterday that I was a child singing to myself on the street, and today I am already confronting early premenopausal symptoms.
When we listen to the sound of a bell, we simply stop to follow our breathing and we let go of our speaking, moving around, or doing things. Even if a thought or a feeling arises, we smile and release it with our out-breath. When impermanence becomes a concentration in our daily life, our capacity to let go deepens. Slowly and steadily, we train ourselves to be aware of the arising and the disappearance of the in-breaths, out-breaths, thoughts, and feelings, as well as all other phenomena. Even the most beautiful things we have to let go.
The awareness that "this too shall pass" helps you to be there, thoroughly and wholeheartedly, in that moment. You do not take the person in front of you for granted and think, "Oh, I will see him again," or "This situation is always like that." Then when the person walks away, or when the situation is no longer there, you will not regret. We only regret because we don't touch the moment deeply. When we touch something deeply, it is always there inside of us, and we have access to it to nourish us in times to come. Therefore, the concentration on impermanence and the understanding of "this too shall pass" helps us to enjoy the present stage of our life. We do not have to regret the past or feel afraid about the future. This is it, and we are free from worries, fears, and grasping.