By Stephen Denney
After traveling abroad, I was not sure how to respond when my friends told me it must have been very exciting. I enjoyed the week I spent at Plum Village, the day I spent with Jim and Nancy Forest and their family in Holland, and the ferry ride across the English channel. The most interesting and worthwhile parts of my trip, however, were my last days in Paris, when I thought I was going blind.
My left eye had been bloodshot and irritated for a week, but I thought it would go away with time. Unfortunately, it got worse. On returning to Paris, I woke up in the middle of the night and could not see out of that eye. Everything was very blurry. When I woke up the next morning it had not improved. I went to the pharmacy at the nearby train station, Gare du Nord, and bought some medicine. A few hours after I took the medicine, I went back to the pharmacy to ask if they were sure this would be sufficient treatment. The pharmacist looked at my eye and said I should go to the emergency ward of the local hospital. I went there, and was told it was serious, and that I should go to another hospital, since they did not have specialists who could treat my eye. (It was Sunday.)
"It is across from Notre Dame Cathedral," I was told. "Where is Notre Dame Cathedral?" I asked. "You do not know where Notre Dame Cathedral is?" They found my ignorance strange.
I went to the hospital and returned the following two days for treatment. All the doctors and nurses were very kind to me, despite the fact that I could not speak French. They also told me my problem was serious, but seemed more optimistic when they learned I have ankliosing spondalitis, a form of arthritis in the spine. It seems that life problem I was experiencing (eye inflammation) is a side effect of the disease and is treatable.
I wandered around Paris for the next two days, worried that I could go blind in my left eye; and if it happened in one eye, then it could happen in the other. "How will I support myself if I lose my sight?" I wondered. In this state of mind I entered the Notre Dame Cathedral. It was August, and Paris was filled with tourists tramping in and out of the Cathedral, but the moment I entered I felt surrounded by the presence of God. I cried, not just because of my physical condition, but because I felt unworthy to be there. I had drifted so far away from God, living for myself, yet there in the church I felt forgiveness. Although not Catholic, I dipped my hand in the holy water and crossed myself, and lit a candle with a prayer.
As I left the Cathedral, I felt that I had been healed. Actually, there was no dramatic improvement in my vision, but it is now nearly normal after five weeks of treatment. One might say that it was just my imagination, and my eye healed only because of the medicine I took. That may well be true, but more significant to me was the spiritual healing that began with my visit to the Cathedral—or more accurately, that could begin, because I still haven't found my way, but now see the starting point.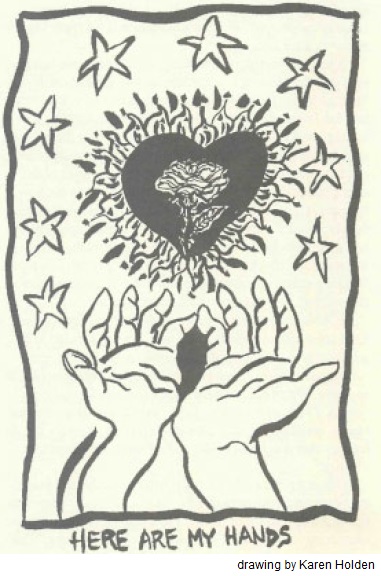 Thay once said that he did not wish to convert people to Buddhism but rather to help them return to their original religions to develop spiritually. It is a point I have always valued, but never followed. In recent years I have developed very precious friendships with American Buddhists because of our mutual interest in Vietnam. But I see now that if I am to develop spiritually it must be in a Christian fellowship. It may be said that religions are different languages we use to address God, or our concept of the ultimate meaning in life. Some may speak the language of Buddhism, others the language of Islam, Hinduism, or even political activism. For me, the language is Christianity.
Stephen Denney is the editor of Vietnam Journal and a long-time activist for human rights in Indochina.