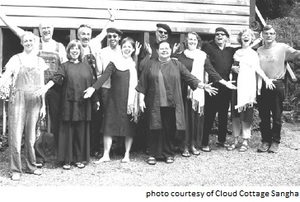 By Judith Toy
A Sangha Sprout
My husband Philip Toy and I first began inviting folks to sit with us in Black Mountain, North Carolina, in 1999, in a room in our cottage that could barely hold four cushions. Today, eight years later, our sangha's twenty-by-thirty-foot Dharma hall has been finished for several years, Cloud Cottage Sangha has an e-mail list of 250 and an aspirant class of eight. We sponsor an annual mindfulness healing fair and we offer monthly days of mindfulness and retreats with visiting teachers.
Sister sanghas have sprouted: A Mountain Mindfulness Sangha in Asheville and Joyful Mountain Sangha in Waynesville. We attend each other's Dharma events and support each other behind the scenes in many ways.
Ours is an active practice center. We meet four times a week: Tuesday and Thursday mornings for meditation and chanting with the monks and nuns of Plum Village on CD; Wednesday evenings for our regular wonderful sangha gathering; and Sunday mornings for a Zen service. From this solid base, we take our practice to a women's prison and serve an Appalachian daycare center for the disadvantaged.
As we cultivate our sangha garden, we've discovered an amazing organic fertilizer that promotes growth like no other — a deep and abiding gratitude for the Buddha, for Thay's teachings, for our friends and families and sisters and brothers in the Dharma, and for the diversity of blooms we enjoy.
The Cloud Cottage Council
Tea is part of our practice. On Sunday mornings, our service is followed by a mindful tea with treats, served at a large round table at one end of the Dharma hall. As more people joined our sangha, we started the Cloud Cottage council. The council meets annually and includes everybody. Interim decisions are made by a more casual council that gathers at the tea table on Sunday mornings. We decided to move the tea table downstairs and convert the unfinished downstairs to a tearoom and classroom. There, talented sangha members plan to teach courses to support the sangha and our engaged practices. To that end, we held a sangha work practice day, to silently climb ladders and insulate the big room. For the new bathroom, a sangha member has donated the toilet, sink, and some lighting fixtures.
Impermanence
A difficult aspect of sangha practice for me is changeability — the number of people who come and go. We keep a welcome book, now in several editions, and frankly, I can't even remember the names and faces of most folks who come by, because there are so many.
More difficult for Philip and me has been dealing with our emotions when people who have been active with the sangha drift away. Sometimes I question myself. Did I do something to offend this person? Did I not give her my full presence? Philip says he practices with the people who are absent, and they manifest and remain in that way for him. In time, I, too, have learned to hold each person in my heart, to let them go and wish them well. I see how our sangha has been enriched by each presence in turn.
Sangha life is impermanent, a beautiful garden of animals, plants, and minerals who breathe and weave together. Coming and going, no coming, no going, we bloom where we are!
Raising Goodwill and Funds
Because the Dharma hall was unheated, we would sweat in summer and shiver in winter. With many healers in our midst, it seemed natural to raise funds for a heating system by sponsoring a mindfulness healing fair. However, we are Buddhists in the Bible belt. One night a bullet was shot through the window of the Black Mountain Wellness Center where Cloud Cottage met for over a year. So we felt that in addition to raising funds, this project would be a way to demystify our practice in the community-at-large. We would gather a group of healers to demonstrate alternative healing methods and introduce the healing aspects of mindfulness practice to children and adults.
Along came a veteran events planner looking for a way to serve the sangha. We rubbed our palms together and said, "Maggie, have a seat!" What a splendid job of organizing she did, pulling in talented healers and workers, tracking hundreds of details. Philip and I once owned a public relations firm, so we were called on for the simple art of writing press releases. Local news editors enthusiastically promoted our event. A member of our sangha who owns a marketing firm designed the fliers and posters. We paid for only one small display ad. Most of our promotion was free through the press.
Never before had we felt such closeness, not only to one another in the sangha, but to the wider community. Planning these events bonded and transformed us all. The night before the fair, twenty of us met and shared a meal to set up the rooms. We made the event free to the public, placing donation bowls around the rooms and encouraging folks to donate. Nothing was for sale.
Our first event was amazingly successful — drawing 400 people to an atmosphere of quiet music, flowers, hushed voices, healing and mindfulness — all during a snow and ice storm! We raised $1000 after expenses and spread much goodwill. The following year we doubled the size of the fair, with 600 attendees. We doubled our funds, too, sharing the proceeds with a local daycare center that serves needy families. And our new heat pump was installed in the fall of 2006!
A Dharma Comedy
Still, we needed to finish the tea room. Playwright and actor Barbara Bates Smith from Joyful Mountain Sangha volunteered to perform her one-woman play as a fundraiser. Confessions of a Deacon's Wife is a funny and compelling original monologue in which Barbara questions her Episcopal priest, her husband, and her therapist, quoting Thich Nhat Hanh and Joseph Campbell. At the same time I happened to be working on writing a "Dharma comedy" that I called Mountain Karma. Barbara encouraged me to produce my piece along with hers.
Mountain Karma is a troublesome play to produce, since each character is portrayed by three people who move and speak simultaneously — speaking of "sangha body"! Our rehearsals were hilarious. Most of us are amateurs. Just then, along came another sangha member, a dancer and choreographer who ultimately, miraculously, pulled us all together.
One of the beauties of cultivating these events is that the right person arrives at just the right time to do whatever job is needed. Maggie came as fundraiser. Tebbe came as marketer. Barbara came as playwright. Lara came as director. Anna came to donate the rent for the venue. Our play was standing room only! We ran out of chairs.
New Blooms in Our Garden
Our schedule has blossomed like a June garden.
Our days of mindfulness, at first sporadic, are now precious and regular — including topics such as "Mindfulness in Motion," with a five-mile hike to honor our Cherokee land ancestors; and "Flowing Into the New Year," a day of mindfulness and yoga, as well as "Beginning Anew," held New Year's Day at a Trappist Monastery. We take turns leading, and have spread our days of mindfulness and weekend retreats into several new locations this year, including the homes of aspirants.
Even though we're located in the deep South, Asheville is a cosmopolitan town, a Buddhist magnet, with twenty-four sanghas. Our parade-sized puppets created with children are used to celebrate our mahasangha event of Wesak each May, commemorating Buddha's birth, enlightenment, and parinirvana. Founded fourteen years ago by Robert Wootten, in recent years Asheville's Wesak event is another way we have found to bring our practice into the mainstream.
Last summer we found we had too few cushions. Those we did own — donated years ago by Rinzai Zen monk Genro Lee Milton, Sensei, to our original Old Path Sangha in Pennsylvania
— were faded and in need of new covers. We needed a cushion drive! All we had to do was ask — in our monthly e-newsletter, cloud water. Cushion money began trickling in. Carolina Morning Designs generously offered to donate one cushion for each one we purchased! Today, with gratitude, we're expecting the arrival of ten new sets of square cushions, ten sets of round cushions, and seven pairs of cushion covers!
Some of us could live together, we thought. A few months ago, we put out a short message to our e-mail list: "Is anyone interested in starting a mindfulness cohousing community?" Word of mouth traveled fast, and we began a list. There are about twenty of us from various sanghas already on the list, and soon we will enjoy our fourth monthly meeting. As Thay has suggested, community is the paradigm for the new millennium. Our vision is a central Dharma hall and central dining room and kitchen, with a cluster of simple dwellings scattered about. We're thinking green housing, renewable energy, organic gardens, service to the larger community, visiting monks and nuns. We can, and should, experiment with the joys and pitfalls of building sangha and even living together harmoniously.
A Sangha Harvest
A senior OI member recently told me she doesn't call herself a mentor. Instead, she says she's a gardener. I like that image. In Sangha building we till the soil, sow the seeds, water, and wait. We joyfully abide in one place. We learn patience. We weed out our own unskillful thoughts and actions. Fertilize with gratitude. Allow the garden to mature on its own — not always at the pace of our neighbor's. Bask in the beauty of the flowers of dana — no distinction between giving and receiving. Make room for surprises — like volunteers! Grow our own.
Judith Toy, True Door of Peace, is a writer and co-founder with her husband Philip Toy of Old Path Sangha in Pennsylvania, Fragrant Lotus Petal Sangha in Bucks County Prison in Doylestown, Pennsylvania, and Cloud Cottage Sangha in Black Mountain, North Carolina. She is associate editor of the Mindfulness Bell.