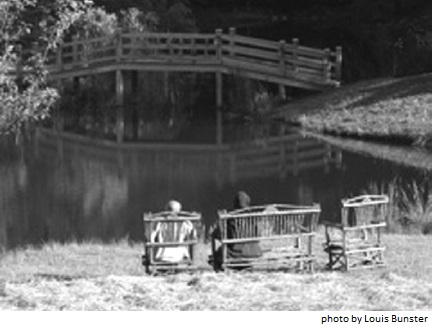 Still With Faith
While Thay and the delegation were in Hue, there were fewer visitors and retreatants than in 2005. Yet we continued our activities as planned. Thay gave Dharma talks with utmost compassion and inclusiveness.
Sometimes while I was translating his words into English, I felt dizzy and nauseous. I looked at Thay: he sat stably and his eyes were penetrating. I thought, ''I love you so much, Thay. You are incredibly courageous!'' Then I was able to concentrate again.
The monastic Sangha sat together two days before the Great Requiem Ceremony began in Hue. Brother Phap An shared with the Sangha the many difficulties he and the pioneering team encountered as they prepared for the ceremonies. Unlike our experience in Saigon, support from the Buddhist Church and the government in Hue was unreliable. He emphasized that the support in Hanoi was even more fragile. Our Sangha had to be responsible for everything from A to Z. He wanted his younger brothers and sisters to be aware of the situation, so that we would contribute wholeheartedly our practice and our service.
I was deeply grateful to Brother Phap An, our pioneering team, and all brothers and sisters from Prajna and Tu Hieu. Everybody worked tirelessly day and night, transcending their own physical and mental limitations. The success of each Requiem Ceremony in south, central, and north Vietnam could not be claimed by any one individual or any one organization. Innumerable hands, minds, and hearts joined together to make history. The people's heart wanted it; the collective consciousness had ripened; the whole universe directed towards it. Thus, even though there were opposing forces, there was nothing that could resist it.
The Great Ceremony Begins
Before Temple Dieu De, Wonderful Truth, a river fl ws peacefully. Many children and elderly people begged at the gate. The temple is small, so we arranged all the altars for the souls of the dead, Kshitigarbha Bodhisattva and Amitabha Buddha, and Kshitigarbha's lion throne to be placed outdoors to indoors, from the gate to the front of the Buddha Hall. The Great Requiem Ceremony began with the Invitation of Masters. About five elderly most venerables offered witness. Although they needed help to walk, they exuded the powerful spiritual strength of many generations.
Tears streamed down my cheeks the first time I saw my teacher in the ceremonial sanghati that he wore in Vinh Nghiem. Now Thay appeared again in that stately robe — heavy and large, veiling his body — looking like the Bodhisattva Avalokiteshvara. Not fond of cumbersome ceremonies or fancy dress, Thay usually wears his brown robe and brown Tiep Hien jacket. Later in Thailand, at the praying ceremony for King Rama IX's long life, monastics from over fifty countries wore their ceremonious sanghatis, all except Thay who was dressed in brown.
After the Invitation of the Masters ceremony, a number of the monastics and Order of Interbeing members followed Thay, the Chanting Master, and his co-chanters to invite the spirits to come back to Dieu De Temple, to receive food offerings and Dharma offerings for the next three days. At Mt. Ban, a bamboo pole was put up with a long stretch of white cloth, which symbolized the bridge for those who had died on land to walk on and follow us back to the temple. At a river, another stretch of white cloth was dipped in the water, so that those who had died in the water could climb onto dry land and follow us back to the temple.
The heat was almost unbearable. Local young people smoked and chatted nearby. I said to them softly, "The monks and nuns are praying for the people who died in the Vietnam War. Certainly this includes many of your relatives. You could contribute your part and pray for them.'' One by one, they extinguished their cigarettes and stood quietly for the rest of the ceremony.
The Transformation of Cheri Maples
In the late afternoon, I walked along the river with a younger sister. A well-dressed gentleman on his scooter stopped us. ''What is the name of the police officer who talked at Hue Festival Centre last night?''
I answered enthusiastically, ''Her name is Cheri.'' He took out a notebook and asked me to spell her name. It crossed my mind that he might be up to something negative, so I did not spell her last name. Once he got her name, he sped away. My sister told me, ''He's probably an undercover cop. He wants to find out whether she is truly a police officer in the United States.''
Cheri Maples shared about ten minutes at the Hue Festival Centre, but in fact, she had written a six-page report to Thay recording all she had done for her police department, the prisons, and the young people's court in Wisconsin and other states. At home and work, she applied Buddhist teachings and practices. With the experiences and insights gained from her own practice, she used her political influence to bring about positive, creative changes.
When I first met Cheri in Plum Village and again at a Wisconsin retreat she looked tough. In Vietnam she looked light and humble. Her gaze and her words reflected deep respect and love for Thay, as well as for Vietnam — her spiritual roots.
What Westerners Represent
The presence of Cheri Maples and of hundreds of Western lay and monastic practitioners of the Plum Village International Sangha spanned a bridge into the heart of Vietnamese people, transforming many long-term, ingrained perceptions. Perhaps to Vietnamese people, Westerners represent an invading force; they also represent a prosperous civilization. Perhaps Vietnamese people very much wish to participate in the globalization movement, but in the depth of their consciousness, they may still have hatred and suspicion towards Westerners. Looking at Western monks, nuns, and lay friends standing and touching the earth so solemnly during the many ceremonies, which went on from four to eight hours, many Vietnamese people were deeply moved.
One French sister was always present, even though she was over sixty. She shared, ''I feel ashamed. My ancestors caused a lot of suffering to the land and the people of Vietnam. I want to kneel with my big sisters and brothers and apologize for my ancestors.''
The Second Day
We enjoyed rain and drizzle the whole next day, the air cool and pleasant. This was the night of a ceremony to open the gates of hell to the souls of the dead, and to transmit the Three Refuges and Five Mindfulness Trainings. Sister Truc Nghiem wrote:
''It was raining, but not heavily. It drizzled enough to soak the streets, people's clothes and my own heart. The sky cried for Hue, for those still deep in poverty. Elderly mothers and grandmothers in their old stiff shirts, arms and legs dry and thin as sticks, curled up in front of the temple or trembled as they begged. I was still shaken by the images recounted by Sister Nhu Minh, of hundreds buried alive...then the bombing...then the floods.
"The Chanting Master of the ceremony, representing Kshitigarbha Bodhisattva, recited mantras to open the gates of hell. He recited Plum Village's version of The Heart of Perfect Understanding in Hue's musical style, his voice sweet and sincere, a voice of empathy and a wish for all victims in the dark realms to take refuge in the Three Jewels, to come and listen to the Dharma and receive the Five Mindfulness Trainings. He dropped a big roll of white cloth, symbol of a bridge from hell to earth. The cloth began to unroll. No one said anything. Suddenly, the grandmothers, mothers, uncles, aunties, young and old, men and women, all rushed in to carry the cloth on their heads. Thousands of people lifted the cloth bridge. Those unable to hold the cloth reached to grasp the edges or even the shirt of someone holding the bridge. Head to head, shoulder to shoulder, it seemed everyone in the world of the living wanted to be part of the bridge for those in the world of the dead. The bridge had no boundaries, nor did the worlds of the living and the dead. Suddenly, I understood the meaning of 'The memorial white cloth for Hue.' Regardless of all losses and suffering endured by Hue people, there is always some harmony between life and death. I know it is love that opens the gate between these worlds. We bear the suffering together."
Helping to Cross Over
The most important part of the Great Requiem Ceremony happened on the last night. Called the Chan Te ceremony, Helping to Cross Over, this ritual helps dead souls begin anew, to transform their past wrong actions and suffering, to aspire to complete liberation. The Chanting Master ascended the lion throne of Kshitigarbha Bodhisattva, and the co-chanters sat on both sides before the lion throne, with monastics behind the co-chanters. Thousands of lay people situated themselves all around us. Those who were far away stood on chairs. The temple ground was packed.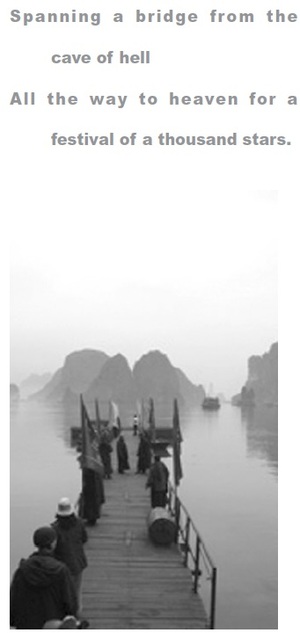 In that huge and solemn atmosphere, I felt the coziness of a big family. One chant affected me deeply: "Not knowing that you have lost your own body.Your mind is unclear, confused, uncertain where it is going....'' How many of us are living like sleep walkers? How many hungry ghosts wander through our civilized society?
The Chanting Master named the ten kinds of hungry ghosts. After each, the co-chanters recited mantras to untie their internal knots. They became hungry ghosts because they died in battles, or while running away from invaders, or while giving birth in which both mother and child lost their lives, or while serving as concubines and dancers in royal palaces, or while being sold for their bodies, or while taking their own lives in despair. Their suffering and injustices had continued to dwell in the deep consciousness of their loved ones and of the society.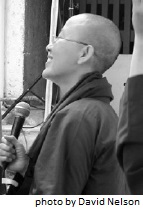 A Stampede for Sacred Rice
The Chanting Master threw a handful of rice into the audience. People leaned forward to catch it. Everyone wanted to receive some of this rice empowered by the Three Jewels. They would save it and use it for treating ailments. The Chanting Master poured each fifty-kilogram sack of rice on a table, blessing it with mantras and mudras. Assisting monks scooped the rice into small bowls to distribute to the people. The more the rice was distributed, the more people crowded in to receive it. A few monastic sisters next to me had just left, so there was empty space around me. The lay people closed in right up to my neck, but because I sat solidly, they did not dare to pass me. Finally, I felt their energy becoming too strong, so I unfolded my legs and stood up. In a split second, everyone behind me poured forward. The people-waves were about to rush up and overturn everything. All the monastic brothers and sisters immediately stood up, stretched their arms, and held each other's hands to create a wall of yellow sanghatis, surrounding and protecting the Chanting Master and the co-chanters.
Some monastics stood on the other side of the circle holding the ceremonial poles with one hand and holding onto to each other with the other hand. Strong human waves continued to push forward. Hundreds and thousands of hands were begging for rice. Many were raising up plastic bags or paper funnels, their eyes so sincere. There were also eyes filled with deep thirst and hunger — those who shoved everyone crudely and violently, including monastics. As they distributed rice, the monastics were stopping the human waves with their own bodies. As I gave out each handful of rice, I breathed in and placed my folded hand in that person's palm; then I breathed out and released the rice. I could feel the thirst and hunger within them were instantly satisfied. Our moment of contact was sacred.
Clearing the Stream
Once again, the Sangha packed up to go to Da Nang, Nha Trang, before we went to Hanoi. During the time in Da Nang, I went to visit my birthplace Quang Ngai — after being away for thirty-three years. I had gone back to Vietnam three times before I ordained, but I never had the desire to return to Quang Ngai. This time, I came home, and I believe that the Great Requiem Ceremonies in the south and central Vietnam had cleared the ancestral stream in me.
I walked slowly on the road that led to my old elementary school. The bamboo bridge was gone, the land now flat above a sewage tunnel. I was born during the 1968 Tet Offensive, and just after my birth, my homeland was severely bombed. Houses were destroyed and my whole family had to run away when I was less than one week old. Two men carried my mother on a hammock; my auntie ran with me in her arms. My grandmother explained that they separated my mother and me so if a bomb hit, both of us would not die.
They carried us a long way, but no one in the next village wanted to house my mother and me. They believed that a recently birthing woman carried negative energy and bad luck to the host. In the end, a cousin of my mother took us in.
A Tearful Reunion
When that same uncle heard I had come back to visit, he rode his bicycle to see me. Now in his seventies, wearing a black hat and a black outfit, his features are handsome, elegant. I could not help staring at him as hot tears streamed down my face.
''Lo and behold," he said, "she looks just like that little girl Number Five!'' meaning my mother, who was the fifth child in her family.
''Why did you take us in, Uncle, when everyone was afraid of bad luck, of becoming poor for the rest of their lives?''
''I thought to myself, she is my niece. If I don't help her, who will? After you came to stay with us, my wife was sick for many years, and it is true that we were always poor. But I never believed it was because of you and your mother. Being poor is a part of my destiny, that's all. What is most important is that I offer love and kindness to others from the beginning to the end.''
He continued, ''I made a little bamboo hut for your mother and you behind my house. There was a bamboo grove in the garden, so I dug a deep hole in its shade, covering it with a log so your mother could relieve herself in private. I still remember the neighbor looking over from his house, shaking his head, as he said, 'Young brother number six, you involve yourself in futile work!' I just disregarded remarks like that.''
My uncle is still living in that simple house with his wife. I asked permission to visit the back yard. My mother's hut was now just a barren spot, but the bamboo grove had recently been cut; the bamboos were still lying on the ground!
Parting Gifts
Before I left, I ransacked my brown sack: Ensure [liquid nutrition] in a plastic bag, forty-some chewable Vitamin C tablets, half a bottle of green oil, and a stack of Band-aids. I asked my uncle to accept them for me.
I gave my auntie all the money I had, so that she could help him make a complete set of dentures.
''When you eat, and you can chew vegetables easily, think of me,'' I told him.
Festival of a Thousand Stars
After our return to Deer Park, Brother Phap Luu shared that one happiness for him is that in the morning when he wakes up, he can sit still; he does not have to take his alms bowl on the bus to go somewhere.
Sister Hanh Nghiem said, ''Everyone thinks I am normal. I eat. I sleep. I use the bathroom. Everything looks normal, but there is something different inside. We experienced something very intense [in Vietnam]. How can you explain that to people?''
I nodded my head. It has been almost two weeks since I returned to Deer Park. Still I continue to limit my contact with people. Even though I left Vietnam, my mind has not yet arrived completely in Deer Park. I am still in the process of digesting and absorbing the journey.
I have been taking a lot of time to write. I am grateful to the Buddha and to Thay for allowing me to be a monastic — to always have the opportunity to come back to what is happening in the depth of my consciousness.
Spanning a bridge from the cave of hell
All the way to heaven for a festival of a thousand stars.