A Report by Therese Fitzgerald
The word "sponsor" comes from the Latin word, spondere, which means "to promise solemnly." The dictionary defines a sponsor as "a person or agency who undertakes certain responsibilities in connection with some other person or group." In 1987, when I heard Sister Cao Ngoc Phuong describe her grass roots work to assist the most desperately poor in Vietnam, it occurred to me that we Westerners could find ways to "undertake some responsibilities in connection with" the people of Vietnam.
The desire to embark on this undertaking was stimulated perhaps first of all by a feeling of gratitude to Sister Phuong and Thich Nhat Hanh, who have contributed so much understanding and love to the world, in the midst of great suffering. And, as much as I tried to "check out" of the war in Vietnam--I hardly ever read a newspaper, listened to the news, or spoke with anyone about the war while it was going on--Phuong and Thay helped me open up to the deep sorrow and feelings of connection I feel in relation to the Vietnamese people. I opened up to the very basic connection we share as fellow human beings needy of food, shelter, and a sense of self-respect. And there is the connection that exists because of my government's choice to go to war in their country and participate in mass destruction of persons, a culture, and the land. I also wanted to continue to learn from Sister Phuong and Thay, mentors in the calmness of giving to others from a place of inner peace and recognition of interbeing.
Bich Thuy Nguyen, an ordained sister of the Order of Interbeing who lives in San Jose, was traveling with Sister Phuong and Thay at the time. I asked her if she might be interested to join me in forming a West Coast committee. She immediately responded, "Yes." Then Sister Phuong put me in touch with one of her cohorts who left Vietnam in 1984, Thanh Tuyen Trinh, a mother of eight sons, who is very knowledgeable about the struggles of poor people in Vietnam. I also turned to Carole Melkonian, another ordained sister in the Order of Interbeing, and the four of us started "cooking" together--throwing into the pot what we thought about how to raise some funds, what to send to people in Vietnam for the best resale value, how and where to get the work done. The Buddhist Peace Fellowship agreed to receive tax-deductible donations for us.
I describe this program in such detail in response to the many questions about how to form a committee of Sister Phuong's work. Recently a friend from Oregon came to discuss similar details, as he is interested in starting a committee. After Carole and I spoke with him for a while, he began to see how complex and multi-faceted the work is. I'm glad to say, he hasn't given up the idea, but he has decided to work closely with us for a while before he embarks on the whole venture alone.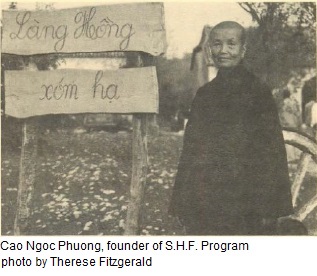 After two and a half years, the SHF committee has expanded to include several more Westerners and Vietnamese, and we've gone from helping seven to 100 families. So many blessings have unfolded as we have progressed along. There are the wonderful relationships with the Vietnamese community through the temples who host our parcel wrappings. Kim Son Monastery in Watsonville, for example, shares its redwood beauty and friendly smiles, tea, and always a wonderful meal as we prepare our boxes of aid. Dieu Quang Temple in Sacramento treat us as their long-awaited children, greeting us heartily and lavishing us with food and kindness each time we gather there to do the work.
There are the wonderful donors--individuals as well as groups--who give from $5 to $1000 or more whenever they can. Several BPF chapters have joined in our efforts to know and assist people who are much less fortunate. A group of young people at Green Gulch Farm Zen Center work each Christmas to make wreaths to sell and give the proceeds to support a family in Vietnam. Individuals have united friends to sponsor a family. Many sponsors gave at the very beginning and steadily continue to respond to Vietnam's call for help.
There are the translators who make accessible the precious news from our friends in Vietnam. The people we work with to procure the best medical supplies for resale in Vietnam figure among our blessings, as does the postal clerk who regularly deals with our volume of gifts. Always with many smiles and well wishes, these friends do their best to help us each step of the way.
Recently, the committee met at the Dieu Quang Temple in Sacramento to prepare 200 parcels to provide some special encouragement at the important time of Vietnamese New Year (Tet). At one point, there were some fifty people--from ages six to sixty-preparing the packages. A bell of mindfulness sounded throughout the day, calling us back to an awareness of our breathing and reminding us to contemplate deeply the lives of the persons who would be receiving our gifts. Wendy Johnson and her darling baby, Alisa, also helped us slow down and smile throughout the day. Many Vietnamese students from UC Davis, Sacramento City College, and De Anza College, along with several members of the Dieu Quang Temple congregation, and the SHF "regulars"--Bich Thuy, Ho Dung, Carole, Co Tuyen, Eleni Sarant, and myself--worked all day together and shared a wonderful dinner before going home with parcels ready to be mailed to Vietnam.
Once the parcels are mailed, we will have spent $10,000 on this major mailing. This will leave SHF with a balance of $8,000. Pledges to come will allow us to sponsor between 77-100 families this year. We clearly can do the work to support more than this number of families. If you would like to help make more support possible by making a contribution to "Sponsoring Hungry Families," please fill out and mail the coupon below.
If you live in California, we would also like to welcome your participation in other ways--at the wrappings, in the office, doing translation work, etcetera. Just circle the appropriate category on the form on the next page, and we will get in touch with you, if you like. The SHF office number is (415) 548-6466; or you can leave a message at (415) 548-3721.
One important fruit of this work is developing real understanding of another person. This understanding may come to a co-worker in relation to another person on the committee, or in relation to a people far away. Or it happens that a struggling person in Vietnam learns of another, even more desperate, person nearby (for we often send one item which we ask the family to share with another family even poorer than themselves). Or the fruit of understanding comes from a donor who has taken the time to contemplate the lives of people much less fortunate than him or herself. The letter from children at Green Gulch Farm (below) is a notable example of this process happening deep within, in a way that is not easily forgotten.
And this letter from Peter Levitt to his friends at Hanukkah/Christmas time is an inspiring delight:
Dear Family,
When I look at my life, I realize I have everything. Everything. And, as the Jewish prophets tell us, "It's All Good." Hard for us to accept, really, but somehow, at least for me, "Good."
As this year's gift-giving time approached, I realized that I wanted something with all of you. I wanted to have us give each other a particular gift--the gift of supporting, together, the needs of a hungry family in Vietnam for one year. This inmost request comes from a deep place in me (or I wouldn't take on the job of being your social secretary by suggesting this as a Xmas gift) and I hope you will enjoy giving and receiving this particular gift a great deal...Then all year, when we see each other, we can have a certain smile to share between us ...
Please. Let us generously enjoy this opportunity to be close, closer in ways we can hardly understand. I love you all.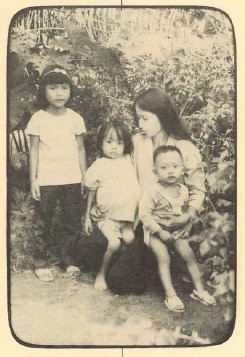 The following are excerpts of letters we've received from families in Vietnam receiving or requesting aid:
Mother of three in Da Nang September 15, 1989
"My son has a congenital ailment: obstruction of the gall bladder. His complexion is sallow. He has also contracted hemorrhagic fever and has been in a comatose state many times. Now he is almost recovered, but his mental faculty is irremediably impaired. I have done my best to have him undergo medical treatment at the hospital for many months, to no avail. To add to our misfortune, last February, after a long period of protracted fever, my four-year-old daughter developed what seems to be cancer of the kidney. She underwent surgery, but the malignant kidney could not be removed. She is now a skeleton but still keeps her lucidity. It is a heartrending sight to look at our loved one gradually destroyed by this terrible disease. Can you please help us?"
Mother in Ho Chi Minh City November 20,1989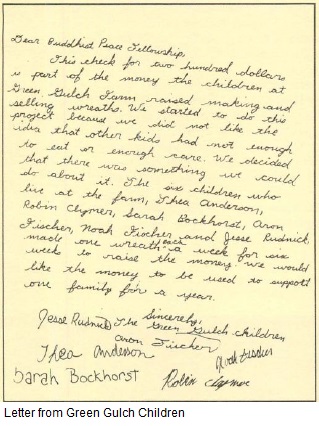 "I am so poor and miserable, that sometimes I want to die. In my oId age, I have contracted malaria. Every day my daughter cooks some soup and goes around town to sell it. Her husband tries to make a living as a pedicab driver. They work so hard every day, but still they cannot provide enough food for the whole family. Therefore your gift was a very big help for us, and we appreciate it very much."
Mother outside Ho Chi Minh City April 15, 1989
"With the proceeds, I bought enough food for one good meal for my children, shoes, soap, plastic sandals for them and kept the rest for emergency use, such as sickness. From time to time, I will indulge in buying some extra food to improve the diet of my loved ones, they are all so skinny and sallow from malnutrition."
Father in Bien Hoa, Tinh Dong Nai April 20, 1989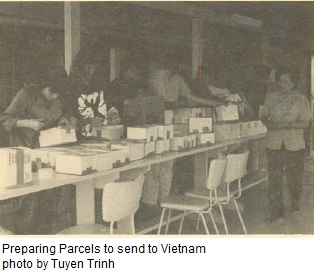 "We are very happy and deeply touched to receive your letter. You are one person far away who understands our circumstances better than a relative. Two weeks later we received your gift. Thank you very much for this help which amounted to 102,160 piasters, a sum equivalent to 4 months salary. We can use this to pay back our medical debt and buy some rice for the children who have only had roots and potatoes to eat.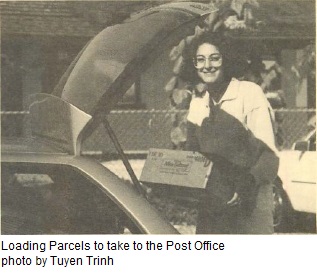 The same family three months later.
"The chronic asthma that my husband has became more serious last month. He was so worn out he had to be hospitalized. To pay for his stay there, I had to beg. I sold everything to pay for the cost. The proceeds of your gift bought 30 kilos rice, with some money left to buy food later for my children who are malnourished."