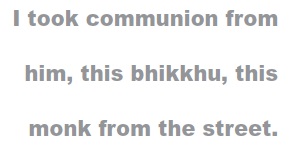 By Tony Lorenzen
I had been serving as the ministerial intern at a wealthy, suburban Unitarian Universalist Christian church near Boston for almost two years when I experienced the Outdoor Church, a ministry to homeless men and women in Cambridge, Massachusetts. My visit to the Outdoor Church happened shortly after I attended a precepts ceremony at my sangha, the Worcester (Massachusetts) Zen Community. At the precepts ceremony, I was drawn to the concept of taking refuge.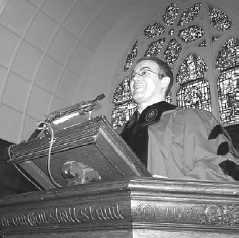 The three gems of Buddhism are Buddha, Dharma, and Sangha — the enlightened one, the teaching, and the community. When a Buddhist commits to the path, he or she vows to take refuge in these three gems.
I take refuge in Buddha.
I take refuge in Dharma.
I take refuge in Sangha.
Refuge is a fascinating word. A connotation that jumps to mind is refugee — someone fleeing something that is dangerous and seeking safety or sanctuary somewhere else. I have only been a member of one Buddhist sangha, but it truly does seem like a refuge, a sanctuary for members of the community. I have been a member of many Christian churches. Some were places of refuge and sanctuary for the community and some were not.
This past year I took my students in the "Coming of Age" class at the Unitarian Universalist church to attend the Outdoor Church. We trekked on a cold, windy, early spring Sunday from a Boston suburb to the Porter Square subway station. Above ground at the entrance to the T stop, we met Reverend Jean Chapman and the homeless men and women who make up the congregation for a simple communion service and coffee and donuts. We brought supplies for them: sandwiches, socks, and toiletries.
As is so often the case when attempting to serve others, I found that I was being ministered to as much as I was ministering.
I found myself at Porter Square in the midst of a place of deep refuge, of profound sanctuary. The Outdoor Church is a church not made by hands, not bound by walls. It is a church that truly is, and could only be seen as, the people of God because there is no building. Standing among the homeless of Cambridge and listening to them reflect on the morning's Gospel reading and what it meant to their lives, I could hear in my heart:
I take refuge in Buddha.
I take refuge in Dharma.
I take refuge in Sangha.
What I saw as I saw this community gathered to speak its truth and share its story was the concept of the Buddhist three refuges in an outdoor Eucharist, a true celebration of thanksgiving.
I take refuge in Christ.
I take refuge in Gospel.
I take refuge in Church.
And they did. This church not made by hands; unbound by walls was their refuge, their safety. It was their sanctuary as much as any place with an altar and pews, foyer and front door. It was a community as deeply bonded as any that has a fellowship hall for their coffee hour.
And then the man came to me offering me "the gifts of God for the people of God." I took communion from him, this bhikkhu, this monk from the street. His hands held a plate of communion hosts. My hands were a begging bowl. Who was fed and who was hungry? Who was feeding whom? Who was offering whom refuge? And from what?
I accepted the communion he offered and took refuge.
Tony Lorenzen lives in Leominster, Massachusetts and he is a member of the Worcester Zen Community. He was ordained as a minister in the Unitarian Universalist Association in June, 2007.