We often hear reference to what it means to be free. We speak of the "free world." We speak of "freedom of speech." Most of us, at least in the West, as well as in many Eastern cultures, have the freedom to choose our mates, our careers, and even how many children we want to bring into the world. We value having the freedom of mobility, political and physical. We feel free when we can go anywhere we want, when we want, "without hindrance or restraint."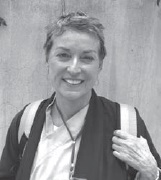 Those of us who have these freedoms and other, similar ones, consider ourselves to be a free people. Are we sure? Are we truly free?
As an ordained member of the Order of Interbeing, I am on an e-mail list devoted to aspects of our mindfulness meditation practice. One day in 2006, Bill, an American practitioner who has been involved for years in prison ministry, posted a message. In it, he told of an American woman, 'Sarah,' who was an inmate in the Women's Prison in Bangkok. He asked that anyone passing through Bangkok try to reach her to give her some solace.
Learning of this woman, members of our Hanoi Community for Mindful Living decided to write letters to Sarah. A member took them to Bangkok and left them at the U.S. Embassy for her, along with some books by our teacher. We wanted her to know she was not forgotten.
Months later, while in Bangkok, I decided to follow up. I learned she was still in the prison. Could she have visitors? The answer was yes.
First Prison Visit
Books have been written about the notorious Bangkok Women's Prison. Available at the Bangkok airport, they make popular in-flight reading. I was thankful I had not read them. As the taxi whizzed along the highway to the prison, forty-five minutes from the city-center, I felt anxiety. I had never been inside a prison. Scenes from the films Silence of the Lambs and The Green Mile kept coming to mind.
The Women's Prison is very large. Many buildings sprawl over an area several blocks long. Even though the driver had instructions in Thai, we had difficulty finding our way. Twice, I followed first one guard and then another, only to learn that I was in the wrong place. This was not wasted time. Surprisingly, everyone was extremely cordial and helpful, even smiling and cheerful. My anxiety disappeared.
Finally, we were there. I found the right window, gave my ID and my reason for being there, and was told to take a seat. The waiting area was outside, but protected from the searing Bangkok sun. There were twenty-five or so other visitors, all Thais of various ages, including small children. Finally, after a one-and-a-half hour wait, my name was called. My handbag was put in a holding bin, and my body patted down.
Through the Chicken Wire
The visitation windows were also outside, consisting of a long fence of chicken wire three meters tall. Wooden partitions, set one meter apart, created an illusion of privacy. A grassy area, two meters wide, separated my wire fence from another like it. In a moment, a woman appeared behind it, and took her seat directly across from me.
She immediately asked, "Who are you?" "I'm Trish," I answered. "Trish from Hanoi."
Her puzzled expression changed to one of amazement. Excitedly, she asked, "Trish? You're Trish Thompson?" I nodded, yes.
She smiled very broadly. "Oh," she said. "So you got my letter." She looked so happy, even though I could not clearly see her through the two thicknesses of wire.
I told her, no, I had not. None of us who had written to her had received an answer. She did not appear surprised. Then, she said, "I got the books, and I've read them and reread them. They have changed my life." She said I was her first American visitor, other than the embassy personnel who came every four to six weeks to give her a monthly stipend, a loan of some kind from the U.S. government. Her food and bare essentials had to be bought by her at the prison store.
Just then, a bell rang, and her face dropped. "Can you come back?" she asked. "Next time we can meet in a special room, with more privacy, but you must get a letter of authorization from the embassy. We can meet for a whole hour!"
I said I would come on the next visiting day. In response to my question of what I could bring her, she asked for some fruit and some panties large enough to fit a Western woman.
The greater part of the next afternoon was spent looking in the lingerie section of department stores for underwear for a middle-aged Western woman in a women's prison. Bikini panties did not seem appropriate. My mission, not an easy one, was made more difficult by my total dependency on English. Somehow, using hand signals and repeating, "Grandma, Grandma," while bending over, pretending to use a cane, I made myself understood. Several large and unattractive pairs of panties were produced for my inspection.
I chose the two I thought were most feminine, in pale pink and blue.
Sarah's Story
On visitation day, I arrived at the prison, with time to spare. I had my authorization letter, the panties, and a huge bag of fruit bought on the street near my hotel. I was led to an upstairs room where I met the supervising guard for the building. Kindly, but firmly, she informed me that I could not give Sarah my gifts. All gifts must be bought in the prison store, in order to guarantee that they are drug-free. Disappointed, I vowed, once again, to be more mindful and not make assumptions.
I was led to another small room, in view of the guard, but out of her range of hearing. I sat in front of a Plexiglas window. Almost immediately, Sarah appeared on the other side and took her seat. We were now only about one meter apart.
What a lovely woman, I thought. She looked quite calm and peaceful. She wore no makeup. Her skin was clear, and she looked very healthy.
She accepted, with little comment, my apology for my ignorance and subsequent failure to deliver the requested gifts. She clearly had things she needed to say to someone.
With little prompting, she told the following story.
She was traveling with a male friend, both of them drug addicts, when she was caught trying to sell two kilos of heroin. After a trial, she was sentenced to death. A year later, her sentence was commuted to life. In Thailand, a life sentence is a life sentence, with no possibility of parole.
She had been in the Women's Prison, in the section for drug offenses, for four years. She described the first two as a kind of hell, and then said, "Don't get me wrong, it's still hell, but I have learned to accept my situation. I was a drug addict for 20 years. Now, I am clean. Prison has saved my life."
She possessed the shift she was wearing, another like it, and two sets of underwear. Her diet was a daily bowl of soup with "something strange floating in it," supplemented by fruit purchased by her in the store. She and several friends sat in a circle to share their food. I exclaimed, "So, you have a community!" She replied, "Oh, yes, I do."
When asked to describe the worst part about being in prison, she shared her sorrow that she could not see her mother who was too old to travel. She expressed her concern for the entire families, including children and elderly grandmothers, who were inmates. "When the Thai police make a drug bust, everyone in the area is picked up and presumed guilty." She said she knew women who had been there more than forty years.
An extreme hardship was "the noise and complete lack of privacy." Her bed was a mat on the floor, the room so crowded with 300 women that they slept toe to toe.
She told me that since receiving the meditation books, she had begun to meditate, waking at 3:00 a.m., the only relatively quiet time in the day. Sitting on her mat, she practiced conscious breathing, learning to focus on her breath, rather than on the snoring of her roommates.
She had also begun to practice mindful walking throughout the day, especially when in the exercise yard. "I am aware of a big difference in my state of mind," she said.
And, then she said something so powerful that I shall never forget it. "You know," she said. "When I was 'out there,' free to come and go as I pleased, I was never satisfied, I always wanted more, more of everything. I never felt I had enough. In here, I have enough. I actually feel happy, truly free for the first time in my life."
One of the books sent to Sarah was Be Free Where You Are by Thich Nhat Hanh, based on his talk given to inmates at the Maryland Correctional Institute. The book never reached her, apparently confiscated by censors.
Sarah was transferred in 2007 to a prison in the U.S. Under U.S. law, she will be eligible for parole in 2014.