Brother Phap Dung (pronounced FAP YUNG) gave the children's Dharma talk before Sister Annabel spoke during the Colorado retreat, 24 August 2007.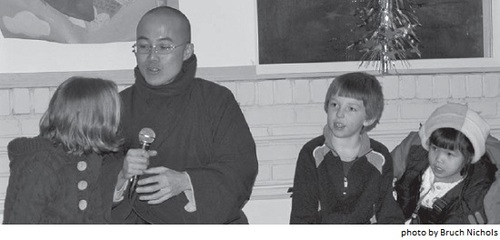 I enjoy my life very much as a monk. I live with my brothers and sisters at Deer Park Monastery in California. We live together as a family. The nuns live in a place called Clarity Hamlet, in the oak grove, and the monks live in a place called Solidity Hamlet. It's all rocky up there, and the sisters live by the stream where the oak trees are. We come together each day to do sitting meditation in the big meditation hall, and we watch the sun come up.
Have you ever seen the light change in the morning? It's very beautiful. This is what we experience every morning. Because when we come out of our room going to the meditation hall, there are stars. We sit in there and we watch. We wake up with the sun. Afterwards we come out and do exercises while we watch the sun. It's very nourishing to wake up like that, very quiet. I get to sit with all my brothers and sisters and it's very nourishing.
Every year we have retreats like in Plum Village where families come with their kids, many little ones like you, and sometimes I take care of them. We also have a teen retreat just for teenagers. At the beginning when we first had the teen camp the parents said they would go somewhere else, stay away from the program, but they would find a way to sneak in. So the teens wrote us a letter and said please don't allow any parents, any adults, they keep coming and trying to tell us what to do [laughs]. So we wrote them back and said, okay, we respect you. This year we had a hundred teens and we practiced yoga in the morning before sitting; the teens love yoga! Some of them are new to it so they do these moves and they fall — it's a lot of fun. That's how we start the day.
It's wonderful to see so many young people learn to practice to sit still, to be okay not to run around and play computer all day. There we don't have any computers and television for them, and some of them, like the new kids that come, they're very afraid that they will not survive five days without television!
This last retreat we had with the teenagers, guess what we took away from them? We took their cell phones, can you believe that? We took their iPods, all their gadgets and video games. I remember the first meeting we had. They were like, "No, you can't do this! No, but I need them! I need to talk to my mom." You could see they were really afraid to be away from their cell phones. "But my friends! I have to check my messages!" You could see in their bodies, when they're sitting around in the dining hall talking to us, they have physical reactions as if they're addicted. So we thought that was quite interesting. [laughter from audience]
But after maybe three days, they made new friends and they were able to not even think about their cell phones and things. You're very lucky right now — you don't have cell phones, right? Once you get cell phones, you spend most of your time doing that, and you're not really in front of your friends. The teens found out they're in front of their friends and they play with sticks, with pine cones and stuff, and they really enjoy it.
And they go hiking. We take them hiking deep into the mountain where the coyotes live. Ohh! [laughter] And we go low and look in the bushes and we try to find the tracks of the coyotes, — you never see the coyotes — they disappear because they have these secret passages under the bush. So we take the children up the mountain, we go look for these paths.
Sometimes in the family retreat, we take the children all the way up into the mountain with their families, and we have sitting meditation up there. Then we enjoy breakfast or dinner. We watch the sun rise up in the mountain or the sun set out over the ocean. It's an area where there are a lot of flat rocks. There are no railings re, so the monks and nuns, before we have the family retreat, do a little prayer,: "Please land ancestors, help us to — ," cause you can imagine a hundred children going up there, and rocks are like cliffs, but there are no railings. But the children ays enjoy sitting and eating in silence up in the mountain. It's y wonderful. They don't need television, video games, and text messaging with their friends. They enjoy nature with us.
A Family of Fingers
I want to share with you today about our hands. I remember I was growing up, my mom taught me that a family, it's like our hands [holds hand up and wiggles fingers]. Can you imagine u have five fingers and you always ignore this finger, and you everything with these fingers? [holds one finger down and ves the other four]
There's a saying in Vietnamese, but I don't really know it ughs] because I wasn't really good with Vietnamese when I was owing up. I grew up in America. Anyways, I remember my mom ays reminding me that a family's like a hand, and you always knowledge each other and see each other in the family. It could your father, your mother, your brother, your sister — you always things together, and you help each other, right? Your family is like the fingers on your hand, so if you have brothers and sisters, you help each other out.
Once in a while, this finger will be not so happy with this finger, right? Does that ever happen to you in your family? Sometimes it's like this. You're too close to each other, it's like, "Get away from me! Get away from me!" [laughter] "I want to go in the closet! Mom!" Right? But look — how far can you go? [he wiggles his fingers; laughter] You still have to be in the family, right? So, remember that. Okay?
Once in a while we need space, and that's very important. You kinda get very mad at your brother or sister, right? When I was young and I got mad at my mom or at my dad, I used to run in the closet. I'd go, rrrh! and I tried to pretend to my parents that I ran away. [laughter] You know, I'd run in the closet and I'd sneak in there and put all the blankets on, and I tried to stay there a long time, so that they'd think I ran away. And nobody looks for me! [laughs] So I stay there for a long time, and I come out, and nobody thinks I ran away!
So you cannot really run away far, because your mother and your father, sometimes they get angry at you, but they always love you, because you're still part of one hand, you're still part of the family.
But once in a while, we need space, and that's okay. So we ask you to go home with your mom and dad, and tell them that we need a place for us to go when we feel angry, when we feel sad. "You know, Mom, Dad? I think we need a space. Our teacher called it the breathing space, a breathing room, or we can call it a flower room." Go home and ask your mom and dad to set up a space in our home. It could be a corner or even a little area of the house where you have a cushion, a little flower, and if you feel angry, you go there. If you feel sad, you go there.
You see this finger here? When it feels a little sad or needing some space, you go to mommy and daddy, or you go to your brother, "I am going to the flower room." Okay? "Please, everyone, you know, I need time to breathe." So we go in there and we can sit on the cushion. Everyone try it, okay? Everyone sit in that space. Sit beautifully. No one can bother you in that space. Everyone in the family has to agree to that, even the young ones. The parents, you have to respect the young ones. So you sit there and you follow your breath. Everyone try it.
Pretend we're sitting in that room. Sit beautifully. We can use our hands to help us. You put your left hand on your belly, and then you put your right hand on the belly on top of your other hand. We close our eyes. And we breathe in. Right now, I'm taking care of myself. I need space, I need to be still. So we sit there, and we close our eyes for a few minutes like that. And we become more calm.
Can everyone remember that? When I was young, your age, I didn't have anybody to teach me that. All I knew was how to run into the closet and hide under the blanket. But now, you have a way, you don't need to run. You can be with your feelings. So next time when your brother and sister, you rub against each other too much and you need some break time, instead of going to tell your mom, "Yah!" and yell, you go to that space. And you take care of yourself.
And now, please, for all the mommies and daddies, if you can help establish a space where our children can find some place for them to practice. We hear many stories from families that the kids remind their parents to breathe. Your mom, sometimes, and your dad, they take care of you and they get tired. You ever see your mom get tired? Because she gives everything to you. Yeah, she gets grumpy. Your mom is like a flower, like this [points to flower] and you need to take care of her. And your dad, too, you know. Because sometimes they take care of you too much and they get tired.
So I'm going to teach you with the hands again, with both of your hands. You go like this, it's like a budding flower [holds hands together in lotus bud, then opens palms with wrists together, creating a blooming flower]. "Mom, here's a flower for you." You don't have to go to the store to buy a flower. When you see your mom or your dad feeling grumpy — it's not nice to feel grumpy, but you have to help your mom, because she takes care of you the whole day and sometimes at night, too — she's like a flower and you have to take care of her. "Hi, Mommy, here's a flower for you." She'll know that you're there for her and then I think she will freshen up. Sometimes when she is grumpy, please try to help her — staying out of the way, giving her space, just like you when you need space.
So remember the hand — family [holds hand up]. You can't run away from your family. Once in a while you rub against them, but you go to the space, breathing, and remember to give space to your mom and dad. Remember your hands can help you.